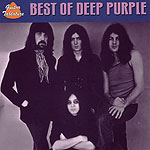 Deep Purple songbooks do exist, and dpas mailorder has some in stock,; sourced from Italy, America and Britain.
'Ultimate Minus One Guitar; Trax' has a CD of six Mk 2 classics each played twice, the second; time as a backing version to play over. 'Deep Purple Chord Songbook'; has the music for 12 Mk 2 songs, including some less familiar titles; such as Demon's Eye and Rat Bat Blue.
'Best Of Deep Purple' contains; guitar notation and tablature for 12 classics, aimed at a higher; level of expertise. 'Greatest Hits' is for advanced musicians. The CD; contains guitar on one channel only so you can fade it out and take; over. Alongside the regular Mk 2 classics, it includes Burn, Knocking; At Your Back Door and Hush.
We plan to do a list of the original songbooks issued at the time of; the original albums shortly.
SR