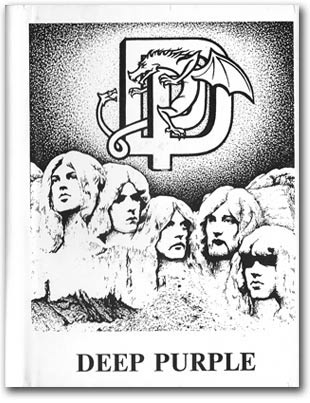 Russia. Published 1997.
Hardback with dust jacket, 480 pages.
Deep Purple history in Russian. The studio album track listings are in English (covering Shades Of Deep Purple through to Purpendicular). The full lyrics for those albums are presented both in English and Russian on facing pages. Bootlegs and videos listed as well.
Interesting drawings adorn the first page of each individual album listing, illustrating themes from the songs: (Ritchie in pilgrim hat with fangs (Bloodsucker), looking at toothless woman pulling her wig off (Living Wreck), while a blind man with a machine gun fires away (Child in Time), as a rat flies by overhead...(you get the picture!...() etc.

Scott Wood