Author Martin Popoff. Published Canada 2009
300 pages A5 paperback. Colour cover. Mono inside.

Martin Popoff's follow-up to the excellent 'Gettin' Tighter, Deep Purple: '68-'76. We'll let him describe it himself :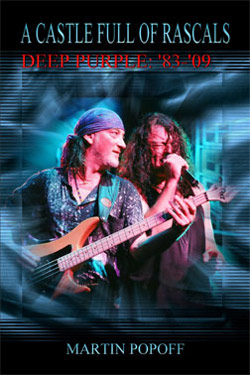 "The book is 20% bigger than the first one, close to 300 pages, stuffed with photos of the band and other memorabilia shots but mostly, yeah, a lot of text, featuring tons of previously unused interview footage from my many chats with the guys, to the point where this is almost an oral history. In addition to the Purple prose, there's bits about side-projects, the intro necessities about Gillan, Rainbow, Sabbath and Whitesnake, plus cool trivia from Nick Blagona, Thom Panunzio, Candice Night, Frank Morgan, and Stuart Smith (you'll get it when ya get it!).
My aim with this thing, first and foremost, is to convert y'all to the joys of the Steve Morse era of the band, but of course, we've got lots to talk about with respect to Perfect Strangers, The House Of Blue Light, Slaves And Masters and The Battle Rages On... as well. Plus there's lots of tour talk, details around the various live albums and bust-ups, a bit on the Concerto live album, plus of course, stories about Ritchie's séances and practical jokes!
What you get is my usual format - one chapter per album, every song examined. Plus the Rory Fiorito cover design matches up nicely with last year's Gettin' Tighter: Deep Purple '68–'76. They look pretty swell together - 550 pages on Purple, and proudly, tons of it untapped talk from my interview archive."
DB
It can be ordered via DPASMailorder
"I've read both Gettin' Tighter & Castle Full of Rascals and enjoyed both books immensely.
The magic lies in Martin Popoff's ability to weave a ton of personal interviews with the Purple people into an entertaining narrative.
His narrative / interview style can be repetitive but allows for several band members viewpoints on the same story.
More than a few surprises arise.( Glenn Hughes is not fond of today's line-up and doesn't think it should be touring as Deep Purple. Ian Gillan seems more than a little put off by Martin's suggestion that there must be something in the Coverdale canon that he would enjoy singing).
The author is not shy in giving his own well considered opinions of the low ebbs and high points in the Purple catalogue. Most surprisingly, he is under-whelmed by Made in Japan and he gives Slaves and Masters a favorable nod. I believe the two books comprise the definitive history of Deep Purple. It is certainly up to date, with some interviews for Castle Full Of Rascals done less than a year ago ( Spring 2009).
The one chapter per album approach makes for easy reading as well as fine reference material. Highly recommended."

Mike Whiteley, Toronto, Canada