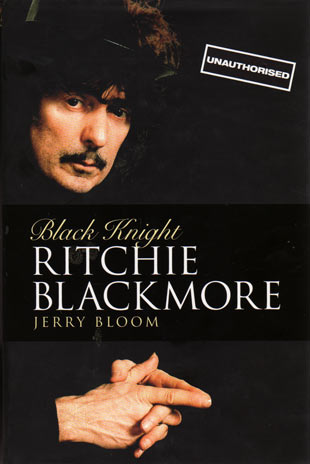 Omnibus Press. Published 2006.
390 pages, hardback.
This new book on Ritchie Blackmore comes without the approval or involvement of the man himself. To work round this Jerry Bloom has tackled relatives, people on the fringe, road crew and ex-band members. The result is a lot of new material and detail, plus a solid telling of the Blackmore story from his childhood onwards, over some 350 pages (+ the usual discography and picture section).
Away from the main narrative, there is also a lot of colourful detail from people on the scene covering various goings on which add spice to the story and are the sort of tales fans (who, let's face it, know the basic chronology well enough already) enjoy discovering. The only real problem I must flag up is the dreadful quality of the photo sections; I've not seen litho printing this bad in a long time (which is a pity, as there are one or two rare early shots). That said, this is primarily a text book and on that basis I have little hesitation in recommending it to anyone with an interest in the Man In Black.
The book can be ordered via dpas mail order.
SR