Well hello Graham Bonnet. You may remember him from such bands as Rainbow, Michael Schenker Group, Alkatrazz, Impelliteri, Blackthorne and the Law Of Diminishing Returns. But for a few years there in the early eighties the carefully coiffured one was almost a rock god. But a self destructive streak, possibly brought on by working with Ritchie Blackmore, Michael Schenker and Yngwie Malmsteen caused a repid decline into the world of 'special guest appearances'.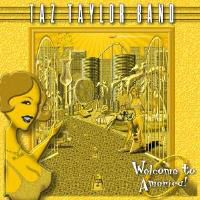 It's been a while now since his last solo album, with only Impelliteri, Elektric Zoo and Moonstone albums to keep fans of his patented rock bellow happy. But here's a full blown collaboration with fellow ex-pat and all round alien lookylikey Taz Taylor and his band to keep us happy. And, in places, it does make me happy. As recent live shows have confirmed, Graham still has his pipes in reasonable working order, and it's only when the songs don't match up that things take a slide.

But let's look at what's good first with 'Fighter's Fist', 'Welcome to America' and 'Happy Hour' all being top notch eighties rock tunes that suit the Bonnet voice down to the ground. The latter, especially, sees him putting in a superb performance, possibly aided by it's personal basis in his long fight with alcohol. Whatever, it's probably the standout here. Elsewhere, there are a few clunkers with 'Haunted' being a truly horrendous piece of histrionics and a pointless, instrumental version of 'Parisienne Walkways'. Why? The second half of the album tends to stick somewhere in the middle, although there are moments of pleasure dotted about, but with too much music and not enough singing, a legacy of the Taz Taylor Band's recent instrumental past.

Things finish up with the bizarre 'Goodbye Mr. C' ; a coupling of the two Blizzard of Ozz tunes 'Goodbye To Romance' and 'Mr. Crowley', something which should not work, but does. Graham actually gets the chance to sing rather than just indulge in the bellow he is best known for, and it's a strange but pleasurable closing to an album that, at its best, reminds us just why Graham Bonnet should be more than a footnote in the pantheon of rock and roll.

review: Stuart A Hamilton, Zeitgeist, PO Box 13499, Edinburgh EH6 8YL, UK