Billed on the promo posters as "Playing The Best Of Rainbow, Alcatrazz & MSG", you had to read down to the small(er) print to see the words "Performing new material from the new album 'Welcome To America', but despite – or possibly because of this, a healthy crowd assembled in the weather-battered city of Sheffield venue and gave the man with the Big Voice a rousing reception. He didn't disappoint either, with four new songs from the aforementioned 'Welcome…' album happily rubbing shoulders with classics from yesteryear. As well as the more obvious ones ('Since You Been Gone', 'All Night Long' etc) it was nice to hear 'Will You Still Love Me Tomorrow' again (remember it from Donington 80?).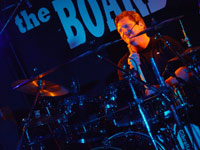 Whilst obviously a big Schenker fan, ex-pat guitarist Taz Taylor is clearly well versed in the work of Mr Blackmore too, as he played a nice version of 'Blues' and even inserted a bit of 'Weiss Heim' into the excellent opening number, 'Eyes Of The World' (what else?).
All the material went down well – including the new stuff and even the handful of instrumental numbers scattered throughout the set, no doubt there to give Mr Bonnet a chance for a breather, allowing him to maintain a truly vein-popping performance all night (long). It was nice to hear Graham wish the people of Sheffield well amidst the current floods, summing it up with "I know you'll bounce back – this is Sheffield for f**k's sake!" It wasn't lost on him the fact that it was the first time he'd played the city since the infamous MSG incident either… he had a bit of a laugh over that.
All in all a great night – really good to hear the new material, despite Graham's continuing trouble learning the words – the stage was almost literally wallpapered with lyric sheets (maybe Ian Gillan should sell him a book?). All of the oldies sounded great too – the band clearly enjoying themselves playing them, putting in a more convincing performance than you would have expected from a mere covers band (which they clearly aren't).
Catch 'em if you can, would be my advice.
DPAS Photo Gallery: Graham Bonnet / Sheffield, June 28th 2007
review: Tim Summers