Deep Purple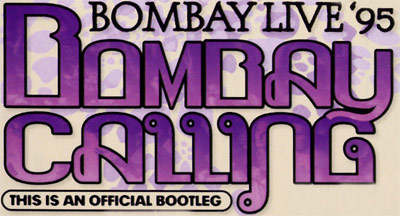 2004 RE-ISSUE
In 2004 Thames Thompson reissued their 'Bombay Calling' DVD for general retail release, characteristically altering the design and content of the original package. Our original review, with a description of the Bombay show which makes up the bulk of the disc is still archived here, but here's the lowdown on the new Mk 2 version of the DVD..
What you get is still the 113 minute Bombay show from April 18th 1995, just as presented on the first DVD, but with some sound alternatives added (three different forms of stereo; PCM, Dolby Digital and Mpeg1 Layer 2 for anyone who's interested), plus an additional 55 minutes from a show in Seoul, South Korea on March 19th 1995. The latter makes it an appealing possible buy for fans who already own the Mk 1 version of the disc.
While I'm not that in favour of the practice of adding new footage to already available DVDs, it is enjoyable to see this 1995 Korean TV recording in good quality after years of just having a grainy off-air video copy to watch. The tracks are 'Black Night', 'Woman From Tokyo', 'When A Blind Man Cries', 'Perfect Strangers', 'Child In Time', 'Speed King', 'Highway Star' and 'Smoke On The Water'. Of those, 'Child In Time' has already been released by T/T on the 'Around The World' VHS video, while 'Woman From Tokyo' appeared on 2001's 'New Live & Rare' DVD collection. The only real grumble is that the Seoul footage has had the original Korean text overlays covered up very clumsily with 'orrible pop-up style caption boxes containing gems of information as :

Amazing... thanks for that....
If they really had to be done, plain black boxes would have been so much less irritating. As for the footage itself, well I find it more engaging than Bombay, with more close-ups, and a slightly sharper overall look about it. It is good stuff, and the earliest Morse era show to be released on DVD.
So, if you've never bought 'Bombay Calling' before, I'd certainly recommend it. To help identification, this new DVD sleeve looks like a menu for a cheap Indian takeaway. For owners of the original release, it depends on whether you think 55 minutes of slightly botched extra footage is worth it. I did, but I didn't tell my wife.
Review: David Browne


The disc is Region 0 (all regions) and has been issued as PAL.
The sound is stereo.
Image ratio is 4:3 throughout.