DPAS LIVE REVIEWS
Blackmore's Night
Alexandra Theatre, Birmingham, June 17th 2007
Recently people who dress up for Blackmore's Night gigs have been called "Goons" for some reason. Thankfully Mark, David and I knew the words to "The Ying Tong Song" quite well and sang it with much gusto in central Birmingham as we made our way towards the Alexandra Theatre to see Blackmore Night. As usual David Pickles was in his wife's maternity dress (although he ends up looking more like Ronnie Dio) and Mark Connolly wore his trademark Shirley Bassey top, tights and…. slippers! (why? I have absolutely no idea, but honestly, he walked around central Brum in his slippers).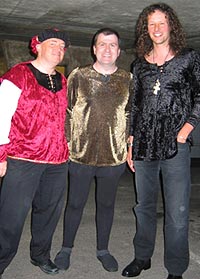 The hall was quite full (although not sold out) and the atmosphere was relaxed, with the security men near us being sent away to replenish the ice cream stocks during the interval. Also during the interval there were lots of musical chairs going on as member of the audience not wearing "goon" type clothing in the first few rows swapped with those who were wearing them further back in the hall (seemingly without any trouble, indeed some non-goon wearers volunteering to move away from the front!). Thankfully no-one questioned Marks' Shirley Bassey/slipper renaissance style (they probably daren't approach him) and we stayed put in our front seats. We were stage left, which we thought was not the best position as Mr B is, as usual, on the right, however Mr B spent much of the time facing in our direction giving leadership to the keyboard player and bass player, so in the end we felt we had got just about the best seats in the house.
As a Deep Purple and Rainbow fan it is really easy to slag off Blackmore's Night. I could easily say 98% of the concert was complete drivel and 2% (the mind bending strat solo in Ariel) was fantastic. But….. I was at a Blackmore's Night concert, so what did I expect? Why did I even turn up? I tell you why. I love Ritchie Blackmore and I think the guy is very special indeed. Thank heavens he loves Candice and travels around with her in this band. Without that I wouldn't be seeing him at all. I wish him and the band all the best and hope they keep going forever and have huge success. I want my 4 year old son to see Ritchie in concert so Ritchie needs to keep touring for some time in some guise or other before I fulfil that dream. Those of you out there expecting a Mk3 reunion or something, forget it. Go to see Blackmore's Night and dream on.
We only got one song with the Strat, on Ariel. It was magnificent. I think we would have had more if it wasn't for some objectionable idiot who shouted "pick it up again now Ritchie" after he'd just put it down. As it was they played a long set with two encores, but no more Strat, dam it. If I was a Blackmore's Night fan I guess this was a good gig in all.
Ritchie spends much of his time during the songs playing arpeggios or chords, with little embellishment. Occasionally you'll get some interesting work, but not very often. I felt his acoustic solo in Fires at Midnight was odd. He was left on his own completely; you could have heard a pin drop. Ritchie then just played some nice, but fairly not spectacular musical flurries, and then finished. Ritchie was always the master of "giving a little and leave them expecting more" even in the old days. However now he gives so little it can be difficult to remember what else there ever was.
Candice has had some rough press from the average Purple fan. It is really not justified as she sings the songs well, comes over as genuine, and does a really good job at fronting the band and making the atmosphere relaxed. Her constant quips at Ritchie are really genuinely amusing.
The keyboard and bass player appeared to be learning as they went on, with much reference to paper based material. Musically it didn't matter though as they ploughed on through the set.
So in all not my best Blackmore's Night concert, but as usual I'm left looking forward to seeing the next one!
review: John Blackburn

Well have to say the hour and a half journey was a very nervous one to the show, but wow were we entertained.
Mr B responded to a good crowd who even got an encore from the support act, I would love to know what Mr Airey thought of the gig as he was there!
It was a celebration of 10 years of Blackmore's Night and that is very good going for the man in black. The set was extensive and two encores covering four songs was great - 2hr 10mins of seeing the best guitarist I have ever seen was well worth the entrance fee. The highlights were Soldier of Fortune, Ariel (what a solo in the middle!),and Fires at Midnight with an amazing new acoustic solo in the middle and Ghost of a Rose.
I am sorry for the Reading fans who obviously had a bad experience, but for my money this was the best Blackmore's Night gig I have seen. Mr B is happy playing music across the centuries and Candice has just got better and better, well done Mr Blackmore, some of his work was totally awe-inspiring.
review: Philip Bradbury

Has anyone ever seen Blackmore happier? For those who think he's lost and can't understand this 'fad' (10 years - some fad!), you should have been at the Alexandra theatre on Sunday night.

Relaxed, playful, and even bantering with what was a quite amazing audience. The whole band seemed genuinely touched by the crowd reaction to a fantastic show. The musicianship was sublime, with Candice proving what a great singer, and comedian, she is. Could Gillan or Coverdale have ever got away with half of the digs she takes at Ritchie whilst on stage - with him obviously loving every minute.

Ritchie was on top form, showing the world what a versatile player he is, and has always been. A wonderful show, and that's not even mentioning the rabbit! (errr....rabbit ??)
review: Robin Hendy