DPAS LIVE REVIEW



Labadoux Festival, Ingelmunster, Belgium
4th May 2002
This was the worst Ritchie Blackmore concert I have ever seen, though I suppose most of it was not even his fault, but was down to the restless audience. Let's start at the beginning: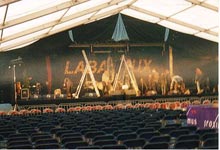 The site looked like a routine folk-festival, I suppose.. with lots of stalls selling 'folkish' stuff such as jumpers, hats, necklaces etc. There were 2 large tents, one where most of the gigs would take place and another for smaller concerts, which was also equipped with a bar. After a quick look in the first one where The Hanna Sisters (Dutch Corrs equivalents) were performing, we went to the smaller one, where Blackmore's Night's gear was being set up for a soundcheck. Everyone was asked to leave the tent while this took place _ most people went off to the beer tents, while die-hard fans waited outside in the bitter cold with a view to getting the best seats.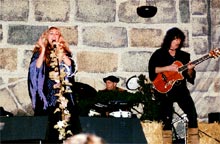 At last at 9.50 pm we were finally allowed in, the band had been supposed to perform at 9 pm! People were still arranging the stage: putting bales of straw on it, which I actually quite liked! At last, shortly after 10.09 pm the intro started. Going by the reaction of the audience there were few people who knew their repertoire, I doubt if most knew what kind of music they were about to hear, and were soon impatiently clapping their hands. Four minutes later the lights went down, and 2 minutes after that Ritchie stepped out on stage (yes I did time it all!)). As in Holland last year Candice made her entrance on stage, witch-like, holding a lantern. "Shadow of the Moon" kicked things off, amidst an annoying storm of camera flashes_ I could understand why the audience had been prohibited from taking photos. The song received decent applause, as did the violin player for his solo. The sight of Ritchie playing on his knees near the monitors made it look like he was well up for it, he even clapped along during the second number, "Morning Star", and sang along (albeit off-mike) during "Play Minstrel Play".
Sadly many people in the audience remained disinterested, and continued to rudely chatter among themselves. Candice welcomed everyone "to this very unusual venue, where we are trying to compete with the noise." (she was of course referring to the audience). Ritchie was blowing on his hands to warm up. "Yeah Ritchie, I know you wanna go home… they want you to play Whole Lotta Love" He responded by playing a few bars of said riff, eliciting huge applause. Obviously it was the sort of thing that many people in the audience had been expecting. At another point Candice asked the audience to "be more quiet, because it really is disturbing". And it was!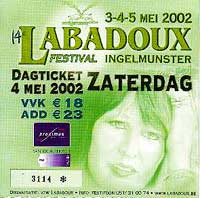 During "Minstrel Hall" the restless audience were obviously getting on Ritchie's nerves (someone's mobile phone going off added to the distraction), and he reacted by suddenly playing an out of place loud note. It was all so different from the audience in Tilburg last year, who were really quiet during that particular song. Nevertheless Ritchie still managed to play some really nice stuff that I had not heard at previous Blackmore's Night gigs. "Now it's time for everybody to sing along.."Under a Violet Moon." At times I had the strange feeling that her singing was actually a prerecorded playback, due to the the heavy reverb on her voice; it certainly sounded very off-putting..."We were up early this morning to record for Dutch TV, they'll show it on Saturday." (In fact they aired it live; the repeat was eventually overtaken in the TV schedules due to the assassination of a Dutch politician).
SET LIST
Shadow of the Moon -
Morning Star - Play Minstrel Play -
Minstrel Hall -
Under a Violet Moon -
The Times They Are A Changin' -
Soldier of Fortune -
Home Again - Fires At Midnight -
Past Time with Good Company - Renaissance Fayre -
The Clock Ticks On
"Shall we try a loud one? We can make it folky, or we can make it loud." (Ritchie picked up his strat momentarily, then changed his mind..) "Oh, I spoke too soon. A long time ago a gentleman, err, not so much a gentleman, David Coverdale, wrote…" Someone shouted "Soldier of Fortune" "Yeah, that's the one!" During the intro some listeners were finally trying to sshh the others. During the song there even was more reverb on her voice, giving a really strange effect. At last the man in black played a beautiful solo, and at last everybody was quiet and listening. A short violin solo followed, making me hope (in vain) for a 'Speed King' style call and answer duel, but not this time..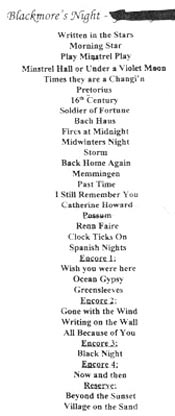 In Past Time with Good Company Ritchie played another very nice slow solo, this time on mandolin. The Clock Ticks On didn't sound quite as strong without the contribution of their former backing-vocalist / second guitarist Jessie Haynes.
And then the show finished suddenly at 11:23 pm. People were clapping for an encore, but it was not very convincing. A few moments later they came back on stage: "We have bad news: we have to stop, the promoter told us the next act (Mory Kante) is getting cold and wants to come on stage." The crowd weren't pleased, but soon drifted off. We stayed on in the tent, where my friend Johan was trying to give chocolates to Candice, but in vein, she had already left the 'building'. However he did give some Bruges beer to the organ player!
As I've already said, this was the worst Blackmore gig I've seen.. late, short (even shorter than Rainbow in 1995 Brussels which was 95 minutes) this time it only lasted 74 minutes! They only played 12 songs, while on the set list which I grabbed there were 31 songs written down (pictured right, you can click on it to enlarge). On 2 or 3 occasions Ritchie reached for his Strat (we all went: "aaah, ooh and yeah") but he simply putted it away to continue playing on his classical guitar or mandolin, even Candice was surprised!
So, no electric guitar magic, which all the Blackmore fans had been longing for. There were some good moments, but not enough to make it a memorable gig. Though I quite like his new stuff, and enjoyed his concerts in Holland last year – even with the PA trouble in Amsterdam - there was something missing in Ingelmunster.
review, scans, & photos (taken without a flash!): Michel de Pourcq
Is it realistic to chase everybody out of a tent into the cold weather for a change of backline and soundcheck for over 1 hour? Blackmore's Night were not top of the bill, so when they started an hour late, there was only 1 hour left. The main attraction, Mory Kante, were so kind as to allow them 30' extra. So, I don't think it was fair for them to announce that they were forced to stop the concert after 90'.
comments: Marc Brans