DPAS LIVE REVIEW


Liverpool Philharmonic Hall: 22nd September 2001
On walking into the auditorium I was surprised to note that there were only a few small amps on both sides of the stage and that the main PA also looked small. The stage itself was made up with a castle wall backdrop and some low false stone walls.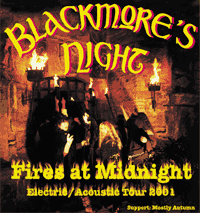 The band walked on to a really warm welcome from the full house. The first five songs were played slightly slower than on the album. It should go without saying that all the solos were altered and usually extended. 'C16 Greensleeves' was based on the Rainbow song, a simple backing was used, over which the vocals worked very well. Ritchie played an extended single solo. I thought the song would not work, but I have to say it did. The same could not be said for 'Soldier of Fortune'. The song never seemed to get any real emotion going from anyone, despite a good solo from Ritchie.
Throughout the set, first night nerves and changes by Ritchie gave an edge of uncertainty to the evening. After the first song Candice asked Ritchie what was next, this went on for the entire set! Even to the point were Candice duly announced the next song, only for Ritchie to change his mind after he had tuned up and then decided to play something else. 'Fires at Midnight' generated the right atmosphere and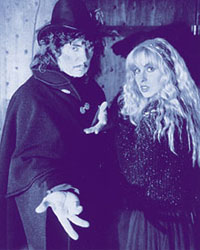 was altered to include a long violin solo followed by a great slide solo from Ritchie with a guitar-synth helping out. The remaining songs from the main set all worked fine. I had been looking forward to 'I Still
Remember' all night to see if they expanded the classic Blackmore sliding riff that is almost lost on the album. They didn't. The song was shorter and the riff only played once.
SET LIST
Shadow Of The Moon / Morning Star / Play Minstrel Play / Minstrel Hall / Under A Violet Moon / The Times They Are A Changing / C16 Greensleeves / Soldier Of Fortune / Durch Den Wald Bach Haus / Fires At Midnight / Mid Winter's Night / Home Again / Past Times With Good Company / Catherine Howard's Fate / Fayre Thee Well / Renaissance Fayre / Spanish Nights / Hanging Tree. 1st ENCORE: I Still Remember / 2nd ENCORE: Gone With The Wind / 3rd ENCORE: Wish You Were Here - Ocean Gypsy medley / Now And Then
The band came back on and did a quick rendition of 'Gone With The Wind'. After this Candice and Ritchie came to the front to shake hands. They came back on again and did 'Wish You Were Here', which slid straight into 'Ocean Gypsy'. Why they joined these two I do not know, it added nothing to either. The final song was 'Now and Then'. On record it seems a bit of a throwaway song, but live the vocals worked well and were sung with feeling. At the end the audience waited for silence and then cheered. A great moment for everyone one.
Ritchie's playing was effortless throughout. Only a couple of solos didn't work, and when they didn't, it was quite clearly written all over his face. Candice has a good stage presence and was not afraid to change the vocal lines here and there. She also played a couple of instruments (wind type) without mistakes. She must be congratulated for her singing. The rest of the band were passable. At the end of the night I still had mixed feelings. He is obviously doing what he enjoys but I miss the energy and sensitivity of his rock music.
review,Stephen Clare