Well, after 1 or 2 plays for most tracks, I reckon it sounds like the best reunion album to date. I've been slowly but surely losing interest in the Morse era band since Abandon, so it's a wonderful feeling to finally connect with Deep Purple again, and relive the excitement I felt as a teenager when I was buying up their back catalogue. I felt they could never do it for me again, what with the recent cabaret tour.
House Of Pain is the worst thing on the album but aside from Razzle Dazzle (filler or what...) the rest gives me a lot of pleasure. I like Haunted, though it does sound like an attempt to turn the chorus of The Unwritten Law into a ballad. Silver Tongue sounded at first like the riff of Kashmir, but is taking on a life of its own. Sun Goes Down, son of Soon Forgotten, magnificent. Then it all goes up a gear... Pictures Of Innocence, Deep Purple do Nirvana, fantastic! Never A Word, brilliant, two for the price of one... a gorgeous instrumental and a nice wee song. Contact Lost is beautiful.
Bananas, lots to enjoy. The RELIEF, I like the album!! David Browne
---
I am not convinced by any means - it starts off really well with House of Pain and I thought, "Yes, they've done it". Only to be left flat after working my way through the rest. Haunted, I'll come clean; I do like this, shame the guitar work isn't further up in the mix. Generally, the vocals are very clear, everything else seems to be down.
Negative bits, I thought Mr Airey sounded too much like Keith Emerson at the recent shows, this confirms it, with bits that could have come straight off Tarkus. I feel there are too many Gillan (the band) and Gillan Glover (the album) similarities here. I am not finding it as immediate as Purpendicular.
We waited five years for this, I expected to be blown away. Deep Purple's Sergeant Pepper it isn't. Michael Richards
---
It's not as eclectic/diverse as Purpendicular, less bludgeoning than Abandon but has enough elements of both to make it sound like an album, rather than just a collection of songs. If Purpendicular was Mk. Morse's Fireball, then this would equate to Machine Head in terms of an overall homogeneous feel. It sits together well as an album that you listen to all the way through, rather than picking it up and putting it down as you could with Purpendicular.
I defy you to put on the title track, House Of Pain or Sun Goes Down without turning up the volume and getting into it. There are a couple of oddball tunes, but nothing that I dislike. Ask me in a couple of weeks though. Martin Ashberry
---
I can see glimmers of hope - Sun Goes Down, Walk On, Pictures Of Innocence. House of Pain stands out too but to me would have been merely a filler on Purpendicular or Abandon. Haunted - I think JLT would've thought twice about. Razzle Dazzle - sometimes having a title isn't justification for writing a song. Silver Tongue has made its presence felt but I don't see it sticking. The cod folk elements of Never A Word - well, don't people criticise Ritchie Blackmore for this sort of tosh?
Anyone else spotted insertions? There are a couple of intros that come straight off Steve's Major Impacts album. It makes you wonder if the others actually listen to his solo stuff or if they are happy to let it pass?
I find the vocals being so prominent only serves to highlight his lyrical banality. Not something I've accused Gillan of previously, but by focussing us on the vocals he can't avoid the flak. Five years for this? Worth the wait? This juror is heading towards a "hang 'em high" verdict. Could do better, etc... Mark Maddock
---
I think the upshot of all this is that Bananas need plenty of tastes to get the full flavours. After a few listens, my least favourite track was Pictures Of Innocence (I quite like Haunted...), but this morning pressing play in the car, forgetting where the tape was I thought wow, this is a good instrumental break - yeah, it was Pictures ...
I'm beginning to like the whole thing more and more (even Razzle Dazzle), but I'm still not convinced that any of the tracks are classic enough to still be in the live set in a couple of years' time. Maybe my view on this will change - it's still early daze... Tim Summers
---
I can see that there are 2 or 3 numbers that will grab the majority of the Purple fans..."Razzle Dazzle"; "Sun Goes Down" and "Bananas"! I'm little bit disappointed with "Haunted", it´s too slow and it´s very American AOR! I can see that at least the band have made improvements compared to ABANDON...Ian Gillan is singing better; Morse is brilliant; and a word to Don Airey...keep on rocking Don, nobody in this world deserves to have taken Jon Lord´s place more than you! I Hope Purple last until 2008 to see the 40th aniversary tour! Keep On Space Truckin!! .... André Sousa
---
It starts out nicely, House of Pain really rocks, and will be a great concert-opener. Sun Goes Down is even better, real heavy, love the chorus, great stuff. Don Airey is amazing, in the first 2 songs he's proven that he is right up there with Jon. Haunted is probably the worst Purple song in recent years, strings and female choruses only makes it worse. Razzle Dazzle hmm...just your ordinary DP tune. Silver Tongue I really like, nice heavy rhythm, should have been longer though. Walk on, beautifull song, the best ballad in recent years, love it! Picture of Innocence, good song, love the Morse riff and the chorus, probably the best on the album! Never A Word, very beautiful, nice playing, but the ending leaves me wanting more, should have been much longer. Bananas, difficult song to get into, needs more listens, great Morse/Airey solos at the end though, really fast and frenetic. Doing It Tonight, funny rhythm, not very Purpleish, still a great tune. Contact Lost, nice little tune and nothing more, not a very good closer.... Thomas Pedersen, Denmark
---
I must say that I was a little bit scared to play the new album for the first time. It has been so many years since DP last made a new album and the last one, Abandon, did really nothing to me. The latest couple of live shows were great, but for me looked back too much to the good old days. But with Bananas they are back, and how!!! Just listen to House of Pain (must be played loud) Razzle Dazzle (sing-a-long), Walk On (just lean back and listen), Picture of Innocence (a real DP song), Bananas (a real band number) and all the other songs. The only song that I don't like is Never a Word, I wonder how it got on this album.. I think it would fit better on a Roger Glover solo album. Maybe I should give it more time, but I miss Paicey's drumming. Another word of criticism: Ian is sometimes mixed up a little bit too much and ther are moments when Don is too far in the background when he not playing a solo. I hope that on the new world tour a lot of new songs are to played live. Thanx to everyone who had something to do with this album!!!! ... Peter Rossen
---
Well the long wait is finally over, so what does Bananas do for me? House Of Pain kicks of with the trademark Gillan scream, a fairly upbeat number, the band sounding in great form. A very promising opener. Haunted is a moody, atmospheric track that gets better listen by listen. Morse's guitar work is simply beautiful, the track is a musical gamble that I think will pay off. Razzle Dazzle does not dazzle me. Never A Word: I don't know what they were thinking when they wrote this but, sorry guys, this is disappointing. So, overall this is a decent album that shows a band willing to test the boundaries of their trademark sound, and which with the exception of a few tracks seems to work
....Trev Scott
---
Deep Purple have made an absolutely fresh and exciting album. Great, pumping opener. Sun Goes Down is very heavy, with an amazing keyboard introduction and drum break. And I could go on... every song is different and has its own spirit. I am sure that it will sound very strong live. I like all of DP's albums but I think that it is nonsense to compare this new one with their old material. They've really done their best and if anyone expected more I can´t imagine what.
....Jaroslav Loucky
---
My very first reaction was that I didn't want to hear it again right away. But I did eight hours later and by then it was already a better album. Still, what I'm missing these days is the feeling of drama in the songwriting. The sense of drama Ritchie Blackmore could put into a song. But there's a lot of good stuff to choose from here. I like straight forward rock'n 'roll and riff based songs the best. Speed King, Fireball, Highway Star, Burn etc., so already my favourites are House of Pain and Bananas. Since the CD format has arrived we tend to get more minutes on albums. That's why I think, we also get more so-called "fillers". Contact Lost and Never a Word should have been on a Steve Morse album instead. Getting an outside producer didn't help much. Save the money for the next album. Outside writers shouldn't be necessary either. The cover? Let me be nice and say: No comment. It would have been a much better album if they had spent the last five years trying to write classic tracks instead of touring. 'Cos it didn't take five years to write this album. It took maybe six months. They were just very late getting started. But here we are in 2003. My "verdict" is that when I programme the CD player to my favourite 8 songs, Bananas ends up being a very enjoyable affair. Welcome back guys. See you on the road. ....Palle Hichmann, Denmark

---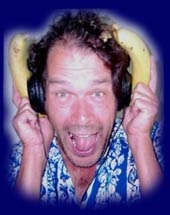 more reactions to listening to Bananas on page two....
E-mail reactions to the
www.deep-purple.net mailbox
Sun Goes Down is terrific, Pictures Of Innocence has some nice touches in the chorus particularly. Haunted is appalling, far and away the lowest point of the Morse era, while Razzle Dazzle I assume is a Naked Thunder outtake. Walk On sounds like a goodie, showing they can do the quiet as well as the loud like House Of Pain, which will stomp live. Doing It Tonight ought to be an embarrassment, but somehow the band pull it off with a style that impresses me.
Too many harmony vocals, like HOBL, which add nothing, nor does the awful vocal on Never A Word - shame as it's a nicely put together piece otherwise.
It's not as consistently brilliant as Purpendicular, nor as consistently consistent as Abandon. More like the other reunion albums - you pick out the great ones, and perhaps (only perhaps at this stage), skip the lesser. Matthew Kean
---
A couple of tracks really do nothing for me - Haunted is just so bad I'm astonished (though many seem to really empathise with this one), while Razzle Dazzle is as dreadful as the title suggests. Otherwise I can see where they're heading, and a lot of this stuff could be ferocious live. Slightly old-fashioned DP feel at time (in the nicest possible way), yet with plenty of post '95 references.
To me Gillan is mixed up too much at times, and Bradford has missed the point of having a Hammond sound in the band (except when Ian isn't singing), but there are some goodies here. The title track is great, as is Sun Goes Down, and Walk On - not especially cutting edge musically but it just somehow seems to work (and it's a long while since we had a 7 minute DP cut!) - and House Of Pain is getting there.
When the dust settles we'll still have a reasonable percentage of good tracks, more so than some of the earlier reunion albums perhaps. Even so we might have expected a little more adventure after a five year wait and all the talk about Sgt. Pepper. Simon Robinson
---
A load of old Bananas? More of a fruit salad really. You know, you love some bits but push others to the side of the bowl... Was the idea to spread the appeal? Risky, as you risk fully satisfying nobody.
A suitably rousing opener House Of Pain and the moody, swirling Sun Goes Down gave me hope of more good things to come. Silver Tongue got me good and proper - insistent, dark, compelling - lovely stuff. Picture Of Innocence is a lot of fun and holds promise for live performance as does the title track Bananas, ah, that's more like it, a real belter.
There's quite a mixture of styles and tempos elsewhere, Walk On being an interesting slower bluesy number for instance. However, I'm not at all sure about some of the others though, nice stuff in places but they don't always work, for me at least. Haunted, well, I'd hoped it would sound better on CD than live - but no.
On early listens at least, I can imagine sticking it on from time to time, but I'll certainly be picking and choosing tracks. Peter Judd
---
My expectations were probably set too high. Lowering the bar from 'world record' attempt height helped. Without the two tracks that do nothing for me and with a tweaked running order, moving Contact Lost so that it isn't the last track and losing Razzle and Doing It Tonight completely, leaves me with an excellent 10-track set.
There are a couple of moments where I can't help but sing what, to me, are some uncanny resemblances: Near the start of Never A Word - "Walk upon England's mountains green" - and the third line in Bananas - "Generals gathered in their masses".
I would have preferred it to end with a goodie (a la Hard Lovin' Man, No One Came, Space Truckin') rather than a reminder of an image of falling bits of Shuttle. And Bananas, the song, is a good 'un. Probably my favourite DP song since............. since God knows when.
If Well Dressed Guitar is to be a bonus track anywhere (though would it make sense to close with two instrumentals?), at least that would be an alternative upbeat ending! Nigel Young
---
Ok, I've played it three times so far and I figure Walk On and House of Pain definitely yes and Razzle Dazzle and Haunted definitely no. I think the jury is still out on the others, none of which have grabbed me but equally haven't had me reaching for the "skip" button. I'm hoping the rest will grow on me – I think Sun Goes Down might. The first thing I noticed is that Gillan is way too far up in the mix on several tracks and he's produced lots of the double tracked vocals as in "The Battle Rages On" which, to be honest, don't really do it for me. I'm worried that the band don't really seem to be "going for it" anywhere on Bananas. Maybe it's the production but it all seems fairly flat. I've got a horrible feeling that very little on this will figure in the live shows for long. Purple should be more than just a nostalgia trip and I'm not sure that Bananas is strong enough to ensure that. Ask me again in a couple of weeks!... Greg Harrop
---
After hearing some soundclips my expectations where turned up high. The previous Morse albums have not tuned me on like PS or HOBL did. With more melodies and more up front singing than on the last two records, I thougt the guys had got back a collective nerve that I feel was lacking on the previous two. So I gave it the first spin. And it did not take long before I thought "ok, Deep Purple is over - at least for me". "Bananas" does not add anything to the legacy. Rather the opposite. I was very dissapointed. After a few more listens some of the tunes grew on me, but still I feel that this album should have been a lot better, if it is to be called a Deep Purple and not a Gillan / Glover album. So, this is the end of the line for me. I've got a ticket for the Oslo show in November, but it'll be my last Deep Purple gig. Please skip the Bananas guys, and give me some more PS and HOBL stuff! Anyway.... I'll remember the Hungry Daze so I thaaaaaaaank youuuuu! Cheers!... Eirik Solum Oslo, Norway
---
Impressed with House of Pain and Sun Goes Down, and cannot help turning up the volume on those. Haunted is today's WABMC, Ian seems a bit stretched and is trying very hard to insert emotion into the song, I like it though. Razzle Dazzle: not my cup of tea. The Walk On rhythm reminds me a little of Mistreated. Silver Tongue is very good, excellent vocals and muscianship. Doing it Tonight andI Got Your Number, the most commercial of all the tracks, are very catchy. Never a Word and Contact Lost ( Viellicht) excellent, and refreshing to hear. Pictures of Innocence will take a few more plays as will Bananas. All in all after only several plays I am happy. Sgt Pepper? I preferred Revolver anyway! ... Steve Nulty
---
This is the Deep Purple Party Album! Funky, chunky and at times a little clunky but... yeah I like it. It's great to hear Big Ian singing (and screaming) again. Bananas will grow on you... I even like Haunted after having hated it live. ...Ed Pinner

---
Received Bananas today from the D.P.A.S and placed it in the CD player straight away while working on the computer. First impressions are that it's a good Ian Gillan solo album, or is that an injustice? House Of Pain kicks things off nicely and Sun Goes Down has something that might become more evident after a few listens. Gillan is to the front of the mix and that's what gives me the impression of it being more of a Gillan solo effort. Haunted is haunting me but not because it's good but because of the lame female vocals. Razzle Dazzle is OK but not great, ditto Silver Tongue. Walk On is an improvement, and on this first listen I like it. Picture Of Innocence does start well, it's catchy and I will get to like it. I've Got Your Number, well I didn't like it when it was called Up The Wall and I don't like it now. All in all I think the album is more accessable than both of the previous efforts but after a five year wait and I'm not over the moon with it, maybe its time to hang up the whole bunch and call it Bananas (I mean a day). Contact Lost. ...Paul Johnson

---
I really don't know why everybody seems to dislike this album. We can see the guys moving through fields most of us didn't imagine they could go through. I can't get it out of the cd player 'cause I'm absolutely fascinated! "House of Pain" is a kick-ass tune and will be great live! "Sun Goes Down" is a great tune; very much in the style of Purpendicular and Abandon. "Razzle Dazzle": what a great riff and wonderful chorus....I love to hear this one really loud! "Silver Tongue" is a great tune, real hard! "Walk On" takes you deeply into the soul of this album. "Picture of Innocence" and "I've Got your Number" both have great guitar intros and great vocals. "Doing it Tonight" is wonderfull! For me is probably the best track on the album. The final song is a wonderfull instrumental by Morse. All in all, this is a great album and all I hope is to see Deep Purple live in Portugal, and hopefully playing lots of Bananas songs. ...Gonçalo Ferreira, Portugal

---
I've played the album a few times, some tracks ten times! Most are goodies. It all sounds fresh, with great vocals from Ian. My favourites are "Silver Tongue", "Walk On", "Doing It Tonight " and the beautiful ballad "Haunted" ( I heard the song live and I liked it, but now even more!). Again, its different but..... let the Bananas tour start ! ...John Muijrers