DPAS LIVE REVIEWS

T Mobile Arena, Prague, Czech Rep.
17th November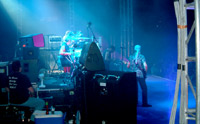 One of my ambitions was fulfilled tonight, to see DP in another country, for the first, but not the last time. So, 10 years to the day that the previous banjo player walked, how's the band doing?
Well, this is a big arena, comparable to the NEC, the difference_ this place is packed, and the whole audience seems to be up for this gig. As the lights go out a huge roar comes from the audience and Mr Paice starts Highway Star, we're off.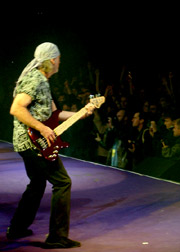 Straight away you see the band looking and smiling at each other, they feel the response from the crowd and react to it to produce a killer show. Highlights, quite a few of these, the new numbers sound great, House of Pain was awesome, Silver Tongue works really well, as does Bananas. Steve gives us Contact Lost and it's hairs standing on the back of your neck time, wonderful. Don starts his solo very slowly and moves into a Czech piece, 'Vltava' from Ma Vlast (My Country) by Smetana, the audience reaction was out of this world, I've never seen or heard anything like it, wonderful. Oh and the Star Wars theme is back.
Steve broke a finger nail during Well Dressed Guitar, nobody would have known if Ian Gillan hadn't told us all. All too soon the main set has ended. Back they come for Hush and Black Night with Steve getting the audience to join in with the latter. The band were clearly moved by the response they got, it was well worth going all the way to Prague for this, and I can see me going back again, it was so much fun. DP tours are getting even more expensive, but when you have a night like this, it's worth it.
review & photos: Michael Richards

SET LIST
Highway Star / Strange Kind Of Woman / Silver Tongue / Knocking At Your Back Door / House Of Pain / Lazy / Bananas / Contact Lost / guitar solo ~ Doing It Tonight / Space Truckin' / I Got Your Number / guitar solo ~ The Well Dressed Guitar / keyboard solo ~ Perfect Strangers / Smoke On The Water (without 'Riff Raff') / Hush (incl. drum solo) ~ Hit The Road Jack ~ Black Night (Incl. bass solo)
Absolutely best show of the tour. Fantastic audience, Gillan in top form again, Steve is always great, fantastic drumming by Ian Paice, and great bass tunes by Roger Glover!
The oncert began with great version of Highway Star. Afterwards Gillan kneeled on stage and did few bows! The Prague audience was really frenetic and we knew all the lyrics of the old songs. The concert was sold out.
Highlights were Perfect Strangers, Smoke on the Water, Highway Star and Knocking at Your Back Door. All the new songs were great: especially House of Pain, Silver Tongue and Bananas!
review: Petr Čejka

The T-Mobile Arena was certainly unimpressive. In fact, it was possibly the ugliest arena I've ever seen! My wife and I happened to meet a woman from Rhode Island-just around the corner from where we live in Connecticut--who had also come over for the show. Small world.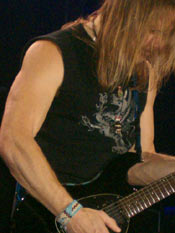 It was nice to hear Hush, Fireball, and Woman From Tokyo opening past Morse-era shows, but Highway Star is the best opener in my opinion. Strange Kind of Woman always sounds natural as a second song, the ending seemed a little abrupt, certainly abbreviated even from the Abandon tour version.
Silver Tongue was the first newbie of the night, the band stretched out a little at the end, which was a nice touch. House of Pain had a Gillan harmonica intro and Airey, Glover, and Morse joining in on the chorus in their collective monotone voices! I find it hard to believe Paice would have failed the backup vocals audition at this standard, so bring him in too! Doing It Tonight was a real highlight. Paice started it out with his funky cowbell beat before the others joined in.
As we filtered out of the arena, Haunted was playing loudly over the PA. The flow of the set was excellent, without any misplaced songs or downright clunkers. It was also good mix of old and new, and while the lack of anything from Purpendicular and Abandon looked like a bad move ahead of time, it didn't seem that noticeable with the inclusion of all of the new tracks. The fact that they are actually promoting a new album gave the show a sense of purpose that was perhaps missing at the previous US shows that I saw. They showed a renewed spirit and proved to me at least that there is a lot of life left in them yet. I look forward to more on the US tour!
review: Brendan Johnston, Niantic, CT,
photo: Alexej Jesenovskij