DPAS LIVE REVIEW

Pavelló Olímpic Vall d'Hebron,
Barcelona, Spain
October 22nd 2003
Hi everybody, I´m sending you some pictures from the Deep Purple's show in Barcelona last Wednesday. I was also able to witness the soundcheck the day before. No, I didn´t have a special backstage pass, I just walked through the door and nobody said it was forbidden!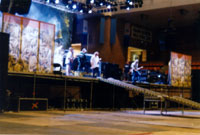 The soundcheck was therefore the most intimate show I´ve ever seen from the band!!! Only myself and the crew working on the Arena. They tried Walk on, Bananas, The Aviator and segments of Demon´s Eye, even though they didn´t play them on the night of the show. They struggled a lot trying to find a proper end to Walk on, and Ian couldn´t remember the lyrics to The Aviator. Maybe because of that they decided not to play the songs. I'd like to mention that the only one not taking decisions during the rehearsal was Don Airey. I´d like to say that they enjoyed each and every minute of the time they spent on stage trying new things and discussing stuff, (and drinking beer if you´re Ian Paice)... You can certainly say they´re enjoying this "Morse" era. If you look at the soundcheck picture, you´ll see some backdrops at each side of the stage that finally they decided didn´t look cool enough to use.
review & photo: Xavier Rulló, Barcelona

Nice first show of the tour with two changes on the set list: Strange Kind of Woman (presented by Gillan as "this song is about my first girlfriend") and Sometimes I Feel Like Screaming ("written in Spain").
SET LIST
Highway Star / Woman from Tokyo / Silver Tongue / Strange Kind Of Woman / House of Pain / Contact Lost / Haunted / Space Truckin' / Sometimes I Feel Llike Screaming /
I Got Your Number / The Well Dressed Guitar / Don's solo ~ Perfect Strangers / Steve's solo / Smoke On The Water / Hush / Black Night
Ian's voice was superb, absolutely superb, in my opinion much better than the last time I see him live in 2000. Roger as always smiled his way through a very good performance, as did Ian Paice (two small solos, the first in Strange Kind Of Woman and the second in Hush).
Steve produced some amazing work in his pre Smoke On The Water solo spot without using famous riffs from other big bands. Steve's technique is incredible, also showcased in The Well Dressed Guitar, but he committed one big error on the intro of Strange Kind of Woman.
Don's solo included the Star Wars theme (big shock there...), and it was fun to see him with his daft hat on for the last song of the night. His improvised parts in Woman from Tokyo, Hush, Strange Kind of Woman and many others were fantastic.
The Bananas songs played were among the best points of the night, especially Silver Tongue and House of Pain.
Thank you for this amazing show (and the signatures on the ticket), I'm looking forward to seeing you next time. I thank yoooouuuuu !!!
review: Misael Núńez

What a concert.....seven of us travelled for one night to see the Purple in Barcelona .... they were brill. I don't think I've ever seen so much energy from the band.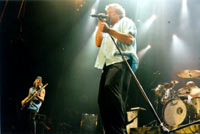 Starting with Highway Star, and going for a trip down memory lane and out through the classics of Bananas! The location was perfect, Ian Gillan was in fine form but the highlight was listening to songs like Strange Kind Of Woman & Sometimes I Feel Like Screaming. Roger Glover was superb on Perfect Strangers, and Ian Paice played a mini drum solo during Space Trucking which was great!
Don Airey played his traditional solo and Steve Morse was brilliant! The concert started at around 22.05 and went on until near midnight - talking to the roadies, everyone seemed up for this tour, I just wish I could see them at every step.
review: Robert Dykes, photo: Xavier Rulló