DPAS LIVE REVIEW

Scandinavian Congress Center, Aarhus, Denmark.
29th November
I've been a fan since I was a kid, and I've been seeing them live since 1993. That's ten years, and this past weekend saw me turning in my ninth and tenth Purple shows.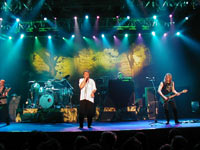 My weekend started Saturday afternoon with an instore appearance at Stereo Studio in Aarhus, continued with a blast at the Scandinavian, also in Aarhus and ended the next night with a dynamite show in KB Hallen in Copenhagen. An added bonus were Uriah Heep. I'd almost forgotten how great they are! Nice to be surprised like that...
The instore appearance was cool. I work in Stereo Studio in Vejle (about 70 km south of Aarhus), so I had no trouble coming face-to-face with my favourite band (with the exception of Gillan who rushed out after the signing was over!). Well, on to the show... Nice to have "Highway Star" back as the opener (where it belongs...), but they could have played it a bit faster. "Strange Kind Of Woman" - always nice, but what's with the 16-bar blues thing in the middle? Not really suited to the song in my opinion.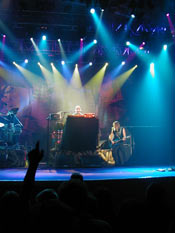 The new songs were great to hear, and let me just take a moment out to raise a little stink here. Now, this is not aimed at anybody visiting this site, 'cause I know you always get behind Deep Purple and appreciate the fact that they're carrying on. Believe me, so am I. But it's such a shame to see a band evolving, and giving the audience not one, not two, but SIX tracks off the new album - and the audience seemed rather dead... Some even muttered stuff like, "Hmm... They didn't play anything off In Rock". No they didn't. We've heard "Speed King" thousands of times. So, my wish is that the general public should wake up! "Bananas" is a great album! Probably the best since the 1984 reunion...
Back to the show. Speaking of the new material, I sincerely hope that "House Of Pain" and "I've Got Your Number" will stay in the set forever. Man, they rock live... Also, nice to hear "Space Truckin'" again. And Airey once again proved to be THE man to replace Jon Lord. I brought a friend along, who'd never seen Purple before, although he'd been a fan since childhood. "Smoke On The Water" was the closing song and fitted in there rather nicely. Encores came along with a powerful "Hush" (including a not-so-inspired Paice-solo) followed by a 'jammy' "Black Night". So, in my tenth year of seeing Purple live ... I'm only wishing for another ten years....!
review & photos : René G. Mikkelsen (the photos are from Copenhagen)