BELGIAN DPAS INTERVIEW

Ian Gillan, Roeselare. 29th May 2003
by Marc Brans
I had a fantastic night at the Schwung festival. The band played 2 new songs and announced the new album title (Bananas!). This and more in a review that I have already written in Dutch. Until the review is translated, I hope you'll enjoy this short interview conversation which I did with Ian Gillan.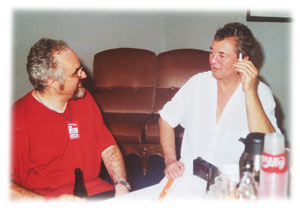 We were talking about the show with Pavarotti, 2 nights earlier, when I started the tape recorder...
IG "Yes, it was fantabulous. Absolutely fantastic."
Which song did you sing together with Pavarotti?
"Nessum Dorma."
Oh, the same as 2 years ago.
"Yes, at his request"
What did the band play?
"Smoke On The Water, or rather joined in as it is mostly orchestrated. 3 conductors; 1 for Pavarotti, 1 for the orchestra and 1 for the television. It was the 10th anniversary this time, so they had a sensational line-up. It was great, so many good artists. Ricky Martin was fantastic. It was just a great blend of people. Brian and Roger from Queen. Zucchero (laughs) was all over the place of course, singing with everybody. But with Deep Purple we went on to do Smoke. There was a technical problem when we did Smoke the first time so they had to do it again, just before the finale. Pavarotti was sitting there in his big chair just on the side of the stage. We're going on stage to do Smoke and he says (imitates Pavarotti in a Marlon Brandon Italian way) "What, no Zucchero?" (laughs) Eric Clapton was great, Lionel Richie was great, it was just a lovely day."
So two days ago you were in Italy and in 2 days you'll be back in Italy …
"That's right. Well, it's a coincidence because this Pavarotti thing came up at the last minute. Fortunately it was 2 days before this concert. If it'd been yesterday, we could have just about done it, but it'd have been … you know."
What can you tell us about the new album?
"Well, I've never been so excited in my life. The album is called 'Bananas'."
Is that serious?
"Yeah. It came about through a picture we saw of a Vietnamese guy just winging this huge amount of bananas on a kind of a bus where's he's walking along and it makes you think about all kinds of things to do with … how much this guy got paid. I don't know. Maybe 1 penny or so and everybody's making a profit off him. It's a 3rd world thing and bananas also means 'crazy'. It's either bananas or nuts. Then there's this GM issue, which is coming up. Genetically Modified. I saw the picture which Roger found in an Australian newspaper and he cut it out. I said "that's a fantastic idea for an album title. It opens so many avenues. It's just one word."
When is it going to be released? August?
"I think the single is going to be released … the first single will be "Haunted", the 1st ballad we played tonight. I love it, I love this song. The album is a rock album, believe me, but that's one kind of ballad from it. It's a joy to sing. The other one will be o.k. tomorrow, when we get it right (laugsh) but like all new songs, when you take them on the stage, it's always difficult the 1st time. Especially as Ian was sick tonight. He only arrived 5 minutes before the concert and left immediately afterwards. He'll be o.k. tomorrow."
This tour continues and then you have a short break …
"It's only a short tour, it's only 4 weeks. It's not a bananas tour, but I've got a feeling it's going bananas already. Lynyrd Skynyrd was supposed to be doing the 1st half of the tour, but now they'll only be doing the 2nd half of the tour and I think the day after tomorrow The Pretenders are joining us. They're going to be the opening act, which I'm very excited about, because I love The Pretenders. They're fantastic."
So, when does the real Bananas tour begin?
"In September. I'm not entirely sure what the dates are yet, but I hear we might be starting in South America, but things are just being finalised now. It's always the same: you never know quite what's going on."
We might see each other again next year then?
"Probably this year. I guess we'll be in Europe before Christmas. I'm sure of that because the American tour starts in mid-January. I'm sure that when the record comes out we'll be playing dates in Europe. I know that. Maybe the end of September or so. I have no information yet apart from 1 date in Prague."
Are there any particular songs on the album about people we know or about things that happened recently?
"I never write specifically about things like that, occasionally. But if I do it, it's euphemistic. Lyrically I'm very pleased with this. You'll have to hear it. No song is about anything specifically. There's all kinds of stuff. I'll do a little inside info on the website (www.gillan.com) when the record's out. Some interesting titles … I'm so tired now I can't remember the songtitles. I don't mind talking about the album title and the things we did on stage tonight. The rest of it will come as and when. I'll let you know just before it happens."
As the lady had opened the door and asked: '5 minutes, is that o.k.?' to which Ian replied '10', I decided to stop the interview and let Ian's mind rest. We took some time for chitchat and a few pictures and autographs.
Thanks Ian and all others for a fabulous night!
interview © Marc Brans, May 2003
many thanks to Marc for the transcript. The Belgian DPAS is the longest running Deep Purple fan club in the world; their website has some English content and is well worth a visit.