Tony Ashton & Jon Lord • First Of The Big Bands
(Purple Records 2010)
Once upon a time, Jon Lord from Deep Purple and Tony Ashton from Ashton, Gardner & Dyke got together to record a single. That was back in 1971, after AGD had supported Deep Purple and had collaborated with Lord on the soundtrack to the western movie "The Last Rebel". The session went well, and Ashton and Lord decided to make an album together. However, with Deep Purple in full swing, the record wasn't actually finished until 1973. Even then it got waylaid, as the powers that be decided to hold off releasing it until the new lineup of Deep Purple was cemented. So, 1974 was the year that "First Of The Big Bands" finally saw the light of day.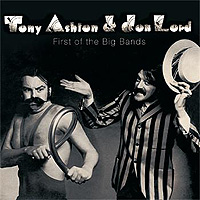 The record didn't do well. It probably didn't help that Deep Purple had a new album out that year, or that Jon Lord himself had the classical release "Windows" out. But even if it hadn't got lost in the shuffle, "First Of The Big Bands" would have been a hard sell. Mainly because it sounded nothing like Deep Purple. Now, fair enough, that was the point of it. Jon Lord wanted to move away from the Hammond heavy sound into a piano and brass led roots direction. Something that was certainly achieved. But even if Deep Purple fans had heard it, they probably wouldn't have bought it anyway.
Add in the fact that logistics reduced the promotional tour to a single show at the London Palladium and a BBC special at the Golders Green Hippodrome, and it's not really a surprise that the album sunk without trace. Which is a real shame, because it's a thoroughly enjoyable album, albeit one that could only have been released in the seventies. I remember risking £1.25 on it about twenty years ago, and being thoroughly drawn into its warm, rootsy embrace. Imagine, if you can, a cross between Little Feat, Family and Bobby Whitlock and you'll get a feel for the funky, bluesy rock that's on offer. It's not a million miles away from the later Paice, Ashton and Lord album, "Malice In Wonderland", and if you liked that, then you'll like this.
This reissue adds a couple of bonus tracks in the shape of the non-album single 'Sloeback' and an alternate version of 'Downside Upside Down', which weren't on the previous CD release. It's also nice to find out who did what after all this time, because when the album first came out, none of the musicians were credited for contractual reasons. Turns out it was a who's who of early seventies rock with the likes of Caleb Quaye, Mick Grabham, Mick Liber, Peter Frampton, Ron Wood, B.J. Cole, Dave Caswell and Cozy Powell making appearances amongst many others. There are some great songs on offer, with 'We're Gonna Make It', 'Celebration' and 'I Been Lonely' long standing favourites of mine. They sound even better with the CD having been mastered from the original quarter inch production tape.
As well as the bonus material, the digipak release includes the original artwork alongside some rare photographs and comprehensive sleeve notes from Deep Purple guru Simon Robinson. It's a curio but one well worth tracking down. Now if they'd only got a hold of that BBC concert!
review: Stuart A Hamilton
Tony Ashton & Jon Lord, First Of The Big Bands (on Purple Records) is available from the DPAS online store