DPAS LIVE REVIEW
The Tony Ashton Memorial Concert
Buxton Opera House, 4th November 2001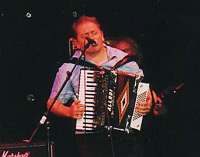 The evening kicked off with a short video sequence of Tony Ashton live clips before the Norman Beaker Band took the stage for some fairly pedestrian blues before being joined by Sheffield's Dave Berry for three tracks (Tony Ashton joined his backing band for a summer season in the sixties).
Bernie and Micky arrived, with Neil Murray driving three tracks along, helped by Henry Spinetti on drums and Geraint Watkins on piano. The latter then did two numbers himself, and for me was one of the stars of the show. He and the Whitesnake pair were so tight it really steamed along. For the second track, Geraint hunted out an accordion, prompting Micky to announce a Motorhead medley!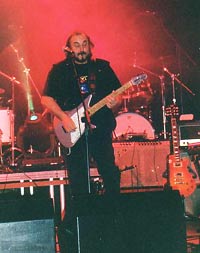 After this, confusion reined for a time while a travel lagged Miller Anderson attempted to find an amp that worked, before leading a short set off, joined by Colin Hodgkinson and
others. Zoot Money turned up for an interesting set too, and the show had already been on for nearly two hours when Bernie announced a short break before it was time to wheel on some of the bigger guns.
Zak Starkey arrived for a powerful four track set of Beatles covers, with Bernie and Micky adding an edge. Messrs Lord and Paice arrived on the stage to run through four PAL numbers, introduced by Jon (looking fit and well), who spoke briefly but movingly about the passing of his best friend. Jon's Hammond had packed up earlier, so he switched to Zoot Money's organ for the set. Geraint did the piano duties for this, and did them well, though it was hard at times to recall that just a year ago we'd watched them with Tony himself on
stage. Paicey amazed with his effortless approach to it all. He's followed Jon and Ian's lead too and laid off the hair colour. They ran through 'Ghost Story', 'Sneaky Private Lee', 'Arabella' and 'Dance With Me Baby'. All four numbers got a great reception and Bernie did well handling the vocals, though you could still hear Tony's original inside your head at times.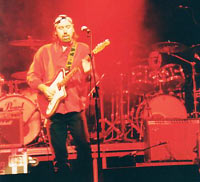 The show closed with a beefed up Company Of Snakes, featuring their new singer, Stephen Bergren. He did well, and at times vocally it was uncannily close to Mr. Coverdale (Bernie quipped that "he was asked, but was out playing golf!"). Four of the classics followed, given some real clout by Paicey (whose bass drum at one point was pulling the stage apart). Our ears well and truly ringing, they wound up the proceedings with an expanded line-up for 'Smoke On The Water' (Miller doing the vocals), which got the audience up and shaking.
The evening ended with an all star assembly for a rousing 'Resurrection Shuffle', which I counted as featuring 16 people on stage - including three drummers. Everyone stumbled out into the bonfire-smoke-filled night having had a damn good evening's entertainment.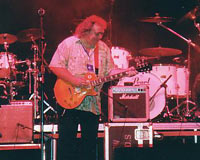 An expanded review appears in DTB 54 plus a chance (thanks to Dougie White) to score a Tony Ashton poster signed by Lord, Paice and the rest of the Snakes band. Our thanks to Harry Lee for his help.
review, Simon Robinson.
photos, Vitali