DPAS LIVE REVIEWS

Deep Purple
Wembley Arena, April 28th 2007
Almost a year of waiting and here we were again. I have to say last time I saw the chaps at Wembley, they were blown away by Skynyrd and performed what appeared to me one of the most lacklustre sets I have seen.

Build up was good with daily review of the reviews whetting the old appetite.

I arrived halfway through Styx having no interest whatsoever in the imitation Thin Lizzy - never liked the original so what one earth did I want with a copy. As for what I saw of Styx - the last bit of their set seemed to be made up of two interminable numbers which the nutter on keyboards/vocals did his best to liven up with some eccentric stage behaviour.

Fortunately they did eventually end, seemingly to the distress of the couple next to me who never reappeared after the interval. Each to their own I suppose.

And so to the main event. Lights, drums,,,action. Straight into a blistering Pictures of Home. The sound was initially deafening and seemingly distorted as a result but improved as the song progressed - whether that was me acclimatising or action from the engineers I have no idea.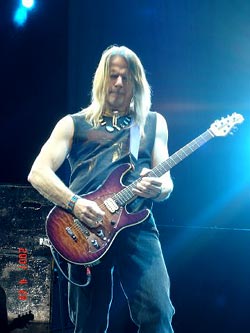 Some eccentric behaviour from Ian Gillan towards the end of the opener when he seemed to spot someone in the crowd he didn't like and as the set segued seamlessly into Things I Never Said, he descended from the stage and with an ad-libbed "F*ck off" to whoever it was, promptly disappeared into the crowd seemingly to ensure that whoever it was followed his advice before eventually reappearing stage left in time for the song's finale. And all this without missing a beat or a lyric. (It later transpired he had taken offence at the behaviour of the stewards, prompting him to promise never to play this "hellhole" again until "they learn to treat their customers with respect". Suitably wound up this seemed to prompt him to even greater levels of power with the vocals and in the mood he was in I reckon he might even have pulled off Child in Time had he tried - Into the Fire was particularly awesomely delivered.

Meanwhile the rest of the chaps were doing what only they can - delivering top notch hard rock with energy, humour and enormous skill. There remains nothing on earth as pleasurable as watching true masters of their art perform and these guys really do fit the bill.

The usual playful banter between them on stage was plainly apparent to all - a far cry from the Blackmore days (big fan as I am of RB there is no doubt whatsoever that the band have found several new levels since Steve took over.

A real surprise to me was how well The Battle Rages On sat in this set. I am revisiting the album as I type and it makes me realise just what a good album it was - remarkably in the circumstances.

Lazy was stunning and Rapture Of The Deep is an absolutely bloody masterpiece - and they clearly love playing this modern classic. I have always loved the energy of Space Truckin' and while this was a shorter version live than has often been the case, it was no less driven for that. Smoke saw Styx's least offensive member and guitarist double the guitar power and he had a ball joining in and Ian Gillan even let him share the chorus.

Having read the reviews I knew what to expect set wise and encore wise - I have thought for some time that Black Night really needs a rest from the set but they even persuaded me of the folly of my ways on that - I am not sure I have ever heard it sound so good.

The unmatched rhythm drive provided by IP and RG remains awesome - they really seem to feed off each other and underpin the showier elements of the solos from DA and SM. Steve was as good as I have heard him with and his centrepiece track, Well Dressed Guitar was brilliantly received with IG leading the crowd's applause in heartfelt appreciation of genius at work - I was particularly pleased to hear some of the "fiddly bits disappear from his playing of When a Blind Man Cries.

As for Don well, what more can I say than for the first time watching Purple I forgot that Jon Lord was missing - DA feels right now and while his style is different it is complementary of what the band are doing.

Watching Purple play after Styx reminded of what to my mind defines great performers. Purple do not need to hide the thinness of their material behind some showy stagecraft. The material and the quality of the performers speaks for itself.

I don't know how long these guys can keep going - I suspect Paicey is the key and that when he decides the old bones have had enough that will be it but on this performance (and judging by the way he threw himself into his drum solo on Hush - understated but ferociously performed) I think we have a few more years to go yet. Please.
review: Charles Ashmore, photo: Jackie Goodwin

Well here we are, it is Sunday and the ears are still ringing!!! Wembley Arena has been refurbished and the old smells and dark corners have been removed and revamped for the better. Sadly, the sound did not seem to me to any better particularly compared to the Nov 2004 DP gig.
Ah well, nostalgia ain't what it used to be I suppose.

The show opened with the Thin Lizzy tribute band running through some metal versions of Lizzy songs before disappearing. Then the main event.... Styx! Hmm, much has been made by other reviewers of the "slick showmanship", revolving keyboards and "orrrrsome" performance. I can only say that the high spot of their performance was "I Am the Walrus" which seemed to get some of the crowd going, aside from that the rest was instantly forgettable in my opinion.

And so Deep Purple play at Wembley again, I hope that there is a CD made available of this performance as it was very good. Racing through the first 4 numbers without pausing for breath, Purple were clearly up for it. Gillan was in fine form throughout and even gave a lot of us hope when suggesting that maybe Deep Purple would never play at Wembley again.
Highlights, in no particular order: Lazy, The Battle Rages on, Rapture of the Deep and Paicey's cameo drum solo. Lowlights: I have to agree with some of the other reviews that find the triple bill approach a little offputting as it reduces the time that the headliners have on stage.
This meant that there was not enough time to add more of the Rapture songs to the mix but I suppose that you cannot please everyone all the time! Maybe next time Purple will repeat the 1996 Purpendicular style tour."
review: Ian Surridge

What an experience. I just got back home to Stockholm, and I'm still excited by the show two nights ago. I was screaming and jumping about in the fifth row, centre of the scene, and with everyone on the front four rows deciding to sit firmly down for the entire night I gotgreat contact with the bands.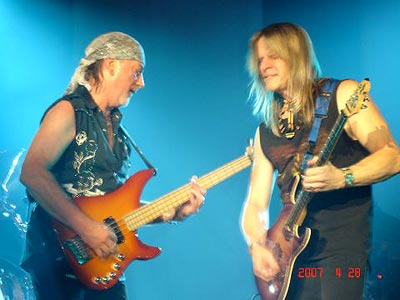 The evening started off pleasantly with the modern incarnation of Thin Lizzy, and they played a solid set featuring the best drummer of the evening. Eight o'clock, enter Styx. I've never seen or heard them live before, but I did know some of their studio recordings. Blue Collar Man is a standard in my iPod playlist. Not having any expectations on this band, they made a great impression on me (I've seen some negative reviews of them that I can't agree with). Great showmen giving a playful but yet hard rocking performance. 'Miss America' was a real experience and 'Come Sail Away' sounded better than I've ever heard it. The keyboardist was the liveliest person on stage all evening, and also offered plenty of musical skill, and incorporated some classical music in his solos, something I miss in the current Purple shows. I'm now plowing through Styx's "Gold"-collection CD, which I purchased within a day of the show.
Having heard recordings of Purple shows were Gillan is sometimes really struggling to get through his parts, his performance was my biggest concern before the show. But WOW. Without a doubt he's now singing better than he's ever done since the 1984 reunion. I'm wondering what might've happened.
To clear things up with Gillan and the steward, this was right at the beginning of the show, and people around me were standing up with their cameras and phones, taking lots and lots of pictures. The steward ran around right and left and angrily told people to stop photographing and sit down. Gillan told him once to leave the area (don't remember his exact words) but when he continued, Gillan walked down from the stage to him and said "Fuck off!". Nice rock'n'roll momen! Made me think back to the 1972 Denmark performance were roughly the same thing transpired during the opening song. Kudos to the steward though for giving Gillan a slightly ticked off edge for the rest of the evening.
review: Niclas Hanzon, photo: Jackie Goodwin

Thin Lizzy were workmanlike and proficient but lacked any kind of stage presence. I've seen tribute bands with more passion for Lynott's music than Thin Lizzy themselves.
I have a soft spot for Styx, who didnt really fit in with the classic rock feel of the night and outstayed their welcome a little, forgetting that for once they weren't topping the bill! However, its twenty years since I saw them (playing largely the same set it must be said), but with a new energy. Thye've come in for a bit of a kicking from Deep Purple fans which although understandable, is a bit of shame. I'm sure they'll be back and maybe headline Wembley again!
The stars of the show were just brilliant. Never playing 'this stinking hole' again? It didnt spoil their performance, and Airey and Morse between them dazzled, although it's unfair to pick out individuals. Very generous of them to let Tommy Shaw join them for 'Smoke On The Water' and I liked the drive he gave with the extra guitar. Yanks sticking together maybe?
Glad you have this facility by the way...there are no forums on the official site!
review: Mike Sexton

Wembley Arena on Saturday 28th April was the first time I have seen Deep Purple live, despite having seen all the current members (except Ian Gillan) in their various bands during 80's. Like many other people I have all the studio albums, all the DVDs, most of the live albums, and a few bootlegs, so was a little apprehensive of the band not living up to my expectations.
Styx did admittedly almost overstay their welcome with their rather long set. Whether you like this band is a matter of opinion, but give respect where it is due, for the facts state they are an accomplished and experienced band who have been around, in their 'Styx' guise, almost as long as Purple. They were visually entertaining and audience friendly too, with the revolving keyboard being skillfully spun and played simultaneously, and Polaroid pictures being taken of the band onstage then flipped out to the jostling fans in the front rows. Their fans, and there were many of them here tonight, showed their appreciation for a slick, tight performance of pure melody and rock. I liked these guys, for they were bubbling with energy and had an infectious enthusiasm to entertain even after more than 35 years together.
But we were here to see Purple, and when Styx closed their set it was to a mixture of appreciation and anticipation of what was to come. The short wait was filled with some swift rearrangement of the stage equipment and for the first time I felt a sense of excitement and anticipation amongst the audience.
Suddenly the spotlights bathed the stage in a purple glow and the tension was cranked up another notch. Then the stage lit up and a thunderous drum intro launched us into 'Pictures of Home'. We were off. Instantly apparent to me was the feeling that this band were here to have a good time. The sound was initially a little muddled but quickly sorted itself out.
Deep Purple are a happy band again. Long gone are the Blackmore days of anguish when the mood would change not only from night to night (no pun intended Candice) but from song to song. But again, give credit, for much of this set consisted of Blackmore-inspired songs, written perhaps during his scowling and darker moments.
'Rapture of the Deep' was almost mandatory, for it is after all the name of this World Tour. With its infectious Morse guitar melody, and dare I say Rainbow overtones, this song is a new classic which the audience, including myself, embraced. The defining moment for me however was 'The Battle Rages On', for its sublime anti-war theme seemed so poignant and relevant to these recent years. I think the song has become a latter-day Purple anthem, a new 'Child in Time' for the modern world. Played to perfection, it was almost overwhelming with its heavy guitar riffs and brooding solo, and was sung impeccably and powerfully by Gillan.
I came away happy, slightly deaf, but above all smiling. And for me that's what music is all about. Long Live Rock and Roll.
review: Martyn O'Keefe