DPAS LIVE REVIEWS

Deep Purple
Manchester MEN Arena . April 22nd 2007
With rumours abounding that the Machine Head "concept" (of playing the album in it's entirety) was to be dropped after only one show, we approached the Manchester show more optimistically.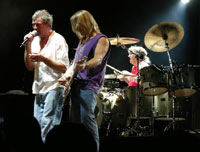 Dirty protests in the gents avoided due to the discovery of some napkins in my pocket, we entered the buzzing Arena area, anxious to hear how things would start off. If it were Fireball, I'd be ebaying many of my remaining tickets, anything from Machine Head (ie they weren't going to play it back to back later) and I would be a happy man.
And, when the houselights dimmed following the now customary Paul Anka version of Van Halen's "Jump" and Paicey rattled out the drum intro to "Pictures Of Home", there were a number of palpable sighs of relief.
And what a scorcher too, Steve really throwing everything into it. The closing guitar solo heavily featured large chunks of the fast triplets from the "Child In Time" guitar solo, then we're into "Things I Never Said". Things look much more relaxed on stage, more bouncing, more smiling and a more involved crowd, people clapping all the way back to the full-looking MEN Arena.
"Into The Fire" is next up, full of brooding power and very tight indeed. Ian Gillan hits each scream with more power and precision than I've witnessed before, occasionally disappearing with stratospheric screams which should not be physically possible for a man of his age before Steve steps in with a measured, almost bluesy solo and more reserved than I was expecting-A case of less sizzle and more sausage, if you like. (Or not).
We're then straight into "Strange Kind Of Woman", riding along on a thundering bass guitar sound (we are situated stage centre about 6 rows back, giving us a great view and sound), the song still manages to retain a freshnes which belies it's age and how many times I've heard it live. "The title track of our next album, out next week....er, tomorrow!" heralds the second "new" song of the night, "Rapture Of The Deep". Fresh and majestic, there's a healthy apprecation from the audience, clearly not ALL there for just the old classics. This songs remains a highpoint of the set for me, even though it's played essentially straight.
With no let-up, we're into a frenetic "Fireball" which is gone in the blink of an eye and we're into Steve's solo spot. Things aren't quite gelling with his delay sampling and he has a couple of shots at setting up the basis of his piece before getting into it, sequing into "Well Dressed Guitar", the whole venue clapping along for the final couple of minutes or so and raising the roof in appreciation once the track finishes.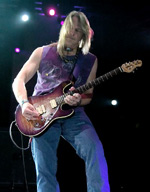 Taking things down a notch for "When A Blind Man Cries" is a masterstroke, made by Steve's lamenting guitar work. Stunning. Don's intro to "Lazy" then breaks the mould, using two of his synths as well as the Hammond to meander around a couple of ideas, throwing out some white noise (a la the 1972 Made In Japan intro) before hitting that familiar r'n'b shuffle as Paicey's hi-hat starts chinking out the rhythm as the hyperventilating Leslie speakers are shown on the video screens stage left and right. Delivered with restraint to keep it simple, ambling and stripped back ( I was never a fan of the reformed Mk II breakneck version of what this track mutated into ), there's nothing slack about the way the guys tackle the perhaps oxymoronically titled workout.
Next up, "new oldie" ((C) me, today), "The Battle Rages On" is perhaps better received than I would have expected. I always liked this track and to hear it played here with such precision (and much better PA than I remember on the 1993 tour) is almost a revelation. I must confess I thought this an interesting/odd choice when I saw the recent French tour setlist but it works really well in context here, suiting Steve's style very well. The Missus pointed out the similarity between the riff and that of "Rapture...." which had previously escaped me.
"Now up through the roof, which is retractable" for "Space Truckin" and onto the home straight through "Highway Star" and "Smoke On The Water" then off after 75 minutes. I'm no big fan of these packages tours, a financial necessity we are led to believe and it would be nice to have a couple more songs in the set. If only Styx could catching something contagious and Purple have to do an extra 15-20 minutes (of Morse era stuff) I would be even happier. Still....
A quick church-like noodle from Don precipitates "Hush", the crowd moving as one, continuing to bounce even through the brief drum solo. It's nearly home time as Roger strikes up the riff to "Black Night", letting the crowd take over for a few seconds before everyone hammers in, the roof nearly separated from the walls. Taking a look around, arms are waving and people are bopping all the way back to the back of the hall.
A good solid show (would you expect otherwise of a band who have been playing these tunes for so long) well received and enjoyed by us.
Right, off to bed an dplanning the route to Nottingham for Tuesday's show..........
review: Martin Ashberry, photos: Nick Naylor & Steve Steinsberg

"This was an excellent show. Forget Thin Lizzy (3/4 of which have been in Whitesnake) & Styx, Purple are still the band. Ok, so a few doubts about the set list but what they do, they do well!
Gillan looks as though he's lost a bit of weight & was in good voice. Ian Paice is still the best drummer around. Don Airey does his bit & very much like Emerson during his solo & Glover holds it all together. The band were smiling & laughing a lot & that's got to be good! No "Perfect Strangers" & it's time "Hush" & "Black Night" were dropped. Nothing from "Bananas", "Abandon" or "Purpendicular". Nothing very special about the merchandise. Gillan's book "Smoke This" was for sale @ £30, so it stayed there. Steve Morse guitar pick key ring is cute & the programme (£10) looked interesting. Nice to see video screens as well. All in all a good night & the sound was superb!" review: Tim Corbett