DPAS LIVE REVIEWS

Deep Purple
Brighton Centre, April 29th 2007
To be honest the last thing I expected was to be surprised by the show, but that's exactly what happened.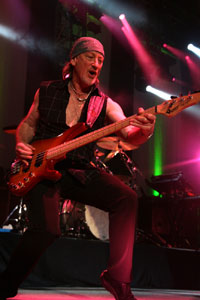 For starters, reviews have hit upon some (very recent) negatives, which were conspicuous by their absence. The young helpers at the merchandising stand could not have been more helpful, further showing up the lousy behaviour of their Bournemouth counterparts; the security were friendly sorts, unlike some of their Wembley contemporaries, and in the show itself the volume was definitely reduced from the earsplitting din experienced two days earlier. In fact Styx were the loudest band of the night.
As for Deep Purple, well, despite the constant reports of the amazing health of Ian GIllan's vocal chords, I was still surprised to hear that it is absolutely true. Frankly I'd never expected him to be able to reach these heights again, he was never under strain to reach any note, and was able to virtually toy with once demanding tracks such as Space Truckin'. He was the star of the night for me. Another admission is that I was taken aback at just how thoroughly rehearsed the band sounded; every time change, no matter how convoluted was handled with contemptuous ease, leaving the musicians the space to push the music even further than usual.
Downsides were few. More from Rapture Of The Deep would have fitted in well. Indeed having been freshly stunned by the album after listening to it on an iPod for the first time (where the production sounds just right), it is a shame that we weren't treated to the likes of 'Money Talks' and 'Before Time Began', which would have fitted it perfectly with the searing precision of the night's music. I feel that the band also owe Steve Morse's solo music a blast. Deep Purple taking on 'Sleeveless In Seattle' or 'Kat Food' would be an incredible experience. Just think how good Mk4 made Tommy Bolin's 'Homeward Strut' and 'Wild Dogs' sound.
And that's about it really, well, just one last very minor moan - I wish Roger and Steve would cut out the syncopated headbanging in 'Highway Star' that they've been in the habit of doing since 1996. Unwelcome Shades Of Status Quo there lads.
So, the band are still in rude good health, and the live shows are on an upward curve. Long may it last!
review: David Browne, photo: Martin Ashberry

Went to the Centre to a tad wary of some of the reviews that were flying around, but I needn't have worried, this was the best Purple gig I've seen for many years.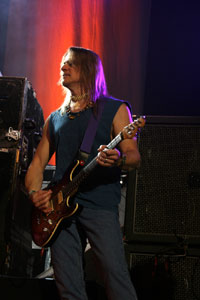 Let's start with Thin Lizzy though; they were very good as a tribute band, but Thin Lizzy they ain't. Excellent musicians in Tommy Aldridge, Marco Mendoza and John Sykes (all Whitesnake boys) but Scott Gorham should think of another name for this band. As for Styx, well, what they are doing on this tour is beyond me!
On to Deep Purple themselves. The opening four segued together songs heralded a performance that was among the best I've ever seen by them, Pictures of Home melding nicely into Things I Never Said and then Into the Fire (the best version I've heard in years).Gillans voice was as strong as I can remember. The show hurtled on from one brilliant song to another. Steve Morse's solo flowed more than before, and he has at last stopped his 'noodling'. The Battle Rages On was by far the best song all night, my God, why haven't they played this live more often, it was everything that is right about the band. A beautiful When a Blind Man Cries showed once again what a fabulous voice Gillan has. I was a little disappointed that there was only two new songs, but Raptures Of The Deep should be in the set for good, it has the makings of yet another classic. The much argued 'should they play all of Machine Head' was answered by the fact that apart from Maybe I'm a Leo and Never Before it was the mainstay of the set.
The encore of Hush was played with more guts and venom than I've heard for a long time, and the band were in top form, Paicey and the Stinking Hippie Glover gluing everything together along with Don Airey's brilliant keyboards. A brilliant night out guys. As my son said after the show, some of the new 'so called rock bands' should go and see Purple and see how it's done properly, I'll drink to that. Here's to the next time."
review: Peter Stokes, Worthing, photo: Martin Ashberry