DPAS LIVE REVIEWS

Deep Purple
NEC Birmingham, May 3rd 2007
Deep Purple should pat themselves on the back after a very enjoyable gig in the NEC. The opener, Pictures of Home, was a great number to start on, but I was in the mood for a Highway Star kick-off!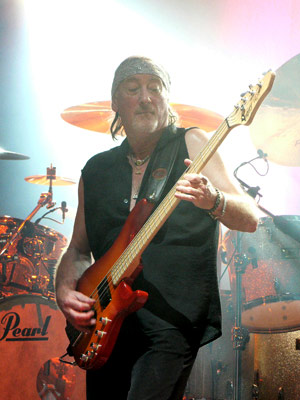 The solos were excellent in Pictures of Home, especially Roger's. One slight disappointment was the poor sound quality of the Hammond, which is probably more to do with the NEC's very questionable sound setup.
I was wary of going to a gig where there would be an electric crowd but a pedestrian performance, especially after good performances by both Thin Lizzy and more expecially Styx, but Deep Purple had the crowd in the palms of their hands from the beginning. All numbers were very good or excellent, with the exception of The Battle Rages On, which I found a little too heavy.
GIllan was on top form, especially in the guitar / vocal duel during Strange Kinda Woman. Rapture of the Deep was very well played and strategically placed in the setlist. I was expecting more new stuff, but I'm glad the band didnt forsake the old classics. After Space Truckin', I was expecting the extended improvisation....but it never came. A slight disappointment, but the song was still well played. As for the encores, Hush was very good, but I think the song needs vocal harmony. As good as Gillan was, he can't sing a chord!
All in all, great support, great performance, great songs, crap sound. The NEC should re-examine its sound system.
review: Michael Rafferty. photos: Alan Perry, www.concertphotos.uk.com
Note to editor: (This was my first Purple gig- I'm only 18 and live in Ireland (we're more or less Purple virgins).
Don't worry about it Michael. I'm from Northern Ireland, and although Purple have never played there (STILL!!), I'm a bit of an old Purple slapper.

Well, the first was that I had a seat & so didn't have to endure Lizzy & Styx!!! Downside - it was the NEC & this damn building seems to leach sound & atmosphere from any audience, but they insist on coming here so I'll have tp put up with it.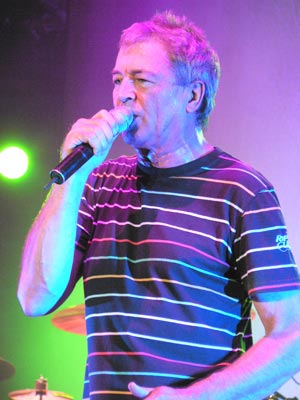 Purple came on Stage at 9:30 & opened with Pictures of Home - in other words, no variation on the Cardiff set. Never mind, they were (despite the venue) on fire - still smiling, still playing so well that at times I watched the video screens in absolute awe as each member of the band proved their versatility.
Gillan's voice was still on the button; Paicey was the powerhouse he always is; Glover providing the perfect counterpoint to the fluent drums; Airey (apart from losing his temper when the keyboards failed during Hush) was able to take the Lord compositions & make them his own; and Morse? - the man is an absolute revelation. No matter how many times I see him play, his virtuosity, humour & sheer genious complements & enhances all of the numbers. He can take a Blackmore (who?) riff or solo & pay homage to the original while totally transforming it into his own Morse code (groan!).
I have never, and I mean never, heard his solo and Well Dressed Guitar played so well. Even the Guns & Scirrosis riff didn't spoil it. So, the other bonuses were that they played 'a blinder' again plus we had Bernie Mardsen join them for Smoke On The Water. Always a pleasure to see Bernie play, just a pity he doesn't release more or tour more than he does.

The end of another tour - only two visits for me this year due to work commitments (dammit!). Let's hope that they come back soon ( a la France) with a revised set list..... yes, they played a blinder, but I will yet again voice what so many fans want.
A set list covering more than Mk2 & the odd Morse era - how about.....

• Anya (imagine the lights coming up to the atmospheric intro) • Rapture of the Deep • Ted the Mechanic • Any Fule no That • Lazy • Walk On
• Seventh Heaven • Hallelujah (yeah, why not?!!!) • Purpendicular Waltz • Haunted • Flight of the Rat • Smoke on the Water.
Encores:
• Strange Kind of Woman • Rat Bat Blue

What a concert that would be - I'll go back to my dream world now & hope to wake up at that very gig next year!!

Regards
Tom Dixon