DPAS NEWS EXTRA

Jon Lord
Boom Of The Tingling Strings / Disguises
Press Release
EMI Classics are pleased to release two symphonic works by Jon Lord, better known as a founder member of one of the all-time great rock groups, Deep Purple. Lord's new Piano Concerto, 'Boom of the Tingling Strings,' is performed by Nelson Goerner with the Odense Symfoniorkester under conductor Paul Mann, the concerto's dedicatee. Lord's Suite for String Orchestra, entitled 'Disguises,' completes the programme.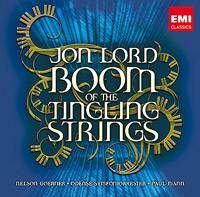 Parallel to his rock career, Jon Lord has composed music for orchestra for nearly forty years. Sometimes described as 'classical cross-over,' Lord's compositions reflect his many musical enthusiasms, which, in addition to orchestral music and rock, include jazz and folk music. While still a member of the 'band,' Lord's Concerto for Group and Orchestra was recorded by Deep Purple with the Royal Philharmonic Orchestra under Sir Malcolm Arnold, selling hundreds of thousands of copies worldwide. Since leaving the re- formed Deep Purple in 2002, Jon has focused his attention on composing. EMI have previously released a number of his works to critical acclaim, including Pictured Within and Beyond the Notes.
Describing the genesis of his Piano Concerto, Jon Lord said, "Since I started to write music for the orchestra, somewhere in my thoughts had been the urge to write a piano concerto. Not so much in the traditional … sense of a concerto … but more as a vehicle to express my love for the piano, which I began playing aged six. … (The concerto) would not be for me to play … but for concert pianists … for whom I have unbounded respect and admiration. … I also wanted to celebrate my lifelong love affair with the orchestra, which seems to me perhaps the greatest of 'instruments' … and to marry these two loves of mine in music that would sing from my heart to the heart of this wonderful union that is a concerto. … After a few aborted attempts to begin writing while touring the world with a rock band, in 1998 I came across a poem by D.H. Lawrence called simply Piano, and its effect on me was immediate and profound. The 'I' of the poem seemed to be me. I recognised the childhood that Lawrence described, for it seemed to mirror my own, and the idea of using his images to paint pictures from my own experiences was a persuasive one. … I immediately began to jot down ideas. The experience was made more resonant for me by that marvellous phrase "the boom of the tingling strings" and I decided then and there, that would be the title."
Former EMI Debut series artist Nelson Goerner, "a player of exalted poetic verve" (Gramophone), is the soloist in Boom of the Tingling Strings. He rises admirably to the technical challenges of the work, particularly the fiendishly difficult last movement and, at the recording sessions, he moved the composer to tears with his deftness of touch and musical sensitivity.
Disguises is a suite in three movements, each a portrait of someone who has inspired the composer. Lord originally conceived the work for string quartet but later expanded it for string orchestra. The first movement, M.A.s.q.u.e., is a portrait of Sir Malcolm Arnold, a seminal influence on Jon Lord's musical life. The second, MUSIC for MIRIAM, is a portrait of the composer's late mother. The final movement, IL BUFFONE (G.C.) is for an old friend, a big bustling man who brings Lord 'occasional benign madness and hilarity when I most need it, but whose joviality can disguise a certain wistfulness.' When Disguises was completed in 2006, Jon Lord decided to dedicate it to Sir Malcolm Arnold, and received word that the great English composer, delighted to be the dedicatee, looked forward to hearing the work. Sadly, Sir Malcolm never heard it as he died four days later.