Deep Purple
1968-76 Ticket Poster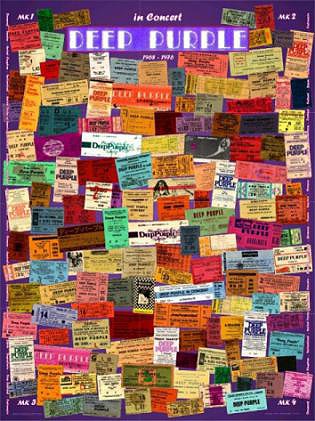 "Deep Purple played more than 800 shows during their 4 line-up changes from 1968 to 1976. Over the years I've started to appreciate old concert tickets more and more to the point that I started to collect them. (I think they are a very nice 'graphic' testimony to many of their great live-shows).
At present I have just over 200 tickets from those 'classic years'. It would be a shame not to share them with more people so a while ago I decided to design a 'Concert Ticket Poster', which is now available in a limited print of 250 only.
On the poster you will find tickets from many different countries and tickets from lots of 'classic' concerts like the 'Concerto '69', 'Scandinavian Nights '70', 'Made in Japan '72 ', ' California Jam '74 ' & 'Tokyo '75', as well as their first ever USA show, early festival appearances, MK 2, MK 3 & MK 4's last shows, etc. etc.
Most tickets are from my personal collection. A few were sent to me by others (many thanks!) and were used to paint a more complete picture.
The poster is full colour and is a proper litho print and, at 60 x 80 cm, is ready to be framed! Of course this poster will be a nice supplement to Nigel Young's (many years in the making & soon to be published) book: 'Day by Night: the Concert Diary 1968-1976.
Hope you enjoy it.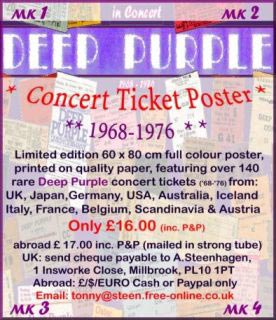 I CAN accept payment by Credit/Debit card through Paypal (my user ID: tonny@steen.free-online.co.uk). DPAS members qualify for 10% discount (just tell me your membership number). By the way; the images on the website are slightly blurry, low resolution screen shots. The poster itself is 100% sharp, printed on good quality gloss paper., to quote one happy customer, 'looks even better live than on those pics on the web. A nice gem for a Purpleist.....' !"
PS
"Obviously , if you have any Deep Purple tickets from 1968-1976 yourself that you'd like to sell or trade, please get in touch!
Any country/condition considered.
If you don't want to sell then I'd also be interested in a good quality scan/copy instead."
Tonny Steenhagen