DPAS FEATURE
George Harrison
The death of George Harrison on November 29th 2001 was marked by a huge amount of coverage in the national press. Of course it will be for his input to the remarkable Beatles' legacy that he will always be remembered -and rightly so. Yet Harrison did cross paths with a number of purple people, more so than any other member of his former group.
It may well be that Jon Lord first met George when the pair of them guested on Ashton Gardner & Dyke sessions in the very early seventies. Tony Ashton knew George, as his first band The Remo Four had supported The Beatles in Scandinavia. Tony then played keyboards on George's solo album Wonderwall,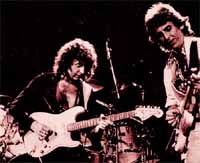 and George guested on AGD's second album under the pseudonym George O'Hara-Smith. It has been thought that George might also have played on First Of The Big Bands but there is no confirmation of this yet.
Ten years later however Jon Lord guested on Harrison's 1982 album Gone Troppo, although his synthesizer work was all but inaudible come the final mix. Jon and George were then seen together in a comedy film called Water starring Michael Caine. In one sequence a band is playing, with the two of them plus Ringo Starr and Eric Clapton on stage together (a shot from this sequence is on the soundtrack sleeve and we assume they all played on the soundtrack too although they're not credited). Living in the Thames valley, Jon and George formed part of the Henley Mafia for a time, and on a couple of occasions formed a group they named the Pishill Artists to play in a local pub. Pishill (normally pronounced 'pishle' rather than 'piss hill') is a small hamlet about 6 miles north of Henley on Thames.
When Deep Purple reformed in 1984 Harrison turned up for one of their come back shows in Sydney Australia on December 13th 1984,and (introduced as 'Arnold from Liverpoo'l) he played on Lucille. Backstage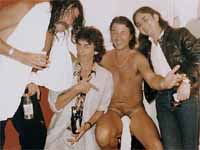 the band wanted a picture to mark the occasion. Ian Gillan had already dived into the shower but was pulled
out for the picture, and covered his modesty with a sock! Harrison's performance with Purple was bootlegged on 'Sydney & George'.
George Harrison was strongly rumoured to be guesting with Purple at the Albert Hall shows in September 1999 but by then (after he'd been attacked at his house) he was something of a recluse, and didn't appear in the end. He was able to get along to Joe Brown's wedding last year though, and was pictured by OK Magazine alongside Roger Glover and Jon Lord enjoying the event (see DTB Issue 54). George also appeared with Ian Paice on a track from Jim Capaldi's recent solo album.
Our colour picture is the infamous sock shot which appeared in Darker Than Blue at the time (courtesy Ian Gillan / DPAS Archives). The black & white picture shows George on stage with Purple in 1984 (courtesy Ian Gillan / DPAS Archives). You can click on either to view a larger version.
Simon Robinson (thanks to Matthew Kean, Dave Browne and Nigel Young).