DPAS REVIEWS
Deep Purple
Nandrin Festival, Belgium
August 10th 2003
This is my lucky Deep Purple year: it is the third time I've had the chance to see them this year, and already the second time in my home country of Belgium. Even better: it was the best of three the gigs seen this year.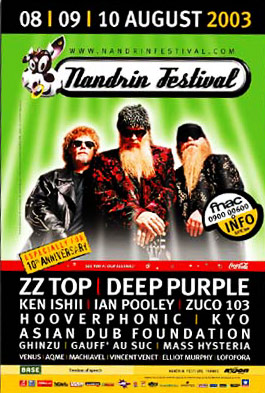 I was happy to see that there is finally a backdrop and a decent light show – both missing the previous two times. It really has been a long, long time since Deep Purple surprised me with their stage show and setting…
The sound was also improved – Steve Morse's guitar amplifiers were not overprominent in the sound mix this time. The bad (well, not bad, but a bit disappointing) thing is: this is the third show in a few months with almost exactly the same set list. No 'Mary Long' and 'I'm Alone' this time, they were replaced by 'Knocking At Your Backdoor' – albeit a great version!
As for the rest… it was a slightly improved facsimile of the previous shows, which fortunately brought the best vibes I have experienced this year. Still… I have seen other bands more than once in 2003, (ones which I like far less than Deep Purple), but in a way they gained my respect by delivering two totally different shows. I wonder how Steve Morse feels when the two albums he co-wrote are completely ignored. I am 100% certain that Don Airey is capable of quickly mastering any other Deep Purple song….
Would Gillan prefer lying on a sunny beach rather than having to look again at some long forgotten lyrics, which some fans might know better than he does???? I wonder, and I hope to hear some other stuff later on this year, when I give them yet another chance to really astonish me with some tunes I haven't heard live before (or for a long time)…
review: Ludo Verhaege, Gent, Belgium

This was the first time the band has played in the French part of the country. It struck me how little attention the event got in the Dutch part. In Brussels I only saw 2 concert posters.
There was not much time for the musicians. They had done a tv interview in their hotel in Brussels, and had to travel for over an hour to the site where they disappeared in the artists' area after a quick shaking of hands. Ian Gillan said he had to learn some words. It was a complicated situation in Nandrin. The backstage area was actually about 1 km away from the stage and the musicians were driven to it. Immediately after the gig Purple climbed into 3 vans and were escorted by 2 police cars back to their hotel in Brussels for a short night as they were to catch a plane to Italy early the next morning...
The show started at 22.00 hrs with Highway Star. This had a long, special and funny intro which I can't describe, but which I liked very much. The band's back drop was a very large Mark 3 logo, the stage was high (about 2 m) and the counting the roof it was as high as a 2 storey building. To the left was a large screen on which you could follow the concert more closely. It was filmed by several cameras, positioned all over the place. Excerpts were shown the day after on VRT1 TV. The host had Ian's name wrong (Gillian!) and asked his guest (internationally famous cover singer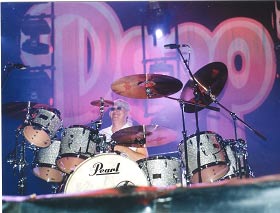 Helmut Lotti) if he could sing as high as Gillan. I must say he came very close. But I was talking about the screen!..
... I caught myself a couple of times watching it while I should have been watching the band just a few metres away to the right. Gillan was wearing a black shirt and that was about all the new stuff for the night! Knocking At Your Back Door went down very well. I've seen the band 3 times in the last year but never a real show, always more of a 'best of''. Pictures Of Home was shortened once again and led to Lazy. Then Steve and Don joined forces for the new and bluesy Haunted. Three months ago back in Roeselare this already sounded great, but it was obvious they have worked on it some more. Is this the new When A Blind Man Cries?
During Speed King we had the usual duel between guitar and organ, and after a short drum solo Gillan did a short guitar imitation with Steve. Tonight's surprise was the best rendition of 'a song about nudity' The Well Dressed Guitar that I have heard.. Steve had the time of his life, while Don accompanied him with orchestral sounds. This should really be on the album and I was under the impression the audience felt the same way. Next up was I Got Your Number, another song from the upcoming Bananas album. This also has also been worked on, but I feel it moves more and more in the direction of Watching The Sky, a song I don't like very much. Roger and Steve did backing vocals a few times.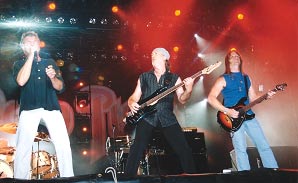 When a church organ and classical themes filled the air, I saw many youngsters leaving the site. This was obviously not their cup of tea. Don's keyboards got louder and ended in the Star Wars theme. This was the intro to Perfect Strangers, during which the smoke machine was activated. It was probably by popular demand that Steve Morse introduced his clippings of Led Zeppelin / Jimi Hendrix / The Kinks and The Beatles again (only assisted by Roger Glover) when preparing us for Smoke On The Water. Finally the audience found the right mood and sung along. I think the show needs more tempo and power to convince people to take more part in the event. They just seem to stand there and enjoy the music (or is this an age thing?). Thanks to smoke and colour spots we saw some beautiful effects. Ian went over to Don and let him sing a few verses in his mike. Gillan's visit to Don was immediately followed by one of Roger. Space Trucking was the end of the regular show. I saw people not only sending SMS-messages but also holding up their mobile phone to share the concert with their correspondent.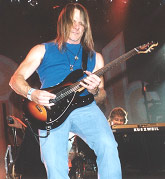 After lots of stroboscopes the show ended after 75 minutes. Hush was the 1st encore and after an improvisation on bass and drums another of the many Blackmore oldies was performed: Black Night. After a guitar solo in which I spotted some of Rock And Roll Part 1 (Gary Glitter) , drumsticks and plectrums were thrown into the audience the band left the stage, stepped straight into their vans and left (under police escort) for Brussels.
I think tonight's concert was better than the one in Roeselare, but it's now time for some new material. Can't wait to hear it!!!
review & photos: Marc Brans