Bernie Marsden interview with Fiona McKeown, October 2006
Fiona McKeown: Bernie, you have been in the music industry for over 30 years. You must be proud of your achievements in music. What makes you different from other musicians and bands that have been born, flourished and gone within this time?.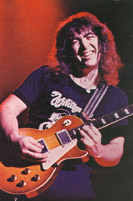 Bernie Marsden: It must be, over thirty years now. I suppose I am proud of what has gone on, after all I only ever wanted to play the guitar for a living, and that is what I am still doing. I have seen so many bands and musicians fade away, especially the ones in my early days that treated me and my bands with contempt for no other reason than that they were headlining the show, not all though, with great exceptions such as Slade and Vinegar Joe.
Tell me about the guitars that you own / have owned?
We don't have enough space to go through all of these, except that I have a good collection, some very special instruments. Sometimes I wonder if I would have been better off with one "Lucille" but that never happened. Most guitarists have the guitar sickness anyway, we all have considerable collections, ask David Gilmour, Johnny Marr, Joe Walsh..
What was it like working with Whitesnake in the early days?
Very easy, very natural, a marriage made in London so to speak, David and I became easy writing partners almost straight away. The Coverdale / Marsden / Moody writing team was quite formidable in its time, check out those albums!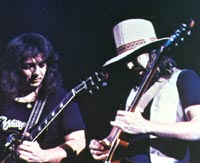 I am sure you are asked this all the time! Would the classic Whitesnake (1978-1982) line-up ever consider doing a one off tour? That would be amazing to see.
David used to say never say never, when he was asked this question in Whitesnake about Deep Purple, so I will use his answer here, I have to say that it could be a winner though.
While with Whitesnake you released two solo albums. The demo's for your solo album "About Time Too" were recorded at David Coverdale's house and he wrote half the lyrics.. tell me about these projects?
You are very informed, that is quite correct, Julie Felix's house to be exact. He was 100% supportive of me making solo recordings, after Lovehunter he was very insistent about the matter, he wrote the words and I was very grateful for all of his help, even more so these days when I realise the pressure we were under.
I know you were influenced by The Beatles, Eric Clapton, and Jimi Hendrix to name but a few who else were your early influences and who influences you now?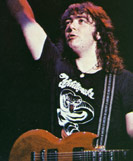 Pretty much the same, add Donald Fagan, Duane Allman and BB King, throw in some younger people like Pink, Orson and Oasis and I'm still grooving.
You are now friends with one of your biggest influences Peter Green, how did that come about?
That is true, although it has been a while since I saw him in person, just as I was finishing the sleeve notes to "Green and Blues" his manager called me up and said that he was not "lost" as I had put it, he was in Croydon and he would like to speak to you!
You've toured with Suzi Quatro. This special lady seems to appear in every interview I do. What is she like?
She is special, a female survivor in the male dominated world of rock! I met her at RAK records in 1974, and we toured together with The Arrows and Cozy Powell. She was always friendly and always gave 100% on stage, I liked that, the music was not my most favourite but the people were great, her ex husband Len Tuckey is still a good friend of mine. We recently worked the same show in Ireland; Suzi was just the same, still knocking out those songs, good radio show as well!
SOS (which later became Alaska) - Robert Hawthorn, Brian Badhams & John Marter. How did you guys get together? Why did you split?
Through auditions, there were a couple of people before them in the very short lived SOS. We toured, and made two albums that sound pretty good with hindsight, but at the time I was never 100% into it and that was not fair on all the other people involved. I still work with Brian in Elkie Brooks' band though.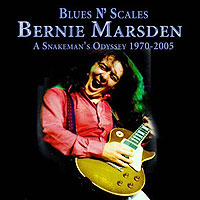 You are releasing, through Sanctuary, "A Snakeman's Odyssey" in November. This is a fantastic album covering your full music career. It is a fantastic opportunity for new Whitesnake fans to hear you play and for all fans to have an awesome collection of your work. How did you select the songs on there? What are your personal favourites?
A lot of people have been very complimentary about the anthology, saying I must be proud to be asked to compile one. To be honest I never thought about it in that way, though now that it is done I see their point, having the anthology is a bit like a painting exhibition of your work I suppose. I wanted to get as much as possible in to it, so we even have Skinny Cat recordings on a CD with some of the biggest Whitesnake, bizarre. There is an unreleased version of a Cozy Powell song, Wild Turkey demos, Babe Ruth, I couldn't get any UFO though, takes us up to Big Boy Blue in 2004. There might even be a volume two.
If you could change one thing in your life, what would it be?
To: Read contracts.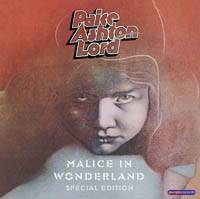 For you, what is the best album you have worked on?
It is almost impossible to choose, a bit like choosing your best child, but I have to say that the Paice Ashton Lord album is a very fine piece of work, I am very proud of that one, and I got to have a release on Warner Brothers records, that was always a personal goal, there is a track from it on the Anthology, "Ready and Willing" is a favourite because that was the breakthrough album for Whitesnake, I am also very happy with The Moody Marsden band of work in the nineties.
Do you have any superstitions before going on stage?
Not really, just get on and do it!
Where is your favourite place in the world to play?
Where they want to hear me! Hammersmith Odeon with Whitesnake was as good as it gets, the UK is always great to play, I love gigging all over so bring 'em on!
What album could you not be without?
Revolver by The Beatles, Electric Ladyland by Jimi Hendrix.
You wrote an album with Adrian Smith (Iron Maiden), which he sang on.. What happened to that? Will it be released?
Adrian and I did write a bunch of songs, he is a great singer as well as guitar player, they have not been released as yet, but we have talked about it, good rock and roll stuff it is as well!
I believe you used The Moody Marsden Band to gig with people you respected at the time. Who was your fave? Why?
We did put guys into the band that we really liked as people and as players. I loved having Terry Williams from Rockpile and Dire Straits playing drums though.
The Company of Snakes covered Whitesnake and rhythm and blues : why change to M3?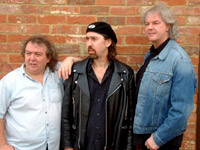 Time to clear this up, TCOS and M3 are totally different bands, I stopped TCOS because we were going around playing Whitesnake and TCOS material, both would be well received but the Snake songs would get a 90% louder cheer, so it was plain what the people wanted, so I called Jimmy and Mark and said that we would play ONLY Whitesnake from the classic line up period. That is what we do now; check out the M3 DVD on Warners.
What other things are you up to?
Lots, I have just been working with Robert Plant and Paul Weller, both top men. To play those Led Zeppelin songs was a dream come true, playing with Paul would have seemed so unlikely a few years ago but we got along great together, both were very complimentary. I play with Ringo Starr's band in Europe on occasion; just mixing a new solo album, I have my own three piece and big r'n'b band, there are not enough hours in the day!
Anything you wish to add?
Working on a biography, not just about me I hope, it's about being on the road over the last 30 years, a few laughs and some insight into the great world of music.
Thank you to Bernie for doing this interview and for all the awesome music you have put on this planet!
Please check out Bernie's website: www.berniemarsden.com