Tues 10th November – Manchester Apollo
'It's the day before the first show with Deep Purple. We're packed, Shakey Jake (our van) is loaded and we set off from Brighton around 8pm to travel to Manchester. Unfortunately we're not quite rich rock stars just yet and although we'd have loved to have stayed at the Malmaison we settled for my parents house instead, 6 of us crashing on the living room floor after consuming copious amounts of Pepperami and Nobbys Nuts on the way up...fun. We set off to the Manchester Apollo for the first show with Deep Purple. I grew up in Manchester and this is the venue where I watched all of my favourite bands and heroes play, and to be walking into the venue with my own guitar was very surreal.
We dropped off the gear and walked into the main room where Purple were soundchecking, it sounded amazing. We were told that the band doesn't usually soundcheck but they were trying out some old material they hadn't played for awhile. Our soundcheck went really well and Deep Purples crew were really helpful, and after spending a whole week with them I can honestly say that they are some of the nicest people we have ever met.
Two hours before showtime we were called for catering....this was new, we got given a three-course meal before every show?! Sweet. CJ ate everything in sight and was nearly sick onstage later. 7:45pm and we head down to sidestage ready to go on, our intro music started and the nerves kicked in, I still couldn't believe I was about to play in my favourite venue...with Deep Purple!
We hit the stage and got a warm welcome and kicked into 'Cooking In The Kitchen' and the nerves disappeared to be replaced with pure adrenaline. We played a great show and it was a great start to an amazing week that I will never forget for the rest of my life.'
Ryan, Vocals, Guitar

Weds 11th November – Glasgow SECC
It was the 2nd show of an already legendary tour with Deep Purple and today we where en-route to rock the amazing Sydney opera house/Armadillo looking Clyde auditorium. We left from a cold, wet Manchester that morning with eggs n bacon in our bellies and a huge grin on our faces after last night's amazing show at the Manchester Apollo. Scotland is always an epic drive with plenty of motorway miles to chow down on, and as all seasoned UK drivers know there is one service station heading north you can't miss ... The delightful Tebay services and farm shop. We where greeted by glorious sunshine and friendly ducks as we stopped for a sit down and to enjoy our freshly made pies. If you're passing you got to try the 'beef growler'!!
Filled up with pie, we hopped back into our trusty white LDV van 'Shakey Jake' and headed onwards to the land of the brave.
We arrived in damp and darkening Glasgow but our excitement for the evening's proceedings was keeping us chirpy. As per usual we managed to take all the wrong roads and turnings when it came to finding the loading area at the venue but eventually we got there only to see so far reclusive Deep Purple getting into their blacked out Mercedes-Benz transport as they were being whipped off to their hotel and restaurant dinners.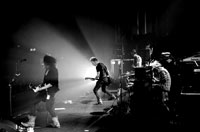 Sound check was a breeze thanks to Deep Purple's super polite and helpful crew, and the venue itself was quite mind-blowingly compared to the venues we're more used to....inspiring stuff indeed. Dinner was next on the cards and the wonderful people of Gig-A-Bite catering served up another delightful feast. I stuffed myself on a hefty bowl of leek and potatoes soup, soft, fresh tiger loaf bread, numerous cheeses of the world, then a delicious chicken curry with rice and naan bread, followed by a mouth-watering peach and apricot crumble avec custard ... Yummy!!!
Nearly show time and I'm so full it's making me feel sick, oops!! I can never say no to food. The venue's filling up nicely but this being our first seated show ever and, with the library quiet level of music playing as people arrived, it felt more like a university seminar or a theatre production was about to take place. Show time!!!! We go out guns blazing after our intro tune finishes rolling and we love every second. It's so nice having so much space on stage and looking out to these large crowds. One day every show will be like this…but people will know our songs! After DP finish rocking the house we head out to do the usual flyering, signing and photo opportunities to try and bag some new Crave fans. The evenings over and there's only one thing left to do when you're in Glasgow and that's get drunk!!!
Ryan, Fanny our guitar tech and myself head out into town for fun night of tequila, dancing and kebabs. Glasgow always delivers a quality evening and that's why we'll always come back. Thanks to the rubbish navigational skills of my iPhone, Fanny and I get lost walking around the sodding wet streets of Glasgow for hours and eventually had to give up and catch a taxi back to our river side hotel, the glamorous Etap. Enough said, good night and happy hangover!!"
CJ, Drums

Thursday 13th November : Travel day from Glasgow to Birmingham.
"We set off at 12pm with a couple of hung over faces in the back of the van. After a couple of service stops (one at the amazing Tebay!), we get caught in loads of heavy traffic in heavy rain, and as the winter night drew in quicker, the day just seem to last forever... After dropping off CJ & Fanny in Brum city centre, the remainder of us finally get to my parents house in Worcestershire at 9pm. Tired from sitting and staring all day, the smiles are quickly brought back to our faces by my mum's homemade beef casserole!"
Friday 13th November – Birmingham NEC 'LG Arena'
"After a nice lie-in we all get up to be greeted with a lovely fry-up made by my folks. After the 4 of us have showered and eaten, we get on the road, pick up the other two en-route, and (with some confusion) get into the NEC LG Arena loading area. As soon as we get inside everyone noticed how huge, empty and dark this monstrosity of a building was - there were 4 artic lorries quite comfortably pulled up behind the stage! The crew are testing out the lighting rig as we walk in and it looks stunning in the pitch black of the space surrounding the stage. We find out that this is a new format for the venue, as the stage is about halfway along the hall and we'll be the first band to perform on it!
After we drive the van in and load, we get the gear up on stage and sound check. The stage is definitely the highest stage I've ever been on - just seemed so scary how after a thin white warning line it was a sheer 9 feet drop to the floor! We have plenty of time in our sound check, and manage to get everything sounding perfect with our onstage sound. We then head to catering to have a lovely chicken stir-fry and then go relax in the dressing room.
As we near our stage-time, so we do a few techniques to warm up the vocal chords, which soon turns into a 'Freddie Mercury at Wembley' style warm up!
We run out on stage to a packed standing and sitting audience and blast through the set. I straight away notice lots of smiling faces, including some that I know too! Adrenaline is high between the band and we put on a huge, energetic performance - which hopefully the ears of Birmingham enjoy too!
After the show we quickly get the gear loaded off with the help of the loaders, straight into the van. Then after a quick change go out and watch the legendary Deep Purple with my folks. When the show is over we met loads of people at the merch stall and chat about the awesome show! Amazing night!"
Tom, Bass

Saturday 15th and Sunday 16th November - London Hammersmith Apollo

"The day started by picking CJ and our guitar tech Fanny from Birmingham City centre, as they had decided to stay there after the show at the NEC whilst the rest of us stayed in Droitwich, Tom's hometown. As we arrived to our meeting point Gary Lee, our trusty soundman, discovered he had forgotten his phone. For once The Crave were running on time so there just had to be a catch in there somewhere.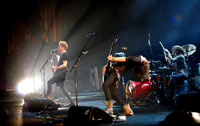 After recovering Gary's Blackberry we finally set off to London town, an hour late but excited about what was to come. 2 nights at a sold out Hammersmith Apollo, it almost sounded too good to be true.

We usually keep ourselves entertained on the road: we joke, we invent silly games, or we just ignore each other and go into 'iPod mode' listening to our own music in magical Stereo rather than struggle to hear anything out of our broken mono van sound system (the left speaker has never worked). Today we decided to invent a game: 'Guess Who's Boobs'. The game consisted of finding a celebrity on Google images, zooming in and…well, you get the idea. Ryan did quite well in this game, too well in fact. Perhaps he has a secret stash of Heat magazines hidden somewhere?

Arriving into London on that rainy Saturday was surprisingly painless, we found the Apollo very easily. However, finding our dressing room inside the venue was a much more complicated affair – a real Spinal Tap moment. 3 flights of stairs and countless doors with no signs meant we took about 10 minutes to locate our designated room to settle in before the soundcheck.

Sound checking at the Apollo was incredible. I had last visited this venue when I took (my then girlfriend, now wife) Cat to her first rock show: Velvet Revolver back in 2004. Now we were playing at that same venue and she could actually stand and watch from the side of the stage. After setting up the gear Deep Purple's guitar tech Tommy came in for a chat and a jam. He ended up taking over lead guitar duties and jamming some sick blues through my rig followed by AC/DC's Back In Black - that man can shred! And just to make this tour even more special Tommy let me try one of Steve Morse's Music Man guitars and I just couldn't help myself: I had to play the riff to Smoke On The Water on Steve's axe. As if I was going to let that opportunity go by!

Following yet another incredible meal we returned to the dressing room to get ready to hit the stage. We had a lot of family and friends coming to the show, which always means nerves, will hit harder than usual. Standing behind the curtain to witness a full house hungry for loud guitars and a good time did not help at all either. The lights went off and our intro music started, now I was REALLY nervous - that is the final countdown, forget the nerves and play the best you can.

We jumped onstage and played the most kickass set of the tour. All those nerves become a huge adrenaline hit and off you go. What a half an hour that was. Just in case it wasn't enough we got to do it all over again the following night!"

Carlos, Guitar
For more info about The Crave visit The Crave's MySpace page
photos: Michael Eccleshall.