The DPAS is helping on a new book of posters, and you can learn a little about this on our book preview page. More details will follow. If you have any rare posters you can photograph (or if you have a collection we can visit and do this for you) please get in touch. Simon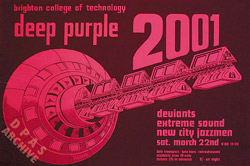 Simon got his first Deep Purple poster back in 1971 and is still picking them up as and when. As a result of this and donations of material the DPAS Archive collection now comprises several hundred items going back over forty years. It ranges from those advertising "Hush" and "Shades" in 1968, early American gigs in 1968, "Taliesyn" and "Third" US record company posters, Ampex tape posters, Mk 2 concert and record posters from 1970 - 1973 (as well as the first commercially available in store posters of Gillan and Blackmore). Mk 3 and Mk 4 are similarly represented.
The split groups, Rainbow, Whitesnake (including a hand-drawn poster for their first UK tour), PAL and Gillan form a sizeable section of the collection, while Deep Purple's reunion is also well represented with the first Knebworth poster (several versions) and other UK and non UK gig posters and label promo posters.
The posters are stored in two large architectural plan chests but continual use (the collection is available to view for DPAS members who arrange a visit) and the ongoing programme of digitising the material shows that further conservation is now needed, mainly in the form of archival mylar pockets (which allow handling and viewing of the posters while protecting them from further damage), to prevent damage.
The DPAS is seeking "sponsorship" specifically to help fund the cost of these plastic archival pockets, which are made from a special polymer which does not degrade and damage the contents over time. They cost around £15 each. Modest enough for one poster true, but daunting when several hundred are needed!
If anyone fancies helping, we are looking for people who can donate £15 (or multiples thereof). In return, the poster (or posters) will be professionally photographed for the web gallery, and the sponsor's chosen name (this might be a fun way to get a mate's name on the page) will be added to that particular page of the online gallery. Sponsors can if they wish choose which band they'd like the fund to go toward, if not we'll tackle the most important posters (oldest / most fragile) first.
Donations can be by credit card, cheque, or paypal. If it is for a friend, a certificate can be mailed out. Contact us via the site by email.