The sudden death of Liverpool based rock DJ Phil Easton has been announced.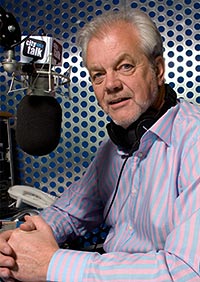 The North West of England has always been a stronghold of rock music and Phil was in many ways its champion, even during times when the music was out of fashion. Deep Purple and the associated groups seem to have held a special place in his affections. During the late 70s and early 80s hardly a month went by when one or more of the musicians were being interviewed on his show, and it shows something of how well he was liked that they often went out of their way to appear live. Always relaxed and full of good humour, the interviews were required listening for fans and tapes were quick to circulate. Gillan was a frequent visitor to his show, as was David Coverdale, who paid fulsome tribute to Phil at his last Liverpool show for playing his music in the early days when nobody else would.
Phil began his show on Radio City, The Great Easton Express, in 1975 and - with a few breaks - it ran for 12 years. During this time he kept his listeners up to speed on Purple's reunion, fronted Polydor's promo interview albums (detailed in the reunion discography), helped Gillan get his solo gigs going after he was sacked from Purple and organised an annual Battle of The Bands competition (see the Liverpool Empire A-Z feature) which Gillan played at.
Only 59, Phil did his regular breakfast show on Monday 2nd Feb. but collapsed and died at his home later that day. I'm sure Deep Purple fans across the North West will have many fond memories of his shows, and if anyone wants to pass any along we'll gather some up here and in the next magazine.
Simon Robinson (thanks to Jon Kirkman)

"I first met Phil in 1979, when my band Export won Radio City's Battle of the Bands, which Phil organised every year, as part of his show 'Great Easton Express'. We became firm friends, and he was very helpful to us, always playing our stuff, even raw demos striaght from Amazon's tiny 8 track studio. When he did his gigs around the region we would usually be playing with him and on more than one occasion, we got him behind the kit with us playing Alright Now. He regularly got me to judge the 'air guitar' competitions!
He left Liverpool in the late 80's to work at Orchard F.M. in Somerset, and I didn't hear from him until a fateful phone call from him in 1989. He said, 'Hi Steve, I'm with an unknown singer who wants to put a little tour together, and I thought you might be interested in putting a band together to back him? I'll put you on to him.' The next voice I hear says 'Hi Steve this Ian Gillan'!! Unbelievably, I'm speaking to Ian, arranging a meeting next day at his house, and preparing for what would become Garth Rocket and the Moonshiners. Twenty years later, I'm still working and writing with Ian.
Phil, I thank you for recommending me to Ian, and I'm going to miss you so much. "
Steve Morris

"GORDON Brown today led the tributes to veteran Liverpool broadcaster Phil Easton who died yesterday. The 59-year-old, who was also Liverpool FC's matchday announcer, suffered a suspected brain haemorrhage. The prime minister said: "Phil was an accomplished and talented broadcaster who was on the top of his game when we met just a few weeks ago, "My thoughts go out to Phil's family and his many friends on Merseyside during this terrible time."

Such tributes from No 10 are rare and an aide said it reflected the PM's "genuine sorrow" at the loss of such a "nice" man. A presenter with new radio station CityTalk, Phil left the studio at the top of St John's Beacon at about 9am and returned to his home in Crosby. It is thought he suffered the suspected brain haemorrhage in the early afternoon."
Luke Traynor, Liverpool Echo

"Very sad news. He was a friend of Ian Gillan whom I met on many occasions when Phil interviewed him on Radio City, as well as other members of the Purple family. My Friday nights used to be spent listening to the Great Easton Express then the Friday Rock Show with Tommy Vance, also sadly missed, before I was old enough to frequent seedy rock clubs of course.." Ian Holden

"Sorry to hear about his untimely death. I remember Ian Gillan hosting his show for him a few times (along with his dog on at least one occasion) and a very good job he did too!
At theBattle of the Bands one year Cheap Trick were doing their thing, and during an extended solo the guitarist came to a grinding halt to mutter ' would you applaud if I was Ritchie f***kin Blackmore?' to a huge response! A greatly missed contributor to maintaining of my sanity in bygone hard times..."
Jim Grogan

" I listened to the show in the early 1980's. Life then was much simpler, tuning in on a basic radio cassette, to capture my first listen to a new single or album track and of course those interviews with many of the Deep Purple family. I think the Great Easton Express was on 2-3 times a week and for me essential listening, so much so I often put schoolwork to one side (a little too often in hindsight). It was here I heard Ian Gillan promote the albums Magic, Born Again and then Perfect Strangers, never seriously of course and often leaving Phil Easton in fits of laughter.
I won two of the three white label discs from the Deep Purple reunion interview he fronted. Yes, I kind of faked one name but you have to be in it to win it as they say. The GEE was the only rock show on radio (NE Wales) apart from Tommy Vance on Friday nights so it was Phil Easton who more often than not introduced me to many a new band or album and fueled my desire for rock music. Happy days and a sad loss."
Richard Taylor

"I am gutted. My local radio hero Phil Easton has died. When I was at school doing my "o levels "and "sixth form" during the very early 80s he was a leading light in local radio on Radio City with his "Great Easton Express". His "pop out for a pint" feature still makes me giggle as he'd play a 20 minute track so he could nip for a jar and occasionally the record would stick! Very amusing! As for his Deep Purple connections, Old Cov and of course the Gillan Band were firm favourites. Gillan would always head off for a curry after his show. I recall one instance when Coverdale called from the US on his "1987" tour, only for the Radio City telephone secretary not to recognise him calling wanting to speak to the DJ, and Phil frantically trying to call him back! I also remember his reaction to the promo of "King of Dreams" in 1990, which he didn't like at all!!!
I met him at the Floral Hall in 1989 with Garth Rockett. He was a pleasure to meet. I asked him what he was doing and he said "setting up his Chinese laundry" – a standard Great Easton Express gag.
He will be sadly missed. He was a pioneering DJ who dared to regularly play long progressive rock tracks in an era of punk, techno pop and electronic disco."
Meurig Thomas