The Episode Six story
Episode Six are remembered these days primarily as the group which included Roger Glover and Ian Gillan before the pair went on to bigger and better things with Deep Purple. This fact alone has ensured a healthy interest in their records from collectors, but has tended to overshadow the group's musical merits. Whether or not I'd have investigated them further had I not been interested in the history of Deep Purple is hard to say, but I do know that once I discovered their records, I ended up playing them for sheer enjoyment as much as any curiosity value.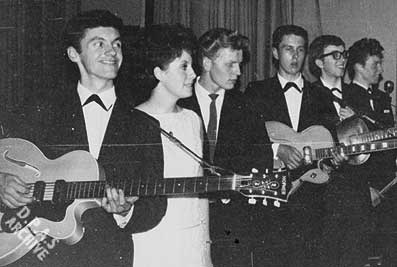 The group emerged from the remnants of two Harrow County Grammar School bands, the Madisons, which included Roger Glover, Harvey Shield and Tony Lander amongst its personnel; and the Lightnings, fronted by the brother and sister team of Graham and Sheila Carter-Dimmock, along with vocalist Andy Ross, who joined in January 1963. Both groups operated on a fairly amateur basis at school, and both began losing members as people finished school and headed out into the real world. The remaining musicians decided to amalgamate, keeping the name of the Lightnings, which was a little better-known in the community. They were all keen to continue their musical interests, so that even when school finished, they kept going — despite having to take on day jobs, with Roger Glover enrolling at Hornsea Art College. Concerts and rehearsals were fitted in during the evenings or at weekends. In April 1964, they came to the decision that the Lightnings was perhaps a little old-fashioned. Eventually, taken in part from a novel called "Danish Episode", they arrived at Episode Six. A couple of months later, showing remarkable confidence in their talents, they decided to forsake their semi-pro status and turn professional.
The line-up consisted of Sheila Carter on electric organ, rhythm guitarist Graham Dimmock, and Roger Glover on bass. All three contributed backing (and occasionally lead) vocals, but Andy Ross was the appointed singer. The band was completed by Harvey Shield on drums and lead guitarist Tony Lander. As you'll have spotted, the brother/sister team divided their double-barrelled surname for stage purposes! Indeed, throughout their career, the whole band seems to have indulged in different stage names at one time or another, which can be confusing. Graham Dimmock became Graham Ross for a time; Glover took the surname David when it suited him; while Harvey Shield's real name was Schildkraut.
There was little shortage of takers for competent bands during this flourishing era of British beat, and Episode Six found an agency almost at once. They embarked on a series of one-nighters which set the pattern for band life over the next four years. More substantial bookings came in the shape of a residency at London's Establishment Club, the sixties' equivalent of the Comedy Store, set up by Peter Cook; and in April 1965 they were offered a four-week stint at a club in Frankfurt. Roger Glover, who had struggled to keep his college course going, finally gave it up to make the journey. On their return, though, Andy Ross decided the rock'n'roll lifestyle of cheap hotels and tran­sits wasn't for him and quit. His replacement was a promising vocalist from the locality called Ian Gillan.
Ian had decided at an early age that he wanted to be a star of some sort, though he wasn't too fussy in what area he made it. His initial thoughts ran towards film, but once he discovered music, he was hooked. In October 1962, playing with a bunch of friends under the name of Jess Thunder & the Moonshiners at Whistow House, a regular rehearsal place for local groups in the Middlesex area, Ian was poached by another band, Ronnie & the Hi-Tones, who were fed up of their own singer's lack of talent and wanted someone better. With Ian enrolled, they changed their name to the Javelins - sometimes billed as Jess Gillan & the Javelins. Their guitarist Tony Tacon got Gillan a job at a local ice-cream factory, and in return, Ian got the band their first gig - playing the firm's Xmas party. The Javelins lasted two years before the ever-ambitious Ian took a job with Wainwright's Gentlemen, another bunch of Whistow House regulars. Rumours of a recording contract turned out to be just that and, when Episode Six asked him to join a few months later, he was more than happy to jack in his job at Tesco's and do so, with Brian Connolly (later of The Sweet) replacing him.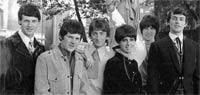 Ian arrived just in time for the Episode Six's first visit to the recording studios, having been signed by Pye Records. The results of an August 1965 session were issued in January 1966. The B-side, written by Glover, was actually much catchier than the Beatles-influenced "Put Yourself In My Place", a Hollies written tune which Pye insisted on using for the A-side. Disappointed by the way they'd been handled, the group looked around for a manager who would be prepared to put some effort into promoting them. They teamed up with Gloria Bristow, known to Ian Gillan as 'Glorious Bristols' (note to self, must find picture to corroborate..), who was quick to spot their talent and put them on a more professional footing, which included starting a fan club to help generate interest.
Two more singles followed that year. "I Hear Trumpets Blow", a cover version of a song recorded by the Tokens, was, once again, eclipsed by the B-side, "True Love Is Funny That Way", written by the drummer. Ian Gillan showed what a great voice he had, and with fuzzed guitars, all it really lacked (ironically) was a good beat! If Gillan sang well on that, he surpassed himself on the follow-up. It's rare that a cover version ever manages to improve on an original, but for my money, Ian Gillan and Sheila Carter managed just that on "Here, There And Everywhere" - a song they'd worked out in one afternoon by playing the Beatles' version over and over. Roger Glover got to write the B-side, "Mighty Morris Ten", a song about charging up and down the Harrow Road which, lyrically, could be seen as a prototype for Deep Purple's "Highway Star". Whether driving conditions in the area would inspire such material these days is doubtful.
Gloria Bristow was also managing Dusty Springfield at this time, and added Episode Six to the bill for Dusty's package tour in the autumn of 1966, performing one song at the start of each half of the show. A six-night season at London's Marquee also gained good reviews but this didn't seem to help record sales. Bristow decided to try and capitalise on the individual talents within the band by organising a series of solo singles. The first was a cover of Charles Aznavour's "I Will Break Your Heart", credited to Sheila Carter & Episode Six. A little too MOR to interest most pop fans, it did nothing to help the band, though it did show what a strong voice she had. Ian Gillan hanled the keyboard work on the B-side.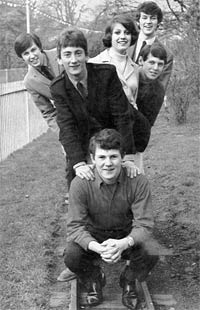 Episode Six spent Xmas working at a club in Beirut where they had the honour of holding the top three places in the local pop charts. It made good reading in the press bios, but in reality, the chart was compiled from sales in just two record shops! Back home, some of the Eastern influence cropped up on a new 45, "Love-Hate-Revenge", a curious tale of a boyfriend gaining revenge on his girl by mutilating a wax effigy of her. This became their second American single too. None of the U.S. releases made any impact, but this particular single is of interest because the vocal break in the middle of the U.K. version was replaced by a strange keyboard drone on the U.S. cut. For the flip, the band chose a number called "Baby Baby Baby", which they'd first heard being done by Cliff Bennett & the Rebel Rousers, a band they often bumped into - Ian being a particular fan of Bennett's.
Plans were made to begin work on an album in March 1967, doing a group side and a solo side, but these kept being put back due to the pressure of work and the fact that they really needed better selling single sales before an album came out. Incredibly, the band never ever got to release an LP while they were together. A version of "Morning Dew" followed in June, spoilt a little by the rather nasal singing of Harvey Shield at the beginning, the result of a cold at the recording session. Roger Glover made his vocal debut on the flip, but whether he'd like to be reminded of the rather weak and hesitant result is difficult to say. Promotion for the disc was stepped up and the band undertook a free tour of London's major parks to provide the press with suitable stories of the band being mobbed. Harvey Shield, however, was becoming unhappy with the group, and decided to quit to form a duo with his Israeli girlfriend. Episode Six advertised for a replacement and in September ended up with John Kerrison, who had actually deputised on drums for the Javelins on one or two occasions. At the time, he had also been working alongside Deep Purple bassist-to-be Nick Simper in the reformed Pirates, put together after Johnny Kidd's death.
Kerrison joined in time for extensive promotional work abroad where the band were doing quite well. They appeared on TV and radio, and most of their later singles were issued in attractive picture sleeves. Particularly rare is a French EP combining their second and third U.K. singles. Some of the German and Spanish picture sleeves have excellent colour photos of the band.
The second solo single from within the group came with "I Won't Hurt You". This time it was Sheila's brother Graham doing the honours, but for some reason he insisted on keeping very quiet about it, going so far as to issue it under an assumed name, Neo Maya. Because of this, it can only have sold in very small numbers.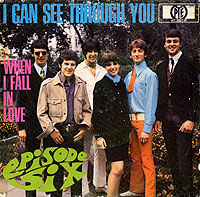 The next proper Episode Six single is happily less obscure, and "I Can See Through You" turned out to be a real classic. For once, they actually used a group composition as an A-side, and with Glover's material beginning to attract interest from other bands, he came up with a great song. Excellent lyrics, a superb performance from Ian Gillan, and a strong, powerful backing with more than a hint of psychedelia about the arrangement — how could it fail? It's very hard to say, though a lot of the blame was attributed to Pye's poor distribution at the time. Europe took to it in a much bigger way, and the group did two weeks of German dates in November to promote it, including a slot on the "Beat Club" TV show. Unlike our own TV companies, those in Europe have been a lot more responsible when it comes to saving their old programmes, and most, if not all of the "Beat Club" series appears to have survived.
Frustrated by the single's failure, Episode Six signed a three-year contract with MGM — an American company who were signing up U.K. groups prior to launching the label here in 1968. The band trooped into the studio on February 20th and 21st to tape three songs, and "Little One" was issued in May. For this excellent record, beefed up with a brass section, the group's name was shortened to just the Episode. But despite intense promotion at home, it again failed to sell well. It was around this time that word came through to Ian Gillan that Nick Simper was with a new outfit, and would he be interested in going along to audition? Ian replied that Episode Six were on the verge of making it really big and he didn't rate Nick's chances at all; so the embryonic Deep Purple had to look elsewhere.
In July, Kerrison parted company with the band on less than amicable terms. The story goes that for his final show, he set up his drum-kit at the opposite end of the hall to the rest of the gear! He was replaced by Mick Underwood from The Herd. A month later, the group parted company from MGM and signed to Chapter One, a new label set up by Decca and managed by Gloria Bristow. "Lucky Sunday", the first offering on the label, was a somewhat dated affair, but the B-side, "Mr. Universe", showed real promise. Glover had persuaded Gillan to begin writing lyrics for his music and this partnership was obviously beginning to work. Interestingly, Ian Gillan swiped the title of this tune for the title track of one of his solo albums over ten years later, along with some of the lyrics.
Episode Six (who had reverted back to their full name) returned to the studio to contribute a track called "Gentlemen Of The Park" to a film soundtrack for a short B-movie titled "Les Bicyclettes De Belsize". This was later released on a soundtrack album. As the music only lasted 20 minutes in total, Polydor backed it with songs from another film, "Twisted Nerve", with a curious sleeve which had two fronts and no back, if you see what I mean! "Twisted Nerve" had music composed by Bernard Hermann, one of the most widely collected of all film music writers. This, coupled with the short pressing run which is standard for soundtracks, has boosted the price considerably, and anyone wanting the album just for the brief Episode Six track has a lot of competition.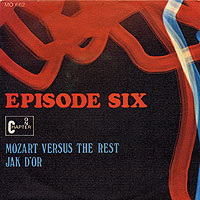 The group's final 45 appeared in January 1969 and, as usual, saw another distinctive change of style. Just before Christmas, they'd had a Radio 1 session lined up, for which the producer told them to come up with "some really happening uptempo stuff". Episode Six responded with "Mozart Versus The Rest", a tune based on "Rondo A La Turk", which guitarist Tony Lander had come up with after hearing Love Sculpture's "Sabre Dance". After the show, the BBC was swamped with requests for the track, so Episode Six obliged. Maybe the haste with which it was taped accounts for its incredible live feel, but "Mozart" was a staggeringly over-the-top guitar instrumental, with Ian Gillan heard surfacing for breath halfway through. It's well recommended for fans of the genre. The other side was another instrumental, but rather more laid back in the Fleetwood Mac "Albatross" vein. The single actually sold quite well too, but not well enough for it to chart.
As 1969 progressed, the future looked uncertain for the band. Sheila Carter prepared to record another solo single by previewing it on a Radio 1 session; Ian and Roger were busy lodging material with song companies in London (one later turned up on an album by The Sweet, most of the rest probably remain there to this day!); while Gloria Bristow kept pushing for work. Ian Gillan was talking to Mick Underwood about the possibility of forming a heavier group together, while Glover was toying with the idea of a folk outfit on the side as a vehicle for some of his own songs. In April, they returned to the studio to begin laying down tracks for that long-delayed album, provisionally titled "The Story So Far".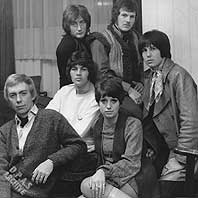 Then, one day in May, Mick Underwood received a phone call from an old mate, guitarist Ritchie Blackmore. The two of them had played together in The Outlaws during the mid-Sixties. Blackmore explained that Deep Purple were parting company with their singer, and asked whether Mick had any suggestions for a possible replacement. Having spent much of the past year in America, they were a little out of touch with the British scene. Somewhat selflessly, Mick suggested they might like to check out the singer in his own band, and so on June 4th 1969, Blackmore and Lord turned up to watch as Episode Six went through their paces at the Ivy Lodge Club in Woodford. They were introduced to Ian backstage and offered him an audition. Three days later, he was in the studio doing the vocals for Deep Purple's single, "Hallelujah", with Roger Glover in tow, unhappy about the situation but too poor to refuse the session fee.
It was of course the death knell for Episode Six, although Glover held out for a short time, not wanting the band's demise on his conscience, before being persuaded to join Ian in Deep Purple. Episode Six carried on for a time. Sheila rehearsed with Pete Robinson, John Gustafson and Mick Underwood as a quartet, before they formed the trio Quatermass. Episode Six then played for a while with Sheila, Tony Lander, Dave Lawson (later of Greenslade) and Tony Dangerfield on bass. By the end of the year they were billed as Episode Six with Sheila Carter, and then The Sheila Carter Band, and this continued off and on (mostly with gigs abroad) until 1974 with Sheila as the constant, before she went into session work.
Graham Carter became a booking agent for hotels in the Middle East. Tony Lander joined a group called The Confederates before leaving the music business to set up as a decorator. Gloria Bristow was naturally miffed at having her band pulled apart and eventually got a settlement out of Deep Purple's managers which she used to establish Mick Underwood in Quatermass.
Simon Robinson
Episode Six CDs in the DPAS online store
• The Radio 1 Club Sessions (long deleted, but there are a few ex-warehouse copies in stock)
• Pre Purple People (including four rare Episode Six tracks)