DPAS member Uzir Bin Mokhtar has kindly sent us memorabilia from shows played in Malaysia by Gillan and Deep Purple between 1982-2001.
Date : 2nd August 1982
Time : 8.30pm
Venue : Stadium Negara (National Stadium), Kuala Lumpur, Malaysia.
Right: Ticket for the show.
Far right: Contemporary Malaysian newspaper review (note Ian Gillan's hair.) Click both for more detail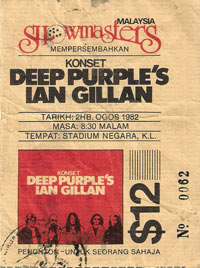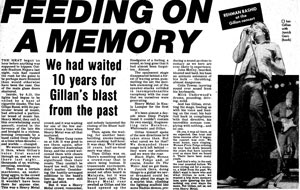 "Setting up tours in new territories is always a major challenge for management and artists, and I have learned not to be too surprised by demands and expectations. The first time I went to Kuala Lumpur (Malaysia) was with Gillan, and we did three nights there and three nights in Manilla (Philippines). We played to big audiences at each – between 12,000 and 18, 000 a time. Phil's people checked for every point of protocol, our lyrics were dissected by the authorities for possible messages of insurrection and revolt, and everything was set. And then we received an extra rider to the deal, which said something along the lines of The boys in the band shall not allow their hair to fall upon their shoulders.'
Phil said, 'How do we deal with this?', and I told him we would deal with that one when we arrived – one way or another. It was an incredible gathering of radio, television, cultural attaches, journalists and music people, and all the time they would ask about my political views, religious ideas and thoughts on culture. It was quite difficult and lasted for about two hours. Throughout the entire trial I had my hair tied back and wrapped in a shawl of neutral colours, as I patiently tried to explain the emergence of music like the Beatles and then my own approach to rock 'n' roll. Then we took to the stage and, as usual for a first night in a new country, the first five rows were reserved for ministers, trade big-wigs and privileged guests, all dressed in suits, ties and evening gowns. Behind this dignified formality of the first five rows, you could see the kids going crazy. Our first appearance in Kuala Lumpur was a great success, capped perfectly by the closing moments of the evening, when the dignitaries all filed backstage, and a spokesman came to me and said, 'If your head-dress should fall off tomorrow night after the third song, forget about it. You can just be natural. We understand a lot more now, and it's been great.'
It was a wonderful moment, and we had a brilliant time in that community. As it happens, the headdress did fall off the next night, and the whole place went 'Wow!' They had never seen hair like it before." Ian Gillan / Child In Time, 1993
Deep Purple


Date :
1st. May 1999
Venue :
Shah Alam Stadium, Shah Alam, Selangor, MALAYSIA.
Set list :
TED THE MECHANIC
STRANGE KIND OF WOMAN
BLOODSUCKER
PICTURES OF HOME
ALMOST HUMAN
WOMAN FROM TOKYO
MAYBE I'M A LEO
SOMETIMES I FEEL LIKE SCREAMING
WATCHING THE SKY
Steve Morse guitar solo
SMOKE ON THE WATER
Jon Lord keyboard solo
LAZY
PERFECT STRANGERS
SPEED KING including Ian Paice drum solo
BLACK NIGHT [encore]
HIGHWAY STAR [encore]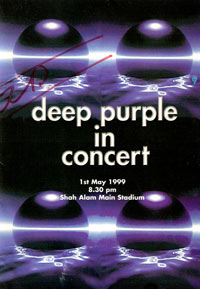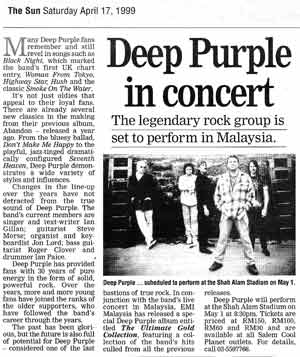 Date :
18th March 2001

Venue :
Kuala Lumpur International Airport
(KLIA – Open Car Park), Sepang,
Selangor, Malaysia
Set list :
WOMAN FROM TOKYO
TED THE MECHANIC
MARY LONG
LAZY
NO ONE CAME
BLACK NIGHT
SOMETIMES I FEEL LIKE SCREAMING
FOOLS
Jon Lord keyboard solo
PERFECT STRANGERS
HEY CISCO
WHEN A BLIND MAN CRIES
Steve Morse guitar solo
SMOKE ON THE WATER
SPEED KING incldg. Ian Paice drum solo
HUSH [encore]
HIGHWAY STAR [encore]