Deep Purple, UK singles and EPs 1968-1980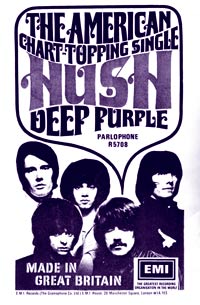 The band's debut album "Shades Of Deep Purple" was laid down during May 1968 in two twelve-hour sessions. There is a curious mixture of original material, some classical tunes, a good instrumental and cover versions — including a nice reworking of "Help!" which the band wanted to use for their first single. (In the end it was issued in France). Instead, 'Hush' was taken off as the UK single, and issued on the Parlophone label in June 1968. Promotional copies came in a much sought-after picture sleeve, but the single failed to sell, despite - or perhaps partly because of - the American inferences in promotional material.
In America it was of course a different story. There Deep Purple were signed to a new label, Tetragrammaton, and helped by a lot of airplay, their first single climbed to No. 4 in the U.S. charts. This resulted in a lucrative deal for three albums, the first of which was "Shades", issued there in July. Their first three LPs were slow in being released in the UK, and the "Shades" album didn't appear in Britain until September 1968.
Under pressure from America, the group's second album, "The Book Of Taliesyn", was issued there in October 1968 to tie in with their first US tour, and provided two minor hit singles in "Kentucky Woman" and "River Deep Mountain High". The album was delayed in the UK while EMI tried for a hit single, first with "Kentucky Woman" and then (in seeming desperation) a few weeks later with the non-LP "Emmaretta". Both had the same Taliesyn B-side in 'Wring That Neck'. (The U.S. version of "Emmaretta" carried a new flip - "The Bird Has Flown" - a different take later appeared on the third album).
In early 1969, the group recorded that third album but, before it was issued, there were some personnel changes, with Rod Evans and Nick Simper replaced by Ian Gillan and Roger Glover. Glover was originally offered the job on a session basis to record the "Hallelujah" single. Glover so impressed the others in the process that he was offered the job on a permanent footing.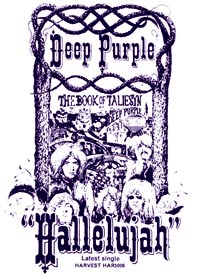 "Hallelujah" came out in July 1969, backed with 'April Pt.1' from the as yet unissued third album, titled simply "Deep Purple", which had been issued in America in June. Again, U.K. promotional copies came in a picture sleeve. In the same month, the group's second album was finally issued in the U.K, leading to some slightly incongruous double-promotion - triple if you include mentions of the forthcoming Concerto show.
To try and get the group established at home, a special one-off concert was also arranged at the Royal Albert Hall in September. The group, together with the Royal Philharmonic Orchestra, performed "Concerto For Group And Orchestra" written by Jon Lord especially for the occasion. It brought them a lot of press, but unfortunately got them labelled as a band who played with orchestras. The belated UK release of the third album in November seemed to confirm this. EMI didn't help by issuing a live album of the "Concerto" in January 1970, along with a rare promotional single which coupled two very brief extracts from the LP. Over in America, the album had barely reached the shops when Tetragrammaton went bust, effectively closing their only successful market.
Finally, in June 1970, "Deep Purple In Rock" hit the shops, and Deep Purple had arrived at last. The group also issued a non-album single, "Black Night", which finally gave them that much needed U.K. hit and showed that it was perfectly possible for a band to make progressive rock albums as well as commercial singles. It did however take two months to climb to its peak of #2. Finally, America at last fell into line with regards to release dates, the band having been picked up by Warner Brothers there.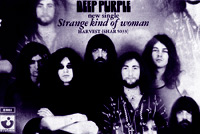 It took the group almost nine months to record a follow-up album, such was the demand for live gigs. Although "In Rock" stayed in the Top 30 for over a year, the band kept things going with a new single in February 1971 — "Strange Kind Of Woman" / "I'm Alone", neither of which were included on the UK edition of "Fireball" when it was finally released in September. EMI decided to issue the title track as a single "due to public demand" soon after, but with the album doing so well there was little incentive to buy the single, especially as the B-side was another album track. It did still manage to become the band's final UK top twenty hit. In America, Warners insisted on "Strange Kind Of Woman" going on to the album there, at the expense of "Demon's Eye". In 1978, Harvest issued a "Singles A's & B's" album compilation, which brought together all the U.K. singles up to and including "Fireball", though by mistake they included a demo version of "Speed King" which had previously only been released in Holland.
In October 1971, Deep Purple's management formed Purple Records, to cater for the band and other artists, and all group records appeared on this label until 1978. The first Deep Purple album on the new label was "Machine Head", issued in May 1972. The designer-hit-single that never was, "Never Before", came with a non-album B-side, "When A Blind Man Cries". Although there were to be no more U.K. singles for two years, Warner Brothers coupled edited live and studio versions of "Smoke On The Water" and gave Deep Purple their biggest worldwide hit single, selling over 14 million copies in countries around the world.
"Who Do We Think We Are" was finally issued in March 1973 (although in America it was in fact issued before "Made In Japan"). Again, there was no U.K. single, but elsewhere a much edited album track, "Woman From Tokyo", was issued, coupled with a then unreleased Japan 1972 live recording of "Black Night". A U.K. release for the disc was planned, and a catalogue number allocated, but for some reason it was withdrawn.
Deep Purple Mk2 came to an end following their June 1973 Japanese tour, but a reactivated Mk3 with David Coverdale and Glenn Hughes were recording by the end of 1973. Their first album, "Burn", was issued in February 1974. 'Might Just Take Yor Life' was lifted as a single from the album, and had as its B-side an unreleased instrumental "Coronarias Redig" - which only ended up as an instrumental because the band, who were touring Scandinavia, ran out of time for the vocals! Instead, Ritchie did some excellent soloing. The band's next album "Stormbringer" went on sale in December 1974. There was no single from the album in Britain, and despite several tracks being tried out in the States, nothing took off, and Deep Purple Mark 3 never had a hit to equal those of the earlier line‑ups. The same can be said for Mk4 with Tommy Bolin, who issued 'Come Taste The Band' in December 1975, followed somewhat belatedly by an all album track single from it in March 1976 to coincide with the band's UK tour.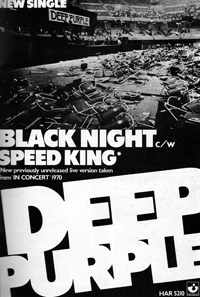 Apart from the two picture sleeves used for promotional purposes mentioned earlier, it wasn't until 1977, after the band had split up, that one of their records came out in a picture sleeve. This was a maxi-single fronted by 'Smoke On The Water', with three of their most popular numbers on it, all edited album versions. Later that year, an EP titled "New Live & Rare" was released, containing the Japan 1972 live version of "Black Night", 1972 studio out-take "Painted Horse", and old B-side, "When A Blind Man Cries". Two of the tracks were also included shortly afterwards on the "Powerhouse" compilation album. Apart from the nice sleeve, the original pressing was in purple vinyl. The "New, Live & Rare" formula was re-used for the next EP, a Mk3 selection subtitled "Volume 2", comprising "Coronarias Redig" and two numbers from 'Made In Europe'.
In 1979, Harvest issued a 7" and 12" version of "Black Night" (the studio track) coupled with another old single, "Strange Kind Of Woman". The 7" copies just had a plain bag, but the 12" sleeve carried the artwork from the "Singles A's & B's" compilation which the single was designed to promote.
By now, the Purple Records label was being wound up. Future archive releases would be on the Harvest label, and only the group albums would retain the old Purple label. 1980 saw yet another re-release of "Black Night", coupled with a live version of "Speed King" from the forthcoming "In Concert" set. "New, Live & Rare: Vol3" actually made an attempt to utilise the "New, Live & Rare" format to issue some rare material, as it contained three tracks not issued anywhere else at the time, or for that matter to this day on vinyl: a 1972 BBC In Concert live version of "Smoke On The Water", and two early Mk2 BBC sessions "Grabsplatter" and "The Bird Has Flown". The latter were only released on compact disc as part of the now deleted 2002 'Listen Learn Read On' EMI box set.
Deep Purple, UK singles and EP discography, 1968-1980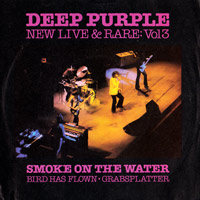 HUSH / ONE MORE RAINY DAY (June 1968)
KENTUCKY WOMAN / WRING THAT NECK (December 1968)
EMMARETTA / WRING THAT NECK (February 1969)
HALLELUJAH / APRIL (part 1) (July 1969)
BLACK NIGHT / SPEED KING (June 1970) reached #2 in Aug.1970
STRANGE KIND OF WOMAN / I'M ALONE (February 1971) reached #8 in Feb.1971
FIREBALL / DEMON'S EYE (October 1971) reached #15 in Nov.1971
NEVER BEFORE / WHEN A BLIND MAN CRIES (March 1972) reached #35 in Apr.1972
MIGHT JUST TAKE YOUR LIFE / CORONARIAS REDIG (March 1974)
YOU KEEP MOVING ON / LOVE CHILD (March 1976)
SMOKE ON THE WATER (live) / CHILD IN TIME (live) / WOMAN FROM TOKYO (Mar 1977) reached #21 in Apr.1977
BLACK NIGHT (live) / PAINTED HORSE / WHEN A BLIND MAN CRIES (Sep. 1977) reached #31 in Oct.1977
BURN (live)/ CORONARIAS REDIG / MISTREATED (live) (September 1978) reached #45 in Oct.1978
BLACK NIGHT / STRANGE KIND OF WOMAN (April 1979)
BLACK NIGHT / SPEED KING (live) (July 1980) reached #43 in Aug. 1980
SMOKE ON THE WATER (live) / BIRD HAS FLOWN / GRABSPLATTER (October 1980) reached #48 in Nov. 1980
All of the above tracks, in their original 7 inch vinyl edits, are now avaialble on EMI's new Deep Purple : Singles & EPs 1968-1980 double CD, along with the Dutch a-side version of 'Speed King', the US 'The Bird Has Flown' b-side, and other non-UK track variations.
Deep Purple : Singles & EPs 1968-1980 is available from the dpas online store.