Alan Freeman will be missed by many Deep Purple fans, for whom his Saturday Rock Show on Radio 1 was almost mandatory listening from 1973 when it began.
During the mid-seventies, when (influenced by Punk and other trends) most other DJs had given up on hard rock, 'Fluff' Freeman continued to play the music he liked. Many of the solo ex-Purple member projects got their first airing on this programme (such as Paice Ashton Lord), and fans may recall him giving Rainbow Rising it's first UK outing when he hammered through all of side two in 1976.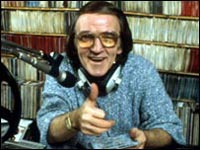 Sadly for many listeners he moved to Capital Radio in 1978, which meant (in the pre-DAB age) both that listeners outside London could no longer hear him and also that his standing as a national DJ was diminished. In his absence Tommy Vance (who also died not long ago) picked up his baton and ran with it. Freeman did return to Radio 1 in the late 80s to front the Saturday show once again before jumping ship for the final time in 1994, later working for Virgin Radio. But his status amongst musicians remained high and it was no surprise to see him invited to Deep Purple's London show in 1993 at Brixton, though he was by that time suffering physically. Ann was more than pleased to get his autograph that night, mainly because like me she is of a generation that had fond recollections of Freeman's pioneering work fronting the BBC radio show Pick Of the Pops, a top 100 chart show which was essential listening to every pop fan from the mid-sixties onwards.
Life may be easier in these digital download times but the thrill of tuning in to this show to hear the new entries and seeing how Black Night was doing chart-wise is something that will be hard to replicate.
Simon Robinson
"Very sad to hear the news that Alan Freeman has passed away. What a legend he was.
I've been thinking about him a lot in the last few days and every time I think back it puts a smile on my face because he really was a brilliant DJ who gave me hours of pleasure when I listened to those mid-Seventies Radio 1 shows. I really think he was, along with the late Tommy Vance, one of the Greatest "Rock" DJ's we've ever had. He played what has become "Classic Rock" and I heard it first on his shows! As soon as I heard the "Welcome back my Friends" by ELP intro to his show I knew I was in for some great entertainment from a very unique man.
In this day and age we take it for granted that you are able to hear "Rock" 24/7 on Digital Radio but back then you had to make a special effort to track it down. I heard tracks from Deep Purple's "Come Taste The Band" album on his show before I heard them anywhere else and much of the music that has stayed with me for over 35 years now I heard "Fluff" play first. God bless him ("Not Half")."
Andrew Naish
"I was very sad when I heard that Fluff had passed away. His style and infectous enthusiasm made me smile a lot, but it was also his passion for the music he loved that made me sit up and listen.
The funniest memory was when he was on former Slade front man Noddy Holder's "This Is Your Life" programme nearly ten years ago, when he brought the house down with laughter over various anecdotes of Slade's early life. By way of remembering him, listen to the Black Sabbath song "Fluff", a lovely acoustic tune from the Volume 4 album, and think of him "...staying bright, all right!" God bless you Alan, and thanks."
Craig Storey
"Alan Freeman is mentioned in Gillan's biography as always being very supportive of Episode Six back in the sixties, and along with Tommy Vance, he kept rock on the radio in the 70s, 80s and 90s. As for Purple, he was first to air tracks from the then unreleased PAL album, joined Don Airey on The Tube in 1985 to wax lyrical about Rainbow and Purple, presented an hour long special on Purple's vocalists around 1991, and was phoned up on his last-ever BBC rock show by Ian Gillan (from a phone box at a German airport), which seemed to really choke the DJ."
Mark Ainsworth
"As with Tommy Vance, my record collection wouldn't be what it is had Fluff not come along. I still have a cassette recording of his last Rock Show from 93 which has all the usual bits in, not to mention the music. I remember the Rainbow Rising session all too well. Not 'arf!"
Clive Robey
If you wish to send in your memories of Alan Freeman, please write to us at the deep-purple.net mailbox.