Issue 47... Between Issue 46 and 47 the ructions within fandom continued, as the group refused to roll over and quickly brought in Joe Satriani to allow them to fulfill the existing tour commitments. The magazine found itself covering gigs with Satriani, reviewing Blackmore's last UK DP shows on CD, and wondering what Steve Morse would bring to the group.

Life is never dull putting together a Deep Purple magazine! As you imagine, the letters page was even livelier than usual. It seemed pretty clear that Satriani couldn't do the job long-term, due to his solo contracts and other commitments, but it did give the group a chance to try life without Blackmore and see if it worked. What became clear from the reports fans sent back was how relaxed everything had suddenly become, and there were plenty of signs that this could work, even if they would lose some fans along the way.

It did look as if they all made strenuous efforts to keep Satriani, even to the extent of buying him out of his solo deal, but as he couldn't make a short Aussie tour, they then needed a replacement for Satriani. Steve Morse was checked out. The Australian dates were cancelled but with a couple of shows in Mexico to do, Morse helped out - and it worked so well that he was offered the job at the end of 1994. So for many fans, the Satriani line-up is one we only know through audio bootlegs, though a few diehards did look at the lack of UK shows in disgust and booked themselves a trip abroad.

Issue 47 was able to wrap the news up and look forward to what the new year would bring. If all this wasn't enough to be getting on with, Ian Gillan found time to cut an album with his old mates in The Javelins, an event the magazine covered in detail. As for the departing man in black, after mooting the idea of an album interpreting medieval music, he instead decided to reform Rainbow. The singer, Doogie White actually used to be a DPAS subscriber in his youth, so clearly knew what he was letting himself in for! There was actually more excitement in the magazine at Glenn Hughes' first proper UK tour (the occasional Trapeze shows apart) since 1976, and his Autumn shows went down very well. It was clear he was in fine form vocally.

As for the rest of the magazine, lots of good stuff was cropping up - nice archive material on The Outlaws in particular, and news of the first proper Bolin archive releases. although sadly the ambitious plans we reported were not to all come to fr fruition.Interesting interview with Jon Lord too, in which he admits Slaves & Masters really shouldn't have been called a Purple album. Plenty of record reviews and news too: it was still a busy time for bootleg CDs, so quite a lot got covered. I suppose in some ways we were approaching the peak of the format. 13 years on it's all but disappeared.

32 pages, jam packed. The only trouble is... we're sold out. Whereas with earlier smaller magazines, it's fairly simple to reprint them, doing the same a big magazine becomes more difficult. I probably still have the printing film stashed away in the loft space somewhere, but even a small run would still mean printing plates and a large bill... maybe if there is enough demand in a couple of years (and if all printing hasn't gone digital!).

ISSUE 47: DIGEST & INDEX

DEEP PURPLE
NEWS : 1994 European Tour

DEEP PURPLE

LIVE REVIEW : Kassel

DEEP PURPLE

NEWS : Steve Morse Joins Deep Purple

DEEP PURPLE

RECORD REVIEW : Come Hell Or High Water

RITCHIE BLACKMORE

NEWS : Rainbow Reformed

GLENN HUGHES

RECORD REVIEW : From Now On

GLENN HUGHES

IAN GILLAN

NEWS : Javelins Reunion

WHITESNAKE

NEWS : Whitesnake Reformed For New Tour

1994 European Tour - News
After Ian's Javelins stint in February (detailed further down), the four Purple members met up again in America in early March to put in a little "retouching" work in on the '93 tour recordings. Ian and Roger also got the outlines of over twenty new songs put together: the "not having to worry about whether Blackmore will like it" syndrome for once not having an adverse affect on proceedings perhaps! European concert dates began to filter through very early in the year, as Satriani had offered to stick with it for a time. The tour itself was pretty dismal as far as UK fans are con-cerned, with no shows here at all. Ian did a round of promotional interviews during the second week in May, and was due to fly out to start rehearsals on the 22nd. A late change in the proceedings kept him in Blighty an extra week, and the tour began in Berlin on June 3rd, with rehearsals the day before. Several last minute changes were made: some down to the fact that while ticket sales were healthy, they weren't as strong as last time - due probably to the twin factors of having toured Germany only a few months before, and of course The Absence Of Blackmore. Wurzburg and Hannover were pulled, as they were taking sales away from Bayreuth and Hamburg respectively, being fairly close geographically. The Bielefeld venue was switched for similar reasons, to a smaller venue. According to Roger, one of the local promoters went bust, resulting in some dates having to be pulled. However, things went well in Gothenburg, as the promoters had to switch from the 6,000 seater they'd booked to a much bigger venue.
The set list was much as Japan : HIGHWAY STAR / RAMSHACKLE MAN / MAYBE I'M A LEO / FIREBALL / PERFECT STRANGERS / PICTURES OF HOME ~ organ solo / KNOCKING AT YOUR BACK DOOR / ANYONE'S DAUGHTER / CHILD IN TIME ~ ANYA / THE BATTLES RAGES ON / WHEN A BLIND MAN CRIES / LAZY~ Satriani solo / SPACE TRUCKIN' inc PAINT IT BLACK ~ HUSH / BLACK NIGHT / SMOKE ON THE WATER / (SPEED KING) some shows.
Bad Company, who were due to support most of the tour, pulled at the last minute, and Uriah Heep were called up to replace them (they were offered the dates as late as May 25th - and agreed on the 27th). The tour ended in Austria in front of a 5,000 strong crowd. "Joe played as if he had been with Deep Purple forever . He was the hero of the night, and I think a lot o people came because of him. I heard people saying afterwards 'I didn't miss Blackmore' ". Bernd Felsberger
Eissporthalle, Kassel, Germany. 29th May 1994 - Live Review
"Kassel Eissporthalle was only half-full, and while the choice of city - Kassel is in the middle of nowhere - and the late changing of date can't have helped, it wasn't a good omen. On stage the visual aspect of the new line up is a disaster. Without Blackmore looming from behind, Gillan totally dominates. Attired in a Machine Head shirt from the merchandising stall, Satriani failed to put his own stamp on the band - unlike Bolin for instance, who made Mk 4 look like a new band.
Musically Blackmore's eviction is even harder to swallow. I'm not a Blackmore die-hard - but his departure has left a gap in Purple's current music that Satriani can't fill. It's not craftsmanship that's missing - Satriani is a good player - but rather a mixture of basics and artistry. I'll try and explain. Satriani's guitar sound is all wrong. Blackmore preferred screaming highs and thundering lows, leaving the mid level warmth to Jon Lord. Satriani offers a well rounded tone which gets swallowed up, resulting in a strange aural loss. Purple's sound has lost its bite. I'm the first to admit to having viewed Blackmore's recent "rhythm" work as more a product of boredom than a real contribution to the band, but with hindsight I must say that he had perfected the art of knowing when to play and when not to play. His playing set counterpoints to Lord, Glover and Paice's backing. Satriani tries to melt in.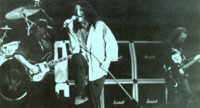 Satriani cannot compete with Blackmore's forte - soloing. He is worst when mimicking Blackmore's original solos note for note. When playing a cohesive solo within a song, he fails to rise above the pumping Purple backing. There is no grandeur to it, no "catch your breath here it comes", anticipation when he moves up the frets. Satriani's lead guitar doesn't lead. He even managed to make the majestic "Knocking.." riff sound diminutive. Worse still, there seems no musical rapport between Lord and Satriani. Their attempts to trade off some licks during some numbers proved that they just don't have much to say to one another. Their lack of understanding became especially apparent during the introduction of Anya, when Lord tried in vain to save the atmosphere, while stretching out to Satriani for some kind of musical contact, the latter busy twiddling something wholly out of context.
So what were the highlights? Gillan sang well throughout, Paice's drum solo, and Satriani's work during part of "Knocking..", where he played some lightning fast melodic arpeggios based on the original riff. Low-points? Lord's solo, which failed to say anything meaningful, and Satriani ruining Blind Man with two ridiculously over-the-top solos. Blackmore would have said it all in three or four notes. I know it's a moot point, as he refused to play the song, period. The set contained some surprises, but hearing such gems rarely performed by Purple live doesn't help if there is no spark.The battle has stopped raging within Deep Purple, and I for one don't much like the musical placidity that has replaced it. I'd advise them to get into the studio as soon aspossible, and create something new. Then go out and play it, with just a few crowd pleasers from the back catalogue". Uwe Horming.
Uwe also latches onto several points which made me, in the end, decide to skip this leg of the tour. Firstly, the memories of Blackmore's sometimes glorious performances on the last tour, and secondly the fact that they were just going out to recycle the old. As for Satriani, nobody can walk in and expect to be able to have an instant rapport on-stage with guys who've been playing together for twenty five years or so.
Steve Morse Joins Deep Purple - News
One aspect of this tour has been the relative accessibility of the band compared to in the past, as a result quite a few of you got to natter with them backstage and in hotels etc. All who did so commented on the relaxed atmosphere, and on everybody's noncommittal replies when pushed about whether Satriani is staying with the band! After the tour, there was a break. New Zealand and Australian were due to take place in late October. Satriani as you know has a successful solo career going, and was still under contract. It's believed this contract made it impossible for him to tour America with Deep Purple, which in turn made the chances of his Deep Purple sojourn being anything more than temporary unlikely. He also still had a solo album to do for his old label, and wanted to get this done. This clashed with Purple's Australian dates, and so it was decided to get in another player for these. They settled on Steve Morse, who was with Kansas, and The Dixie Dregs. Morse was actually touring in Australia in early November, and Roger went down to check him out. In the end Deep Purple's Australian and New Zealand dates were cancelled at short notice. They'd sold around 4,000 tickets for each show, but as one was a 13,000 capacity venue, the promoter got cold feet. Eventually three Mexican dates in late November were firmed up, and with it the band's chance to try Morse out on stage.
As we go to press, it's been confirmed that Steve Morse is Deep Purple's new guitarist, and that's official. Roger Glover confirmed this to us just before we were going to press. "The gigs in Mexico went very well indeed and Steve Morse acquitted himself with honours, both onstage and off, and Purple once more has a forward motion. In front of the press he handled himself particularly well and wasn't in the least bit fazed at Ritchie questions, something that Joe could not ride so successfully." Ian Gillan apparently took hold of the press conference at one stage, pointing out that if Blackmore had been in the band, they'd not even be there - he always refused to play in Mexico!! As mentioned elsewhere, the band will reconvene in Florida in January to begin the new album. The local press reviews in Mexico were universally positive, so another chapter in the Purple saga looks set to begin.
Come Hell Or High Water - Album & Video Review
The working title for both LP and video was "The Final Battle", though this later changed. Talking of the CD, original plans were for a straightforward live set off the 93 tour. Then with Satriani's arrival, confusion as to how to tackle it was inevitable. Several shows off the Japanese tour were taped, and there was then a suggestion to mix Satriani and Blackmore shows, or do perhaps a box set with shows by both line-ups. The next twist came with both Roger and big Ian telling BMG they'd rather the live album didn't come out at all. It's not hard to see why the band would feel this way when they're trying to push things in a new direction, but needless to say they were over-ruled.
DEEP PURPLE : COME HELL OR HIGH WATER : RCA BMG 74321234162 : Europe : Nov 1994 CD
This album has cheered me up quite a lot in Purple terms. For my money there are some pretty damned powerful moments on this disc. Purple come clobbering through the speakers with their own unique sound, and (without wishing to get too crude here) piss over most other rock bands. The only real problem I have with the whole thing is that it isn't a double. What this means is that we lose the flow; that certain moment during the best nights when it all clicked into place and they went for it. "Anyone's Daughter" we know is from the NEC (though I don't know why!) But at the end of the day we do get some great music to listen to, and I suspect "Anya" will be a highlight for many besides myself. The mixing and production is little short of awesome. As we discovered on Live In Japan, the secret is to get those drums just right - everything else flows from there - and you'll not hear a mightier drum sound this side of the Rank films gong hitter! The organ and guitar are for once split correctly in the mix, and it all makes for a really powerful rush of sound. Roger's bass during ' Highway Star" is blistering, though it seems to be toned down a bit thereafter. Ian is on good form for most of the time, and when he slips a little, it hardly matters since the rest of them churn it up enough to keep the momentum going.
So for what we've got, let us all be grateful. For what we haven't got let's bash down the door at BMG in a few years time and try to get them to redo the set as a double.
DEEP PURPLE COME HELL OR HIGH WATER BMG 74321224433: Europe : Nov 1994 Video
The video we approached with a certain amount of trepidation as you might imagine after the comments last issue following the Birmingham show. After viewing it, we're bound to start getting people calling us grumpy old gits and that "hey it's a fine show after all, what's a bit of water damage between friends?". Sure enough, I think most people buying this who hadn't witnessed the tour, or missed one of the killer shows, then you'd be entitled to think that way. Let's face it, even on a below full strength showing, Purple are usually a little bit special, and to me the video isn't too bad an offering at all. I'll be the first to admit that Blackmore's antics on the night set my mood for the entire show, and made it hard to get a proper perspective on the gig. Scratch below the surface, and those in the know will spot truncated guitar solos, missing riffs and deliberate shortening of tracks which often got extended well beyond the norm. That in turn feeds back on the overall sound, but despite it the overall performance still comes across pretty well. Ian Paice shines in some of the later tracks, and the rest all try to make up for Ritchie's lack of commitment. Some of Ian's knowing looks are a treat, and the overall uniqueness of a Purple happening is well captured. Technically the filming is good, and the editing excellent - the way the cuts are handled, nothing too flashy or rapid, making use of the lighting effects, close-ups etc. It's a treat to watch something done by people you know have a feel for their work, unlike so many videos which are very routine or gimmicky. We could grumble about them not covering a better show, but I guess at the end of the day it's a pretty fair reflection of the reunion as a whole, just not of the '93 tour in particular.
The interviews are bound to upset or annoy some. On first watch, I found they were intelligently done, but maybe after a few times you would want to whiz by. They kind of gave a grown-up feel to the proceedings. Yes, this isn't necessarily perfect, but these are the reasons why. Blackmore is damned almost more by his absence than what the other four say, but I've certainly never heard the band being so open and honest about the situation so soon after the event. All in all then, the CD and video together don't make a bad addition to the ever growing Purple discography.
---
Rainbow Rising, Again - News
As the rumour mill began to settle down, the most likely scenario for Ritchie post-Deep Purple seemed to be a Rainbow reunion - well, not so much a reunion as a totally new band - guitarist excepted of course. This was confirmed to us in a roundabout way when we had a call from people at his manager's office on the look-out for some genuine circa 76 memorabilia "featuring the name Rainbow and pictures of the band." Though they were very cagey as to why, we got the impression they were trying to get some proof of ownership of the name Rainbow! Might not a copy of the Oyster album be enough?
As soon as Rainbow were on the cards, the question of who's in it became the next source of 1001 rumours. Joe Lynn Turner's drummer John O'Reilly - from his band Mother's Army - went along to audition, and got the gig. Alternate names for the band have been flying about - RAINBOW MOON and RAINBOW FLOW were two we heard. Ritchie was after a German singer at one point, he decided he didn't want an American vocalist this time, but then happened upon British singer Dougie White, who had just joined a band calling themselves Pink Cream '69. Ritchie got him along to audition, and the guy then lad to ring up and tell his new band he wouldn't be joining them after all! It looks like the band are recording at the moment, indeed had hoped to get something out this year. They had prepared a track called "Come Hell Or High Water" too, which will now need to be changed.
---
From Now On - Album Review
GLENN HUGHES : FROM NOW ON : UK : Roadrunner RR 09007: 1994 CD
The Japanese version (Xero XRCN 1080) includes "Burn" and "You Keep On Moving"; the UK version just has "Burn", while the original Swedish issue has neither!
"I'm a little perplexed and slightly confused as to the mish-mash of styles, suggesting that the tracks were written over a long period of time. I expected more of a strident hard-hitting funk-metal album, something like Living Colour or Chilli Peppers, and I'm surprised he played no bass on the album. As with "Blues" last year, the vocals stand out as the highlight of the album. The really important thing is that Glenn is back and singing well. ' Walkin' On Water" is my favourite. Funk-metal as only GH can do it. A basic groove, with deft touches of rock guitar and great bass variations." Roy Davies
The album does cover a wide range of styles, and is much better than the LA Blues set. Here we go from Purple stompers like "Pickin' Up The Pieces" (the keyboards especially), to the bluesier based Brit-rock as on "Lay My Body Down". That said, little here really begins to break new ground, but perhaps that wasn't the intention - it's more of a reaffirmation of Glenn's return to the fray. "Walkin' On The Water" and "The Liar" both hold out some promise. The former is interesting both lyrically and in its musical structure, lots of varying time changes (though these perhaps show up certain weaknesses in the drum dept), while the sampled keyboards on the latter are a bit out of the ordinary, and the ending where Glenn is working with the guitarist might have been worth making rather more of. As someone else said of the new take of "Burn" - "Why fix something that ain't broken"!
Touring & Promotion - News
Glenn made a promotional trip to Japan towards the end of February, to promote the launch of his new studio CD there. He was rewarded with a number one chart entry - some 50,000 copies of "From Now On" being sold. The "From Now On" album came out in the UK on the March 24th, almost two months after it first appeared in Scandinavia, where it had done over 10,000 in the first few days of release.
Glenn and Trapeze began rehearsals for a US reunion tour on Feb 28th. A show in New York on Feb 9th picked up mixed reports. It coincided with a bad blizzard, but those who did make it (around 600 in all) saw artists like Joe Lynn Turner and Skid Row. Various musicians then made up a scratch band to cover a couple of Ray Gillen's songs - the evening being a tribute to the former Black Sabbath vocalist, largely organised by Glenn. Trapeze did four songs - "Way Back To The Bone", "You Are The Music", "Coast To Coast" and "Medusa". The event was filmed, but no news on what might be done with the footage. Two UK Trapeze gigs were played on March 11th and 12th. As well as the basic Trapeze trio of Holland/Galley/ Hughes, they were augmented by an additional guitarist, Craig Erickson. The show we saw was really packed. I heard one of the guys on the door saying "Dare we let a few more in" as we shot through. The band seemed a lot more confident than on the previous few shows in the UK, and much of this was down to Glenn. Last time a really nervous and edgy performer, he was now much more in control. And it was a damn good show too. Perhaps not quite as scarey as last time, but a lot tighter. Having an extra guitarist seemed to spur Mel on too.
A lot has been said about the wisdom of issuing your own album and then not promoting it, but Glenn had agreed to play some Trapeze dates over a year earlier, and didn't want to let the others down (you can imagine what people would've said if he had pulled out). A proper Glenn Hughes Japanese tour then followed, and plans for a live album from these dates were soon confirmed, titled GLENN HUGHES LIVE - BURNING JAPAN. Purple tunes were there aplenty - "Stormbringer ', "Lady Double Dealer", Burn", "This Time Around", "Owed To G" and of course "You Keep On Moving".
Glenn's long-awaited UK solo tour finally materialised in October. Apart from Glenn's occasional Trapeze gigs, this marked his first proper UK tour since 1976. It was a real back-to-the-roots job too. The show in Stoke was really packed, and without a proper stage, viewing difficult, though by the end I managed to wedge myself in front of the PA to get a reasonable view. The band were much tighter than I'd expected after the LP, and seemed to be enjoying themselves. The other surprise of the gig was the young female attention - not something one sees much at Purple People shows these days! P'raps having half of Europe there was the reason, but people tell me that videos for two of the album tracks by Glenn have been widely seen, so the hard work is paying dividends. Seriously, a good night out, and one which for me was only let-down by Glenn's decision not to play bass. I've griped about this before, and anyone who copped the Trapeze shows will support me on this I'm sure - there ain't no one does it quite as well, so why pay anyone else!? He only donned it for one track, the funkiest of the night.
---
IAN GILLAN
The Javelins Reunited - News
RPM had a meet with Ian, his manager Al Dutton, and Ian's wife Bron, down in London on May 18th just priorto their departure for the Satriani tour. The main purpose of the get-together was to finalise The JAVELINS project. Covers visuals were looked at and agreed (I managed to track down the owner of a Javelin car, take pictures and borrow some suitable images), approach and timing settled on. I think the main thing to stress is that this ain't no "Naked Thunder" or "Toolbox", or even "Gillan / Glover". The simple aim of the project was to reassemble Ian's first proper band, and tape an album as close in feel as possible to the one they would've made back in 1963 - if only someone had offered them a contract! Originally it was to be a family and close relations only souvenir tape, but Ian saw RPM as treating it in a sympathetic way so fans could share the obvious enjoyment they all had, without the CD being hyped up in the way that a major label would inevitably do.
---
New Line-Up, New Tour - News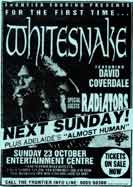 It looks like the relative failure of the Coverdale / Page album prompted David to reactivate Whitesnake. I was quoted a sales figure of 700,000 for the C/P disc, which is certainly low for the type of project it was. The label had let it proceed on the understanding that the band would tour, and Page changed his mind about that come the time. So in the end they only did Japan. We hadn't expected Whitesnake dates quite so soon after the reunion announcement, and those of us hoping for a return to the days of the late 70's or early 80's were quickly put in our places when the line-up was announced. Rudy Sarzo on bass, Adrian Vandenburg on guitar and the C/P drummer didn't - to me - constitute a classic line-up by any stretch! Come the UK dates the line-up had settled down a bit. It seems Geffen tried to entice John Sykes into the project, but in the end Ratt's Warren Di Martini was brought in instead. Neither was there a new album. Instead Geffen suggested a compilation, which was taken from just the "glam years" as we tend to call them - 84 to 94. The collection originated in America, where it was issued first. Indeed it looks increasingly as if the whole tour was inspired by the album rather than the other way around.
---
also in the magazine...
Deep Purple 1994 Tour Dates.... European Tour News & Reviews....Tommy Bolin News....
Jon Lord, Joe Satriani & Ian Gillan interviews....Deeves Hall Feature....The Book Of Taliesyn, Album Sleeve Feature....
Deep Purple / Bedford 1970 Feature....Ritchie Blackmore, Session Man... In Rock, 25th Anniversary Plans....Letters.....
RPM News....Video News.....Questions & Answers....Deep Purple Fan Clubs....
Eddie Hardin Biography excerpts.......Vinyl & CD Reviews
---
darker than blue magazines can be purchased from the
dpas online store
© 2007 DPAS/Darker Than Blue.
Not to be replicated, reproduced, stored and/or distributed in any way without prior written permission