ABOUT THE DEEP PURPLE APPRECIATION SOCIETY
& www.deep-purple.net
BACKGROUND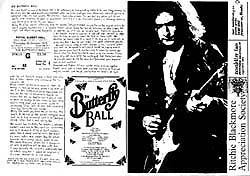 The Deep Purple Appreciation Society evolved out of the Ritchie Blackmore Appreciation Society which we began in 1975 (we being Simon Robinson and Ann Warburton), there already was a Deep Purple Fan Club of sorts and we didn't want to compete. However, that club soon folded and we extended our coverage. Apart from one interruption in 1981, we have continued ever since. Over the years a number of Deep Purple clubs have evolved outside the UK, most of which are affiliated to the original DPAS.
DARKER THAN BLUE MAGAZINE
Darker Than Blue magazine covers anything and everything we can dig up about the group. While we do back this up with news on individual members of the band, the DPAS concentrates on the band as a whole - if (for example) it's just Blackmore or Hughes you are interested in, you'd be better off joining one of the many specialist clubs around. Each issue of Darker Than Blue regularly carries tour and live concert reports; concert and set lists; a substantial record section detailing the continuing wealth of compact disc and older vinyl releases or discoveries, with full reviews where appropriate; discographies and special features (where we take a detailed look at some specific area of Purple's varied history) and much more. The magazine, which is typeset and printed on art paper, is fully illustrated with photos, memorabilia, record sleeves and news cuttings. Info on TV appearances, interviews, question and answers, a letter column, free adverts for subscribers, video news etc. all find their way in somewhere. The Deep Purple Appreciation Society has never had (nor expected!) financial assistance from record companies; we exist solely on the money raised from subscriptions. This leaves us free to print what we - or you - think about records or whatever. Readers contribute much to the magazine; with subscribers in just about every country in the world this ensures that very little escapes our notice. Work is ongoing to put abbreviated versions of every magazine on www.deep-purple.net. You can follow progress from the "dpas magazine index / digest" link on the front page, or just jump from here.
E-mailed contributions to the DPAS (for Darker Than Blue magazine, our website at www.deep-purple.net, or both..) can be sent to the www.deep-purple.net mailbox.
The postal address is:
The Deep Purple Appreciation Society, PO Box 254, S6 1DF, Sheffield, UK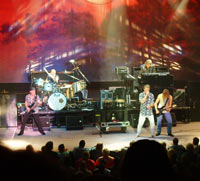 The DPAS is NOT a full-time operation and subscribers should understand that with our heavy workload, we cannot provide a regular publishing schedule. Instead over the years the tendency has been towards fewer but much bigger issues. Because of this a 12 month subscription term is felt inappropriate. Instead your subscription lasts for four issues. The magazines are mailed out automatically as soon as they're printed and a renewal form is sent at the appropriate time. If you do decide to join, you will be a part of one of the longest running appreciation societies around. If you have any specific questions, or want to send us your thoughts on any gigs or CDs, feel free to write (using the appropriate address), but do remember that it may take a while to have your letters answered - especially if they contain zillions of hard to answers queries. We cannot undertake to answer any mail unless return postage is included.
Subscription to the DPAS costs £17 if you're in the UK, £20 if you're in Europe, and £25 for the rest of the world. You can subscribe either via our secure subscription form at the dpas online store ( which you can find by entering the words 'dpas membership' into the artist field of the catalogue search facility), by regular post: DPAS Membership, Darker Than Blue Ltd, 74 Nethergate, Stannington, Sheffield S6 6DJ, UK,
or by using our 24 hour fax line: 0114 2823116.
If you have any queries regarding payment or membership, contact dpas online
THE DPAS ONLINE STORE
Besides back-issues of Darker Than Blue, you can buy a large selection of Deep Purple & related cds, dvds and videos at the DPAS Online Store (soon to be improved and extended), also linked from our front page. There are DPAS member discounts on some items. From time to time we publish posters, photos, lyrics sheets, tour scrapbooks, t-shirts, etc. which can be purchased separately.
If you have any queries regarding payment or merchandise, contact dpas online
PURPLE RECORDS / SONIC ZOOM
As far back as 1977 the DPAS has been involved with the release of rare Deep Purple (and related) material on disc and this has been a major side of our activities. We cooperate with labels such as EMI and Connoisseur to ensure all reissues are of a high standard. Powerhouse, In Concert 70/72, Live In London, Scandinavian Nights, Rainbow Live In Germany, Knebworth 85, the twenty fifth anniversary editions of In Rock and Fireball and many more have all originated from within the DPAS.
In 1998 the DPAS' Simon Robinson, who had previously co-founded the specialist CD reissue label RPM relaunched The Purple Records label, overseeing production and design. The idea was to reissue original albums and previously unheard recordings as well as bringing in rare or unreleased material, both old and new, which fitted into the original Purple Records label identity. The first releases appeared in 1999. You can follow news of the latest releases on the www.deep-purple.net news page.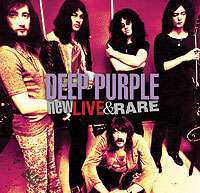 Purple Records have also reached agreement with DP (O) to introduce a series of Official Bootlegs, making available live recordings of the band between 1968 and 1975 to the collector. They will be available to EVERYONE, but only via mail-order, in order to protect the high quality archive releases available in shops. The CDs will be on the SONIC ZOOM label and will be sourced from the best available tape copies, with digital sound restoration carried out to improve the sound as much as possible. Some tapes will be audience recordings, others will be soundboard or media recordings, or dubs from original vinyl. However it should be stressed that they are intended for collectors and the sound is not comparable with normal CD releases. Quality information will be printed in advance so buyers know what to expect. The DPAS magazine DARKER THAN BLUE and www.deep-purple.net will carry details of new releases. The Deep Purple Appreciation Society has been appointed to handle the titles through their on-line store and mail-order catalogue. If you're sitting on any soundboard tapes or first generation recordings we're interested in hearing from you... and if you have any suggestions, let us know.
For more information on Purple Records & Sonic Zoom, visit www.purplerecords.net
This site has been put together for fans by fans. It was sparked off by a kick up the arse from Dave Browne (who wanted to know why the DPAS hadn't got their act fully together on the web yet) and by Simon Robinson, who promptly responded with words too strong for a family site like this.
The DPAS had been aware of the patchy way that the old purplepeople site evolved, and the plan we followed was to upgrade it section by section at www.deep-purple.net, while constantly adding new features. Anyone who contributes will be credited (unless they request otherwise). So far we have: (David Browne = DB) (Mark Maddock = MM) (Mike Richards = MR) (Simon Robinson = SR) (Jens Richter = JR) (Nigel Young = NY) ( Drew Thompson = DT) (Andrey Gusenkov = AG) (Daniel Bengtsson = DBe) (Fedor de Lange = FdL) (Paul Thomas = PT) (Peter Judd=PJ) (Stuart Hamilton=SH) (Tim Summers = TS)
Contributions are always welcome for www.deep-purple.net, DPAS membership isn't a prerequisite.
E-mail www.deep-purple.net