Various artists on the Purple Records label, recorded 1971 - 1973.
Tracks by Deep Purple, Ashton & Lord, Hard Stuff, Yvonne Elliman, Silverhead, Rupert Hine, Tucky Buzzard, Maldoon, Buddy Bohn, & Carol Hunter.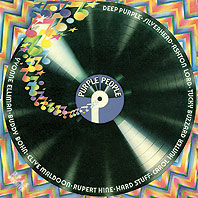 'PURPLE PEOPLE'
UK : Purple Records TPSS 1 : 1972 LP
Germany : Purple 1C 048 94921 : 1972 LP
Includes SMOKE ON THE WATER and WHEN A BLIND MAN CRIES by Deep Purple, plus 10 tracks by other artists on the label. First and only Purple records sampler. See photo.
'ROCK REFLECTIONS'
UK : Music For Pleasure MFP 50241 : 1975 LP
Reissue of PURPLE PEOPLE album but in a new sleeve with live Mk 3 photo across front, inset pic Mk 2. Rare. See photo.