Mk 3. (G) = recorded at Graz, Austria, April 3rd; rest from Paris, France, April 7th 1975.
CD1 - Burn (G) / Stormbringer (G) / Gypsy / Lady Double Dealer / Mistreated / Smoke On The Water / You Fool No One.
CD2 - Space Truckin' (G) / Going Down - Highway Star / bonus tracks : Mistreated (G) / You Fool No One (G)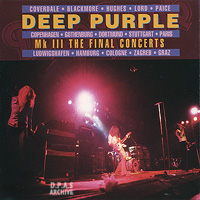 RECOMMENDED COMPACT DISC
GREAT BRITAIN : Connoisseur DPVSOP CD 230 : 1996
2CD (See photo) CD booklet inside. Although the Paris tracks are now available on LIVE IN PARIS, the Graz tracks are so far not available elsewhere.