More textured paper, but this time very appropriate as we took a long look back at "Fireball", it being twenty years on (and I needed something to cheer me up).

The "S&M" fever had abated and people had become used to the idea, and with the group now on the road, reviews were flooding in. Again, reaction was mixed. I reckon we struck the balance about right in our coverage, trying to be fair and present the for and against letters, hoping that a healthy debate was better than sliding into a terminal rant. I'd actually forgotten until writing this that I went down to one of the London shows. I can recall bits of the first show at Manchester quite well, but very little about London remains. Other than sizing up the poster outside the hall (with that dodgy girl off the single sleeve on) and deciding I couldn't be bothered to nick it... oh and Steve Grover's leaky lilo! After Manchester, Ann didn't even want to go, and stayed home.

Away from that I was chained to the drawing board over Christmas finishing up the artwork for the revised edition of The Anthology, a compilation which must have done something right - it remains on catalogue 15 years later! Then it was straight on to the second of the Blackmore Rock Profiles. Funnily enough, I saw a copy for an inflated price over in Southport just a few days ago.

Lots of nice rare records reviewed this issue too (I could always take my mind off things by marveling at fab foreign pic sleeves), as well as numerous promotional bits and bobs for the "S&M" album. There was some sad news in the issue though; the arrest for performing a lewd act (or blinding a punter - I can't quite recall which!) in Canada of Mitzi, the ping-pong star immortalised by Ian Gillan in song.

ISSUE 41: DIGEST & INDEX

DEEP PURPLE

NEWS : Slaves & Masters
DEEP PURPLE
LIVE REVIEWS : Manchester & Hammersmith

DEEP PURPLE

SINGLE REVIEW : Love Conquers All

DEEP PURPLE

RECORD NEWS : Fire Ice & Dynamite

IAN GILLAN

NEWS : Back In The Studio

DAVID COVERDALE

NEWS : Film Soundtrack & Jimmy Page

GLENN HUGHES

NEWS : Solo Album Delayed

Slaves & Masters Promotion & Tour Rehearsals - News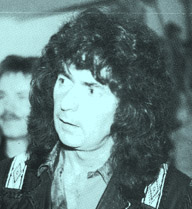 After the press launch Jon Lord was given the main promo round, which he did in October, adding Australia in November. Turner and Glover did a Rockline radio show in America, Nov 19th, where JLT said he hoped to persuade the band to do Pictures Of Home on stage, as he felt it was a neglected classic. Too Much Is Not Enough was a song Turner had prepared for his next solo album, stalled at the writing stage when he got the Purple audition. The credit to Billy Squier on the S&M sleeve can now be explained too. The band had done work on a song in New York, and Ritchie arrived one day keen to lay on some guitar, but didn't have his gear with him. Squier, in the studio next door, gave them an amp and a selection of guitars to choose from. The song was eventually dropped but they gave him a name check anyhow. At the end of the radio show Roger and JLT did a live take of King Of Dreams on air, with Roger providing acoustic guitar to accompany Joe (and sounding very Fleetwood Mac/Green Manalishi-like about it). I'm indebted to Shari York of the JLT fan-club for sending me a tape of the show.
In January the group assembled in Thamesmead to rehearse their stage-show. The full laser show was installed and the whole thing kept very much hush hush, which is how come we only found out the second week! Joe Lynn Turner said they rehearsed Fireball and Too Much Is Not Enough, neither of which made the show in Europe.
Ardwick Apollo, Manchester. 10th March 1991 - Live Review
Our own first sighting of the band came when they opened their British tour in Manchester. As the closing chords of Smoke On The Water died away we were off, beaten only by the band whose lime swept past us as we came out the door. It had been without doubt the worst Purple show I've ever been to. Even during the 76 fiasco Paice & Lord had combined to punish the senses but tonight they all performed in a lacklustre fashion that made me think it was all over. The four of then just seemed to remain almost motionless and Joe struggled to bring some life to the proceedings.
Inexplicably, as Lazy piped up, the power of old returned to blaze gloriously for around fifteen minutes or so. It lasted well into Highway Star, long enough for Blackmore to suddenly let rip with a scorching solo. It petered out for me after that but the rest of the show seemed to at least please the crowd even if I'd lost interest again. We went to stand at the back of the hall for the encore - yes they did do one - an obligatory Smoke On The Water with a brief drum solo from Paicey. I'd envisaged all sorts of feelings about the band before the show, but I never expected to be bored.
Hammersmith Apollo, London. 14-16th March 1991 - Live Reviews
14th: "Manchester was awful, I was really depressed. I bet you had some bad reviews afterwards. In London we expected the worst but Blackmore actually played. During the middle of one song he took the volume down and played some remarkable stuff, Ian Paice was the biggest disappointment, he had some of the old fire but it appeared he couldn't wait to get the whole thing over with. Joe Lynn. Going 'Aarrgh' for prolonged periods and playing bongos may be passé but it's also a crucial element of the Deep Purple we love, as was Ian's stage presence and leadership. Joe has a negative presence. The band have no front man, no focal point." John Blackburn
15th: "I was starting to think this Turner thing was OK until tonight. Bad mistake though doing Yesterday, it really divided the audience and brought out the hecklers. Being seated further back made me aware of how unsuited his voice seemed to be on the older material. Bloke in front of me just kept shaking his head in sorrow." Richard Taylor
16th: "Must say I'm glad I went. The band were playing with a feeling of fun which had been missing at Wembley back in 1987. I enjoyed the looseness and relaxed feel to the set. Yes, I wished it had been Ian up there but Joe Lynn won the crowd over. If they can transfer some of the new energy and enthusiasm show at this show onto vinyl then they will have a future." Chris Inkpen
Love Conquers All - Single Review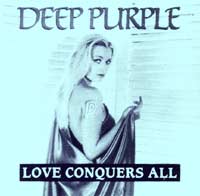 Love Conquers All / Truth Hurts - Slow Down Sister.
RCA UK / Europe : March 1991 [cat. no. in text]
A multi format push to get the band high in the UK charts in time for the tour; it didn't work, despite what I'm told was a lot of Radio 1 airplay. There's a feeling in the record business that the band are no longer very fashionable, which permeates from RCA right down to record shops, few of whom stocked this once the inevitable chart return freebies had gone. There was a two track 7", a two track cut out shape RCA PT 49224 (Made In Germany), a three track poster sleeve 12" RCA PT 491212 (Made In The UK) and a three track picture 5" CD. Not yet seen is a cassette version or a normal 12". The extra unissued track on the 12" & CD was SLOW DOWN SISTER. This begins promisingly enough and then somehow the tapes get muddled up with Stormbringer - well, in all honesty can you spot the difference?
'Yesterday they played 'Love Conquers All' on Radio Metro. Not having bought the album I didn't realise at first who the record was by, so after the first few bars I ignored it as the work of some boring AOR rock group, When the announcer mentioned the name of Deep Purple I asked my girlfriend what he'd been saying about them; she replied that they had just played their new single! I had to write and get this off my chest, When you listen to the "classical" opening sequences on tracks like Burn and others, Ritchie and Jon pour out huge arpeggio runs - that's Deep Purple, Here it's so nice and careful, In places Blackmore sounds like he's trying to do a Brian May, trouble is May does it much better (even if it is always the same), My all time musical hero and influence is Jon Lord - what is this bland eurosynth backing he gives us here? Depressing, The bass and drums appear to be half dead and could be anybody, As for JLT, well he sings it very well but that's all, which is why he shouldn't be here, Purple was (note past tense) about excitement, power and emotion, Other thoughts; the sleeve is appalling, so naff as to be laughable. Nice one putting the 7' edit on the 12" too.' John Hilton.
Not often we get three page reviews of singles these days. Just another example of how the current stuff is tearing people apart. As Mike Galway put it recently to me, no matter how much we pretend not to care, we still do.
Fire, Ice & Dynamite - News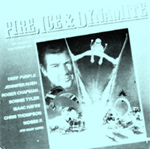 Willy Bogner's
FIRE, ICE & DYNAMITE Ariola 211 LP/261 CD 149 : Germany: Nov 1990
I suspect the fact that the album contains an unreleased Deep Purple track isn't too widely known. Purple contributed an album left over which they renamed FIRE, ICE & DYNAMITE. Anyway, it's more in the S&M mould, though some reckon it to be rather livelier. It's quite good in the drum department too, so Paice fans are advised to seek it out. I thought it was gong to end up on a b-side but so far it hasn't.
---
Back In The Studio - News
Briefly back to his NAKED THUNDER tour, Ian wanted to drop Smoke from the set list and replace it with NO NO NO - maybe next time. The band also tried doing NOT RESPONSIBLE but it didn't work out too well. Steve Morris kept doing MORNING DEW during rehearsals but couldn't entice Ian into doing it during the shows.
"lan did a show in Athens on Sat. Sept 19th, and I managed to get the job as interpreter, At one point King Of Dreams came over the radio, I told Ian what it was and he listened closely, 'It's formula, pop music, but good, I hope it does well for them, ' he said. After a while though he added 'why aren't I singing on this record?' The gig itself was great though." Stathis.
As for Ian's current employment, Ian has been writing extensively over the past few months. One report says he's done some work with a Leslie West of Mountain. He's also done some demo's with Neil Murray (who you may know is out of Black Sabbath, with Geezer B. back in along with Ronnie Dio) and Bernie Torme has been helping him out too. I'm not sure if any of the Naked Thunder crowd will be part of the new one. He's aiming at a September release time. Finally, do you really want to know that the Moonshiners bassist turned up in Brookside again just before Christmas? Thought not!
---
Clint Eastwood & Jimmy Page - News
With Whitesnake now in abeyance, things have been fairly quiet on the Coverdale front. There are still warnings of a Whitesnake live album, culled from recordings made on the last tour. David Coverdale has followed up his performance of 'The Last Note Of Freedom' from the Days Of Thunder movie with a track called 'You Can Never Forget Where You Come From' which has been added to the soundtrack of Clint Eastwood's movie The Rookie.
Coverdale was scheduled to appear in London on the third day of the Brit Rock Festival, with Thunder backing him, on Jan. 20th. He cancelled, pleading flu according to BBC Radio One. Meanwhile, the latest stories have him teaming up with Jimmy Page in America. Stranger things have happened I suppose.
---
Solo Album - News
Glenn's album was finished around November 1990 but when tapes went out to one or two sources the feedback suggested changes were needed. He was due in the studio on January 2nd 1991 to tape two new songs in a heavier vein. How this affects his touring I'm not sure, other than to delay it. He had hoped to be on the road promoting it by now. Possible candidates for the group included Geoff Downes, Pat Thrall, Mel Galley and Dave Holland. David Coverdale actually offered Glenn a slot on his proposed solo tour of Europe this year but Glenn declined.
He has however taped two songs with David Coverdale. Originally these were to be done in London Jan 21/22 when David was over for the Brits show but after he pulled out Glenn flew over to LA and they were done there. They're not scheduled for inclusion on his solo album, Meanwhile royalty money should start flowing if and when a song written and performed by Glenn called HAUNTED turns up on the soundtrack for HIGHLANDER 2 which is out now at the Cinemas. There have also been tentative plans for a PHENOMENA 3 but without Tom Galley, and another HUGHES/THRALL album. I personally feel his fans don't care WHAT comes out, but if they have to wait much longer they'll go crazy!
---
also in the magazine...
Deep Purple, 1991 European Tour reviews ...... Ritchie Blackmore books .... Deep Purple: The Anthology....
Fireball, 20th Anniversary Feature..... Ritchie Blackmore, Rock Profile Vol.2 ..... Rainbow, Live In Germany 1976..... Episode Six news .... video column .... questions & answers ..... vinyl & cd reviews .....
Deep Purple: Slaves & Masters reviews ..... Deep Purple singles discography: Thailand
---
the magazine can be purchased from the
dpas online store
© 2005 DPAS/Darker Than Blue.
Not to be replicated, reproduced, stored and/or distributed in any way without prior written permission