....Or The One Where The Reunion Began To Turn Strange! Just as the twentieth anniversary of Mk 2 came around, Ian Gillan was off. We'd jogged up to the local University to catch one of the second Moonshiners tour gigs, only to discover that IG was out of the band. Yes the reunion had been up and down over the preceding five years, but the gigs we'd seen in 1988 seemed full of energy and aggression and we couldn't wait to see if they'd be able to bring some of this to their third studio album.

Instead they were auditioning for new singers, although Blackmore was pretty much decided who he wanted in. It left us in a turmoil. And all at a time when the DPAS had never been so busy, with articles to write for a number of magazines, sleeve notes for various projects (including the prestigious Tommy Bolin box set, one I was very honoured to be asked to contribute to; the Blackmore Rock Profile set), on top of the regular fanclub stuff.

The magazine reported on the first Moonshiners "secret" gig in detail, as well as the long awaited return of Glenn Hughes, with some great low key shows - his first on UK soil in an astonishing thirteen years. Elsewhere I continued to indulge my passion for picture sleeve singles with a run down of Dutch releases - it seems quite primitive now compared to Dirk's Singles book, but pretty accurate still I'm pleased to say. Another fondness of mine is the pre Deep Purple scene, and this issue took a pretty detailed look at Jon Lord's stint with The Artwoods over five pages. On the record scene, the Compact Disc continued to make inroads, and Issue 37 saw us report the very first Deep Purple CD bootleg, an event the industry had been certain would never happen. This was actually an Italian pirate offering, one which used the grey copyright legislation of that country to release live albums. It wouldn't be long before these began to proliferate as lax Korean CD plants came on stream. .

ISSUE 37: DIGEST & INDEX

GARTH ROCKETT & THE MOONSHINERS

LIVE REVIEW : Southport

GARTH ROCKETT & THE MOONSHINERS

NEWS : UK Tour

DEEP PURPLE

NEWS : Ian Gillan Out

IAN GILLAN

RECORD REVIEW: South Africa

GLENN HUGHES

NEWS : Dokken, Thrall & Whitesnake

TRAPEZE

LIVE REVIEW : Cannock

WHITESNAKE

NEWS : Steve Vai Joins Whitesnake

IAN GILLAN /
GARTH ROCKETT & THE MOONSHINERS
Floral Hall, Southport, 18th February 1989 - Live Review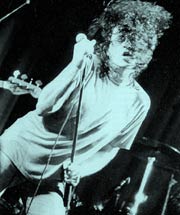 During a chat with Phil Easton the ex-Radio City DJ, Ian said he really fancied doing a gig or two to keep himself busy. Easton promptly began to sort something out. When word reached us in early January that lan Glllan might be doing a turn over in Southport at the Floral Hall, we naturally took it with the proverbial pinch of salt. When tackled about it by RAW magazine, lan Gillan smiled and said they'd have to get in touch with a Mr. Garth Rockett.
In all honesty all I expected was some local band doing their set, and lan to turn up for a couple of numbers at the end, maybe the encore. What we didn't expect was for lan to have spent two weeks in the area rehearsing a complete show! Apparently the group either gig as or contained members of Export, a fairly busy local rock outfit with at least one album under their belts. Phil Easton had connections with the group, which is how they came to be doing the honours for the show.
The band looked and sounded workmanlike, playing adequately but unadventurously. The exception was a young keyboard player who had obviously watched one too many Keith Emerson videos, but for now we were trying to make out the riff - wasn't that the old Glllan tune, yep, I'll Rip Your Spine Out. Ian looked good and sounded in top form. As the show went on he really seemed to get into the feel of it, the start had been a little edgy as both he and the group got the feel of things - no amount of rehearsing could have prepare them for this. During the opening salvo of four Gillan tunes, the recklessness of the original combo was replaced by a certain professional ordinariness - a little hard to put into words.
Gillan tackled 'No More Cane In The Brazos' almost solo, with just a steady drum beat and some quiet keyboard work. He gave one of those performances you're proud to have witnessed, taking the song to vocal depths I've never heard him reach before. The audience were for a time mesmerised. A moment of quiet before the spell was broken and they launched into the first Glllan/Glover song of the evening, I Thought So, sounding much better for a live outing. It also gave lan chance for a blast on the old lunch wrapper. Two Gillan tunes wrapped up the set proper, but they returned a second time for the weirdest encore tune which told of the horrors (or delights) of waking up In bed with 3 nuns, a bicycle and whatever else lan could dream up on the spur of the moment. All in all it was more than worth the efforts of the journey.
Garth Rockett UK Tour - News
We weren't the only ones to have enjoyed the Southport show, because not long after a short hastily set-up series of follow-up shows was announced. They kicked off at Wigan Stairways on March 17th. Unfortunately due to a faulty monitor at Wigan, lan ended up unable to hear and pushed his voice too far, with the result that he couldn't sing at all the following night. Rather than disappoint everyone he turned up anyway and spent the evening chatting and signing autographs. He'd recovered enough to tackle the Manchester Rafters Club on the 21st - though the show was actually held upstairs in Jilly's - perhaps the Rafters bit has finally been condemned! The stage was so small they could hardly get the gear on, and so low that for much of the time lan had to be careful not to bruise himself on the lights! Obviously trying to save his voice, the 250 or so who had turned up (the adverts gave no clue as to the personnel of the band) seemed to enjoy themselves. They travelled on to Morcambe Gardens the following night, ending up at the gloriously named Buckley Tivoli near the Welsh border on the 23rd. Here the show had been advertised as The lan Gillan Band, so rather more than 250 turned up - the entrance fee of just £2.50 can't have hurt either, around half the price of the other shows. Meurig Thomas caught the show and reported that although lan was still struggling, and could hardly speak between songs, the crowd carried him through It, and the show ended with Glllan alternating his dancing partners between a bouncer and one of five females.
---
Ian Gillan Out Of Deep Purple - News
After the 1988 German dates the band got down to rehearsing and writing in the period prior to Christmas up in Stowe, Vermont. lan Gillan was summarily dismissed from these rehearsal sessions and returned home to Britain. As the rehearsals proceeded and material took shape, they began sending tapes of the results over to lan during January so that he could start work on the lyrics. The idea was to get everything sorted out prior to entering the studios, which were booked for April. Also during January, the group left Polydor Records and signed to BMG.
On May 12th, just as I was completing the magazine, I had a call to enquire whether I'd heard stories about lan Glllan and Deep Purple. I thought little more of it, but when another member called up to ask if the Garth Rockett gigs were still on in view of the unconfirmed stories Tommy Vance had been airing on the Friday rock show, then the situation became rather more serious. There was nothing for us to do but hold the magazine, leaving this page blank until we could sort out the situation. Anyway, feelings were somewhat mixed as we made our way up to Sheffield University for the opening gig of the Moonshiners tour on the May 14th. As the show ended, a small crowd gathered at the side of the stage, and lan was out within twenty minutes or so to sign a succession of tickets, posters, ripped jeans and empty pizza packets! Someone plucked up the courage to ask about the Purple situation; the bombshell landed. "You'll have to ask them, I'm no longer a member," he replied.
lan had spotted me (apparently) from the stage, and when asked, agreed to have a chat with us on behalf of the club backstage. It seems that after the request for his non attendance at the rehearsals, lan sussed something was afoot. When he flew out In April for the recordings, things came to a head. Attempts by lan to get the band into a proper studio to blast the album down In a hot New York studio were baulked by Lord and Blackmore, a row followed and lan left. Some time later lan's manager Phil Banfleld was contacted by Bruce Payne who told him Glllan was being fired because he couldn't sing. Just three days before this call Gillan had been with Glover, who hadn't said a word about the forthcoming dismissal. The Spanish Archer's gonna make you pay... Obviously there is more to it all. Whatever the reasons, it's an almost unbelievable state of affairs.
lan's plans are to finish the short tour, then sit down with his manager and plot out his future. He's been doing a bit of writing with people, including some of the Moonshiners, but told me he's anxious that people don't look upon this as his new band. To that end they cancelled a Marquee show to avoid the London press turning up to gain the wrong impression and limit his options, All we can do is wish him well.
---
Ian Gillan: South Africa - Single review
IAN GILLAN. South Africa / John. Virgin VST 1088 : UK : 1988
lan Gillan offered to do the song when be heard that Bernie Marsden, who'd written it, couldn't get anyone interested. It's always difficult to do an overtly political track without managing to sound cliched, and there will always be the accusations of bandwagon jumping. To me this has a "live aid" feel about it, nothing too stunning musically. I actually quite like the 12" mix, some people think it works better on the 7" where there is less padding. I'd like to have had the vocals mixed up more to give the whole thing a little more meaning and a touch more bite. The flip is hard to decipher vocally, probably just a spur of the moment get together. I assume Bernie himself handles the guitar chores but don't know who else is on it. The disc seems to have been issued only here and in Japan as a 3" CD.
---
Dokken & Whitesnake - News
The Glenn Hughes story gets more complicated by the day. Prior to Christmas, Hughes was quite busy. He wrote five songs for a Dokken project. Glenn has done the bass on the album and also some backing vocals, as well as helping with the production. John Norum does the guitar chores. Apart. from that Glenn has also been earning a few bob giving the Dokken man singing lessons! While working on the LP Glenn was apparently offered a job with Yes. Then In November he got a call from John Sykes's Blue Murder. Sykes had just had his vocals rejected by Geffen, and they wanted Glenn in to redo then in Vancouver. This fell through, and in the end Sykes' LP came out with his own vocals still on. He set up a showcase gig with Pat Thrall in January 1989 over in LA, which went down a storm according to reports. Why they just don't get down to business and do another LP I don't know!
In April, in perhaps one of the strangest twists in the Deep Purple story, David Coverdale contacted Glenn to help out on the new Whitesnake album by doing the backing vocals. Perhaps Glenn was as puzzled by it as us, in any a case rather than fly out he asked for the contract first, and made sure this was signed before he told anyone about it. According to Glenn the move was made at Geffen's suggestion, while David wanted to try and introduce the Mk 3 vocal harmony feel which had been the focus of tracks like You Fool No One. He has stipulated in the contract that his contributions will not be mixed out of hearing. Glenn's signing of the contract coincided nicely with a secret concert he'd lined up; read on....
The Snoopy Club, Cannock. April 25th 1989 - Live Review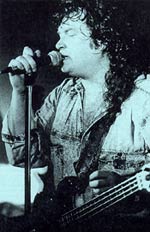 I would imagine that on any given evening there is a rock band, somewhere, hammering out Smoke On The Water. The Snoopy Club in Cannock, Staffordshire, on April 25th 1989 was no exception. What did make this version an exception was the inclusion on vocals of Glenn Hughes, making his first public on stage appearance in Britain for thirteen years. The venue - basically an old converted house - seemed packed to the gills. The club was full of the old Cannock mafia, members past and present of bands like Finders Keepers gathered to see how Glenn was shaping up after such a long absence. All we knew was that the show had been booked as a Trapeze reunion, with Glenn, Mel Galley, and a drummer called Steve James, a friend of Glenn's from just after the Purple split, with whom Glenn had nearly formed a band.
There was no stage as such, just a platform for the drum kit and a carpet for the rest of the band, with monitors the only physical crowd barrier. Eventually Glenn made his way through the crowd to begin the set. He opened with Smoke On The Water, using the bassist, drummer and guitarist from the support group to help him out. Having warmed up, the Trapeze set proper began. At once the professionalism of the musicians made itself apparent in the performance quality - it's always a pleasure to listen to musicians who know their stuff. They kicked of with You Are The Music and ran through what was really only a short set, but which seemed to last much longer. Coast To Coast, Black Cloud, Your Love Is Alright and Way Back To The Bone, It wasn't hard to see why Trapeze's reputation as one ot the most powerful rock trio's about had developed, Mel had apparently brought up one of Nell Murray's bass guitars for the night, and Glenn was having difficulty keeping it in tune, being a much more forceful player. Even so you'd hardly have realised it had been so long since he last played. How much the crowd dug it is hard to say, as a large proportion of them were probably HM fans along for the evening out, and you could never class this kind of music as heavy metal. It was a highly enjoyable evening. Tonight he showed us the talents which Blackmore and Paice bad been so eager to sign back in 1973. If he repeats the experiment I can recommend it.
---
New Line-Up, New Album - News
Glenn's arrival in the Whitesnake camp comes just as the new album is nearing completion. Despite Coverdale's claims to the contrary, it seems as if the band will be restructured almost entirely before they tour again. Guitarist Vivian Campbell has left the band. His sole contribution to their vinyl was that remixed single which we reported last issue. Dave Lee Roth's guitarist Steve Vai has been drafted in to do guitar work on the album, and probably to tour with them as well. With Don Airey seemingly a permanent member of the line-up (behind a curtain or otherwise), and Glenn Hughes's arrival to do backing vocals, the album ought to be out by August if they can keep the studio finishing down to a minimum.
also in the magazine...
Ritchie Blackmore: Rock Profile Album News...Gary Driscoll obituary....Tommy Bolin CD News...
Deep Purple: Dutch Singles, Illustrated Discography...The Artwoods, Pre-Deep Purple Feature + Discography...
Questions & Answers....VInyl, CD & Video news & reviews....Book Of Taliesyn Feature....
---
the magazine can be purchased from the
dpas online store
© 2004 DPAS/Darker Than Blue.
Not to be replicated, reproduced, stored and/or distributed in any way without prior written permission